wild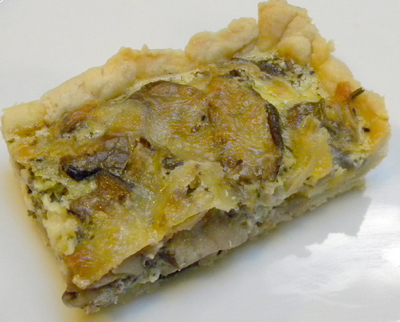 A few days back, my teen students had their graduation lunch and chose quiche as one of their buffet menu items. Since our time to cook on graduation day is a bit more limited, I made the crust dough ahead and refrigerated it so that when the kids arrived they could roll out and blind bake them immediately. They then proceeded with the recipe, making the filling, baking the filled quiche, and then going back to the beginning to make the crust dough, so they had the experience of actually making the recipe in its entirety. So what's the point of me telling you all that back-story? The point is, I then had two disks of dough in my refrigerator – hence my utter brilliance in making these lovely wild mushroom tarts for Father's Day to go with our Steak au Poivre.
You will notice from the photos that I decided to make three rectangular tarts, while the recipe instructs to make a 9-inch round tart. That is because I had two sets of dough and I also knew that with my limited freezer space – two long ones would fit much better than a big old round one.  I have to say, in general, I really do like the rectangle pans better than the round.  You never have to worry about the center of the crust becoming soggy and they are easier to cut and serve. So if you enjoy making sweet and/or savory tarts, you might consider investing in this great size and shape too.
Now, as for the wild mushrooms, use whatever type you like. Costco sells a large container of wild mushroom mix and also a large bag (as you'll see pictured here) of dried shiitake mushrooms. And just about all grocery stores sell small packages in either their produce or gourmet sections, as does Trader Joe's.  That reminds me, when do you suppose Costco and Trader Joe's are going to start paying me for all the free advertising I give them here?!? Wishful thinking… love 'em both anyhow!
Wild Mushroom-Gruyere Tart
Crust
1 1/4 cups all-purpose flour
1/2 teaspoon salt
1/2 cup (1 stick) chilled unsalted butter, cut into pieces
2 tablespoons (about) ice water
Filling
1 cup water
1 ounce dried wild mushrooms
1/4 cup (1/2 stick) unsalted butter
10 ounces white mushrooms, sliced
1/4 cup peeled and minced shallots
2 tablespoons Cognac or brandy
3 tablespoons minced fresh herbs (such as thyme, tarragon, sage, etc), divided
3/4 cup whipping cream
2 large egg yolks
1 large egg
2/3 cup grated Gruyere cheese, divided
Crust: Blend flour and salt in a processor. Cut in butter using the pulse button until the mixture resembles a coarse meal.  Add enough ice water to just bring the dough together.  Gather dough into a disk. Wrap in plastic, and chill for 45 minutes.
Roll out dough on a lightly floured surface with a lightly floured rolling pin into an 11-inch round and fit into a 9-inch tart pan, trimming excess dough. Chill until firm, about 30 minutes.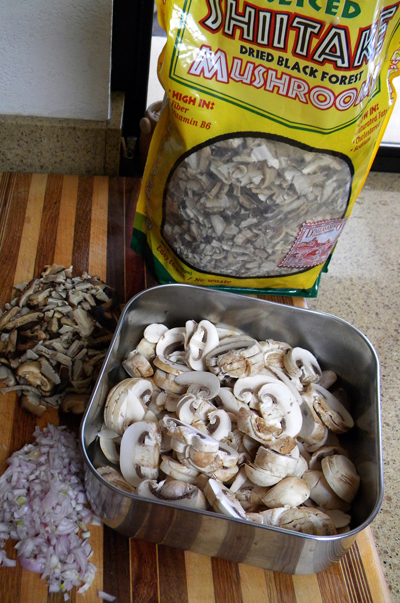 Filling: Bring 1 cup of water to boil in a saucepan. Add wild mushrooms; remove from heat and let stand 30 minutes. Using a slotted spoon, remove mushrooms from the liquid; pour soaking liquid through a cheesecloth-lined strainer into a clear glass bowl or measuring cup and set aside. Coarsely chop mushrooms.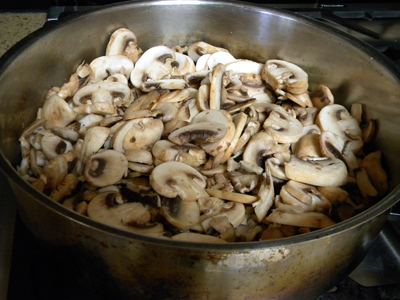 Melt butter in a heavy large skillet over high heat.  Add chopped wild mushrooms and sliced white mushrooms.  Season with salt and sauté until golden, about 10 minutes.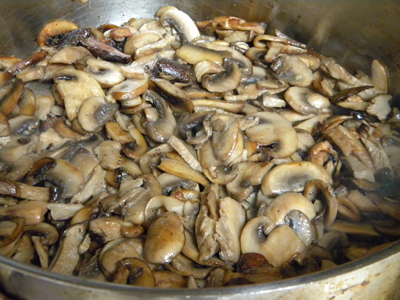 Add shallots and sauté 2 minutes.  Add Cognac and the reserved mushroom soaking liquid. Boil until almost all liquid is absorbed and evaporated, about 3 minutes. Mix in 1 tablespoon of the minced herbs. Remove from heat and set aside to cool.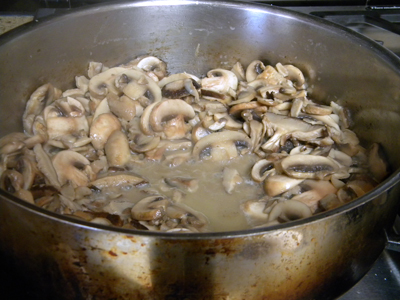 Preheat the oven to 375 degrees. Line crust with foil.  Fill with pie weights and bake for 15 minutes. Remove foil and weights and return to oven until crust is golden, for about 10 minutes.  Maintain oven temperature.
While the crust bakes, make the custard filling. In a medium bowl whisk cream, yolks, egg, and the remaining 2 tablespoons of herbs. Set custard aside.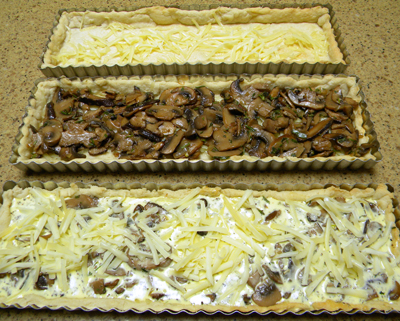 When the crust is golden, remove it from the oven and sprinkle 1/3 cup cheese onto the bottom of the crust. Cover with mushrooms. Pour custard over mushrooms. Top with remaining cheese. Bake until the filling is set and the top is golden about 30 minutes.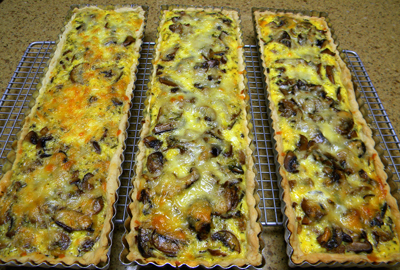 Cool on a rack for 15 minutes, then serve.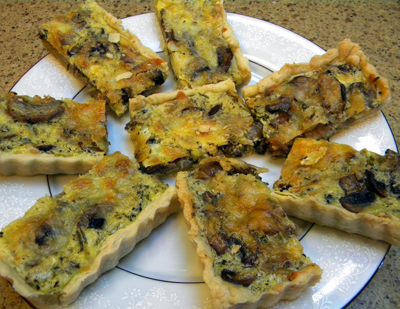 Serves 8