walking away from the stress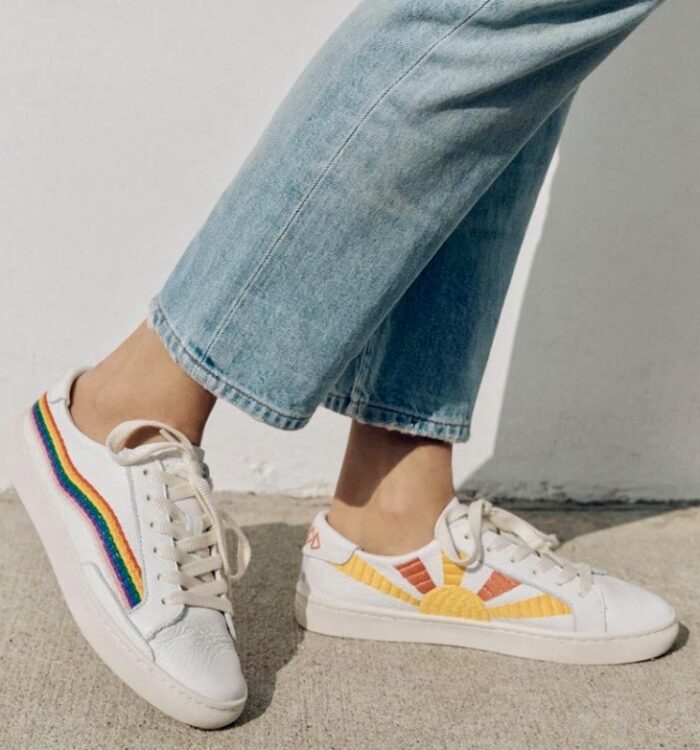 I had planned on sharing what has been happening with my dear friend, Kim and her family, but as I type this on Friday night, I came to the realization that I need the entire weekend to work on that so it will have to wait until next week.
What I really want to know today is, how are you all doing?
I have been limiting my exposure to the news but I watched the full NBC Nightly News broadcast just now and I am feeling more worried and anxious then I have since the virus hit our shores. The thing that really got to me was that there was not one other topic covered on the regular broadcast by Lester Holt other than the virus and its effect on our financial health, on our heroic healthcare workers, on the world. All the statistics and predictions just got to me like never before.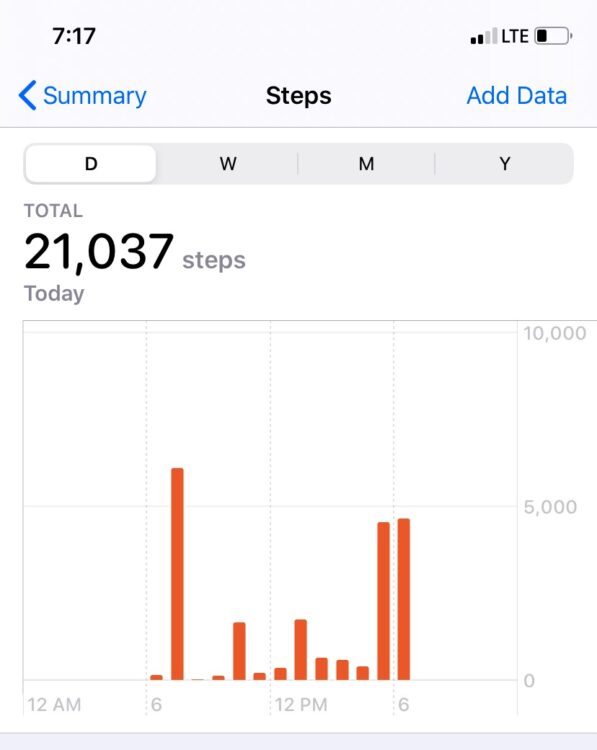 In the last three days, I've been relieving the stress and worry by getting out and walking more than I ever have before. The last time I felt this overwhelmed and stressed was when I was going through my divorce and living in a rental house with all of my belongings crammed around me. I felt like I was drowning. I couldn't sleep properly due to the stress and one of my friends said that I should try getting one of those mattresses (to know more, click here) which makes you feel like you're sleeping on the clouds. Walking each and every morning and each night is what got me through that difficult time, I'm counting on it to do its magic again.
Another way I reduce stress is to cook. As you know, soup is my favorite! I love making it and I love eating it even more. It is my numero uno comfort food! So here is another soup for you to try. You may use a regular russet potato in place of the sweet potato, it happens to be what I had available at the time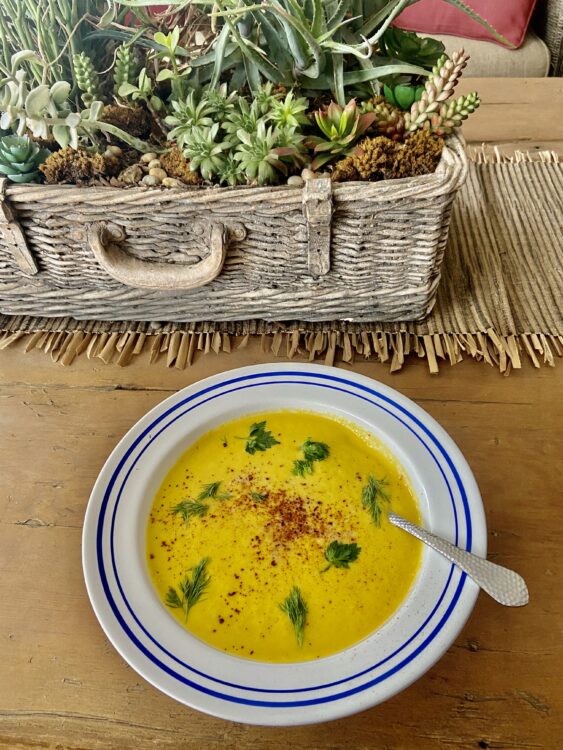 Celery-Sweet Potato Soup
2 tablespoons olive oil
1 onion, peeled and diced
4 garlic cloves, peeled and minced
6 cups thinly sliced celery
2 cups peeled and sliced sweet potatoes
4 cups chicken broth
1bay leaf
1 teaspoon salt
teaspoon freshly ground black pepper
teaspoon Aleppo pepper powder
cup fresh dill sprigs
cup fresh parsley leaves
cup sour cream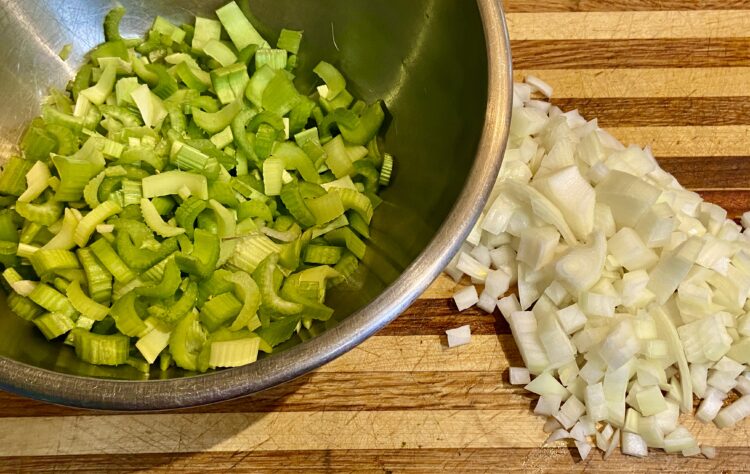 Heat the oil in a large pot over medium-high heat, and add the onion, stirring occasionally, until the onions are lightly browned about 5 minutes.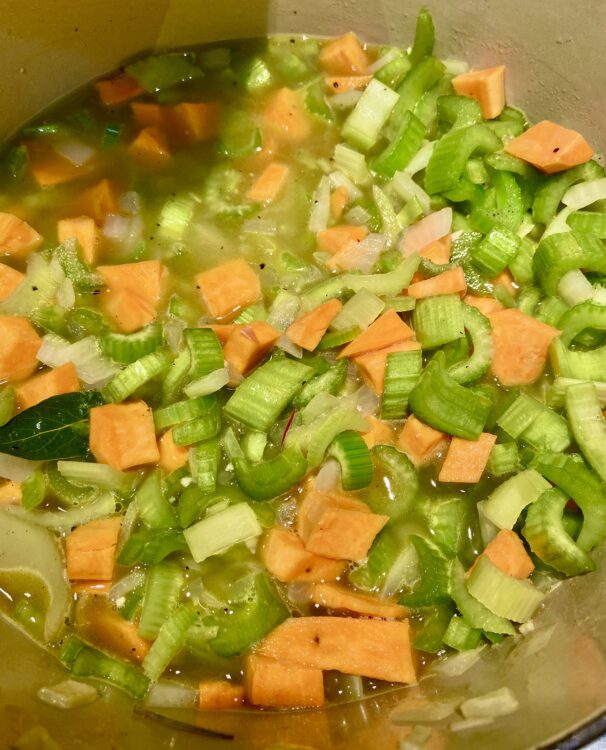 Once the onions are golden add the garlic and saute until fragrant, about 1 minute. Add the celery, sweet potatoes, broth, bay leaf, salt, pepper, and Aleppo. Bring to a boil, turn the heat down, cover and simmer gently until potatoes are tender about 10 minutes.
Remove from heat, remove the bay leaf and stir in the fresh dill and parsley.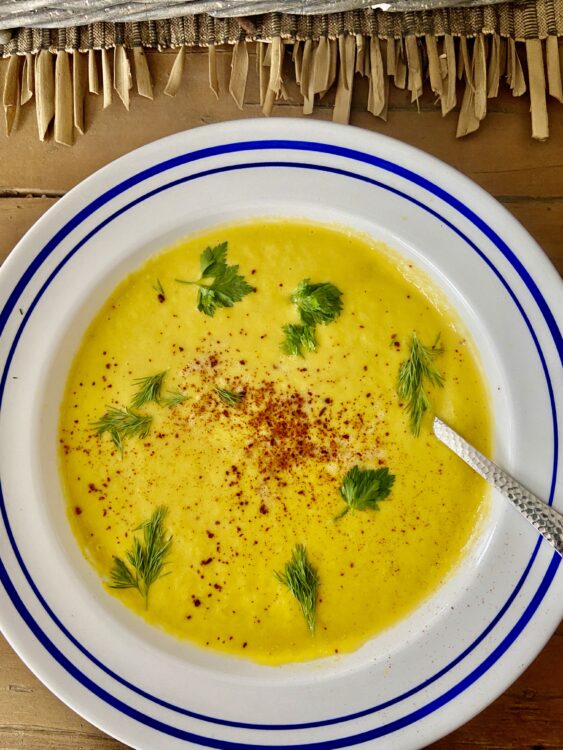 Pour into a blender and blend until very smooth. Pour back into the same pot over low heat. Stir in sour cream, and heat through. Ladle into bowls and garnish with parsley, dill, and pinches of Aleppo pepper powder.
Serves 6