vegetarian or not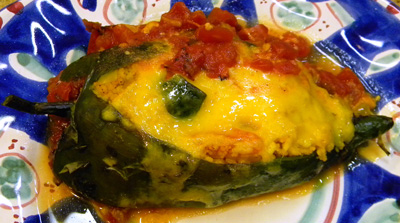 Ahh, to be able to eat and live a vegetarian lifestyle! It is something I often think about, but in the middle of the thought process, the answer is always, "Yeah, I don't think so!"  I'm Irish, I'm a meat and potatoes girl, a carnivore at heart. There aren't many meats I haven't or wouldn't eat. My daughter, Marissa, was vegetarian for a couple of years, back in high school, and what a pain it was, for me – the mom, the cook! But in reality, I would love to give it a try – so to that end, my goal this year is to eat "vegetarian" at least one meal a day (not that hard, when you count in breakfast!) and to make dinner, that one meal a day, at least twice a week. To that end, a new "Vegetarian" category has been added to The Recipe Index on the left.
On the Tip Index, at the left, there is already a listing and link for "roasting peppers" plus there are additional pictures here. So if you need a refresher on the process, check out the previous listing on the Tip Index.

Couscous Stuffed Poblano Chiles
4  poblano chiles
1 cup water
1 cup dry couscous
Salt and freshly ground black pepper
2 teaspoons olive oil
1 cup diced red or yellow bell pepper
1 cup peeled and diced onion
2 teaspoons seeded and minced jalapeño pepper
1 zucchini squash, trimmed and diced
1 cup cherry tomato halves
2 garlic cloves, peeled and minced
1 tablespoon minced fresh cilantro
1 tablespoon fresh lime juice
14.5-ounce can of diced tomatoes with green chilies
1 cup shredded reduced-fat sharp cheddar cheese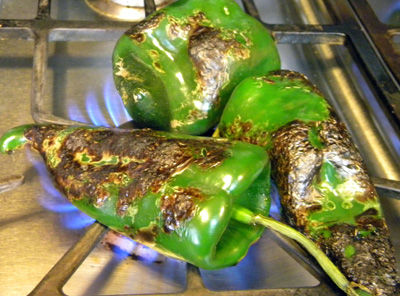 Chilies: Roast chiles on their sides on the grates of gas burners, 2 or 3 per burner, over high heat, turning with tongs until skins are blistered and slightly charred, 4 to 6 minutes. (Or broil on the rack of oven about 2 inches from heat.) Immediately transfer to a plastic or paper bag and seal, or into a large bowl and cover with plastic wrap, let stand 20 minutes for the steam to form, which will loosen the charred skin.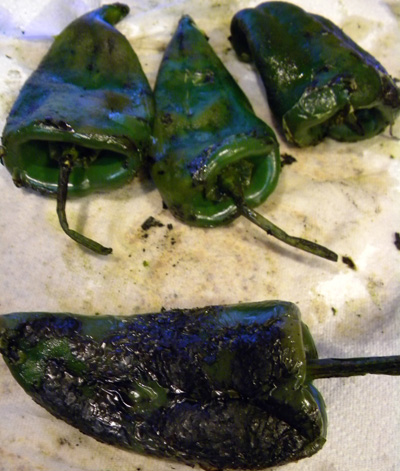 Carefully rub off skins from chiles, leaving stems attached. Cut a slit lengthwise in each chile with kitchen shears, then carefully cut out the seedpod without tearing the chile. Wipe chiles clean with a paper towel if necessary. Preheat the oven to 350 degrees.
Couscous Filling: Bring water to a boil in a medium saucepan. Add couscous, salt, and pepper, stir and cover, remove from heat and let stand for 5 minutes, then fluff with a fork. Set aside.
Heat olive oil in a large skillet over medium-high heat until hot. Add bell pepper, onion, and jalapeño; sauté for about 4 minutes, or until onions are soft and translucent. Add zucchini, cherry tomato halves, and garlic; sauté for another 5 minutes. Remove from heat; stir in fluffed couscous, cilantro, and lime juice. Spoon about 1 cup of couscous mixture into each chile. (you will have about 1 1/2 cups leftover couscous mixture, cover and refrigerate and use as a topping for a mixed greens salad for tomorrow's lunch).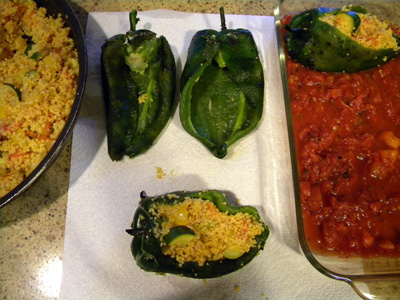 Pour canned tomatoes into an 11 x 7-inch baking dish; place stuffed chiles in the dish. Cover pan with foil and bake for 25 minutes. Remove from oven and sprinkle cheese over chiles; bake, uncovered, for about 12 minutes more or until cheese melts and chiles are thoroughly heated. Spoon tomatoes from the bottom of the pan over chiles and serve.
Serves 4