2 days of Halloween Treats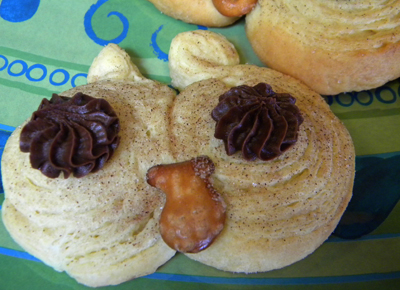 When we visited Connor in Flagstaff last weekend, of course, we made a couple of the required trips to Target to load him up with the "necessities." On the first trip through the doors, I stopped at the $1 bins and spotted a little Pillsbury cookbook called Halloween Fun. The recipes for today and tomorrow's posts are directly from the booklet, they are just too cute and easy not to share!
The decorations needed for the eyes of the owls are the Brache's candy stars that I always used to see hanging on the pegs at every grocery store around. I visited Fry's and they no longer carry Brache's, only their store brand of "Brache's" candies and there were no stars. I went to Safeway and although they still carry Brache's, no stars there either. Finally, I went to Walgreens, feeling 100% confident they would have the disappearing stars… no!!! What's up with that? I was forced to whip up my own chocolate frosting (or you could purchase a ready-made can) and pipe on the eyes using a pastry bag and a star tip.
I always find the lengthy directions of how to assemble these sorts of things confusing, so although I've used the exact words from the book, once you've read them through, it's really easiest to look at the pictures of the steps and the finished product to recreate these rather than to try to figure out those instructions!
Tomorrow – Little Smokie Mummies!
Ominous Flaky Owls
From Pillsbury Halloween Fun
1 can (8-ounce) refrigerated crescent dinner rolls
8 tiny fish-shaped pretzel crackers (Goldfish brand)
1 tablespoon melted butter
1 tablespoon sugar mixed with 1/4 teaspoon ground cinnamon
16 milk chocolate stars or chocolate frosting piped on with a star tip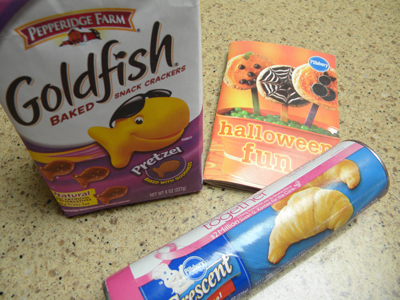 Preheat the oven to 375 degrees. Remove dough from can, do NOT unroll. With a serrated knife, cut the roll into 16 equal slices.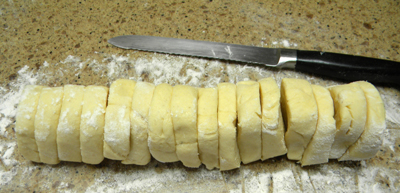 Use 2 dough slices for each owl. Unroll a 2-inch strip from each of the 16 slices. Place slices on an ungreased cookie sheet with sides touching and with the 2-inch strips at the top center. For the owl's horns, fold strips in half and bend toward the outer edges; pinch strips at the fold, forming points. For the owl's beak, press 1 fish-shaped cracker, tail end pointing up, into the center bottom of the dough.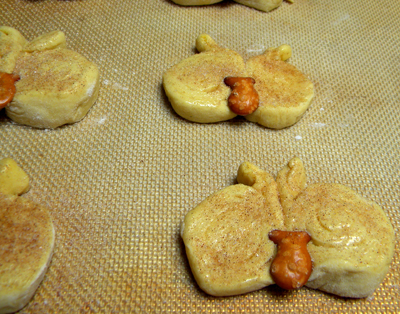 Repeat with the remaining 14 dough slices and crackers to make 8 owls, placing owls 2-inches apart on the cookie sheet.
Brush the owls with the melted butter and sprinkle with the cinnamon-sugar mixture.
Bake for 10 to 12 minutes, or until light golden brown. Immediately press 2 chocolate stars on each owl for eyes. Carefully move to a cooling rack. Cool completely before serving.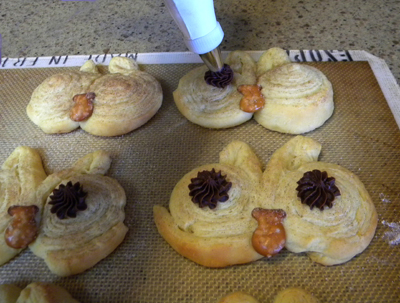 Makes 8