to my wonderful neighbors – in "the hood"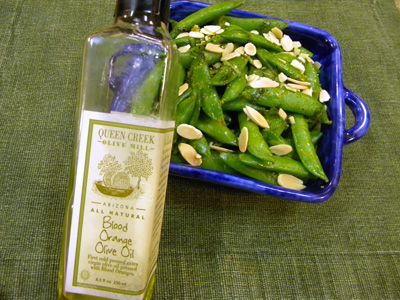 I mentioned my fabulous neighbors yesterday.  I can't begin to describe how blessed we are to live in such a wonderful community. Everyone here supports each other and we all come together throughout the year for bunco, progressive dinners, a fall or winter party, and the best Halloween trick-or-treating around!  The one thing I don't think I've mentioned before is that I'm a Scottsdale,  Arizona native, a rare breed indeed! I've lived in the "Valley of the Sun" all my life and in this great neighborhood for the last 11 years.  I can't begin to imagine not living here!  So a quick shout out to all the amazing women who are raising their families here too… including Amy, April, Cindi, Dana, Denise, Gail, Ginger, Jan, Jeanie, Joanie, Joanne, Kelly, Kirsten, Lisa, Lori, Marci, Mary Ann, Rainey, Robyne, Ronnie, Sarah, Susie, and Whitney… love you all!  And in your honor, here is another "Easy-Breezy" recipe, with the promise of "more to come"!

Sugar snap peas are eaten pod and all. They retain their sweetness much longer than other pea varieties that must be shelled. When sugar snap peas are fresh, they are a bright, shiny green not at all wrinkled or dull. It is important not to overcook as sugar snap peas are meant to be cooked very briefly, then refreshed in ice-cold water so that their crisp texture is retained. I always purchase them at Costco, where they are sold in a 2-pound bag and are already trimmed and strung. They can be eaten straight out of the bag or quickly blanched, as in this recipe.
The basil is cut in a chiffonade.  This is a very quick and easy cooking technique. "Chiffon" is the French word meaning "rag" as in fabric-like strips, so chiffonade means to turn into rag strips. To do this, simply stack the leaves (such as basil or any other leafy greens, herbs, spinach, lettuce, etc), roll the leaves tightly, then slice them across with a sharp knife, creating fine ribbons.
Once again, I am using olive oil from our local Queen Creek Olive Mill. This time it is their Blood Orange Olive Oil and it compliments this dish perfectly.  You can order it at this LINK, or use whatever olive oil you have on hand.
Easy – Breezy Sugar Snap Peas
1 pound sugar snap peas, trimmed
Salt and freshly ground black pepper
2 tablespoons extra virgin olive oil
Zest and juice of 1 medium orange
8 large fresh basil leaves, cut into a chiffonade
1/3 cup sliced almonds, lightly toasted
Bring a saucepan filled with water 3/4 full to a boil. Add 1 tablespoon of salt and the peas, boil, uncovered, for about 2 minutes. Drain, then immediately plunge the peas into ice water to stop the cooking, and drain again.
Place the peas in a bowl and season with salt and pepper to taste.  Add the olive oil, orange zest and juice, and basil. Toss well then sprinkle with almonds and serve.
Serves 4 to 6