the skinny Greek
I had planned to tell you about my weekend but I haven't had time to get the photos put together. Instead, how about another recipe for our new "skinny" category today?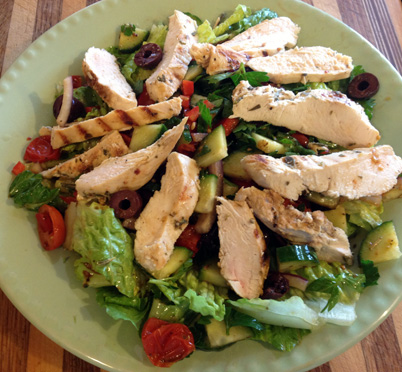 Skinny Greek Salad
Roasted Grape Tomatoes
1 cup cherry tomatoes, halved
Pam non-stick cooking spray
1 teaspoon Greek seasoning, divided
Salt and freshly ground black pepper
Oil-Free Greek Dressing
Juice from roasting tomatoes (from above)
Zest from 1 small lemon
1 tablespoon fresh lemon juice
1 small garlic clove, peeled and minced
1 tablespoon red wine vinegar
1/4 teaspoon dried oregano
Freshly ground black pepper, to taste
Chicken
1/4 cup lemon juice
3 garlic cloves, peeled and minced
1 tablespoon fresh chopped rosemary
1 tablespoon fresh chopped oregano
1 tablespoon fresh chopped thyme
Salt and freshly ground black pepper
2 boneless skinless chicken breasts
Salad
1 cup chopped cucumber
1 cup chopped red bell pepper
1/4 cup pitted and sliced Kalamata olives
1/4 cup chopped fresh Italian parsley
2 tablespoons thinly sliced and chopped red onion
1 head Romaine lettuce; torn into bite-size pieces, washed and spun dry
Roasted Grape Tomatoes: Preheat the oven to 375 degrees. Spray a small baking sheet with Pam, and sprinkle with 1/4 teaspoon of the Greek seasoning.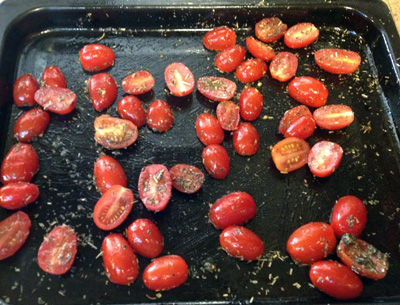 Place grape tomato halves on a baking sheet, spray tomatoes with Pam and sprinkle with another 1/4 teaspoon of the Greek seasoning and season with salt and pepper; toss to coat. Place baking sheet on middle rack and roast in preheated oven until tomatoes are slightly roasted and softened about 12 minutes.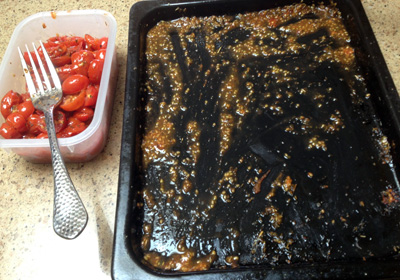 Carefully transfer the tomatoes to a bowl, using a fork, to leave behind as much of the juices as possible.
Immediately use a spatula to scrape the juices into a medium bowl, and set aside for the dressing. Set aside the tomatoes to cool.
Dressing:  To the roasted tomato juices in the bowl, add lemon zest and juice, garlic, vinegar, oregano, and pepper. Whisk to combine.
Chicken: In a small Pyrex dish or pie plate, whisk together the lemon juice, garlic, rosemary, oregano, and thyme. Season with salt and pepper.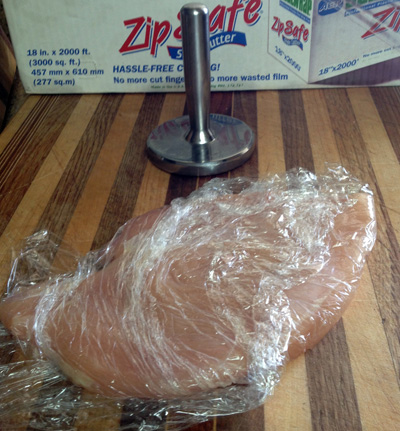 Place each chicken breast between two sheets of plastic wrap and pound out until the breasts are an even thickness.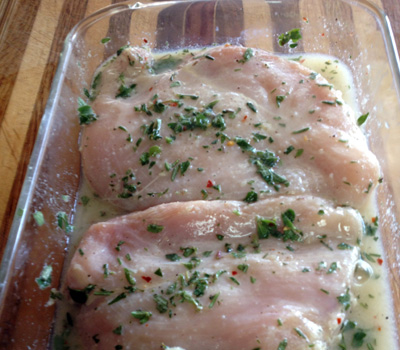 Add the breasts to the Pyrex dish and turn over to coat. Let sit at room temperature for 15 minutes. At the end of the marinating time, heat a grill pan until hot. Reduce heat to medium-high and spray with Pam.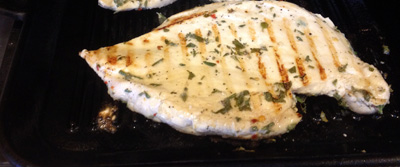 Grill the breasts until cooked through, about 5 to 7 minutes per side.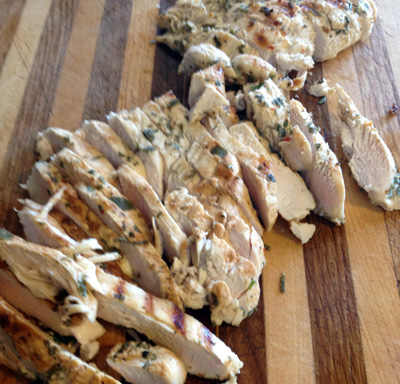 Remove to a cutting board and let sit until cool enough to handle.  Slice thinly on the diagonal.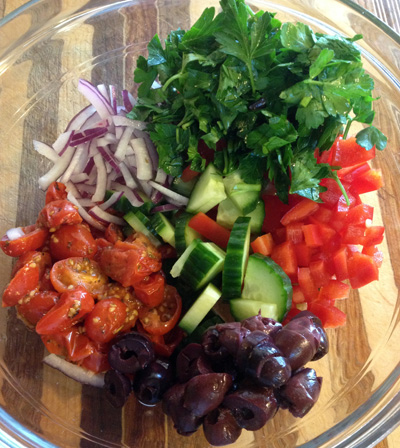 Salad: Place the cucumber, bell pepper, olives, parsley, red onion, and the cooled roasted tomatoes in a medium bowl. Add 1 tablespoon of the dressing and toss to combine.
Divided the Romaine between 2 dinner plates. Divide the remaining dressing between the plates and toss the Romaine to coat. Top the greens with the salad mixture and lay the sliced chicken on top. Serve immediately.
Serves 2