thank you boys!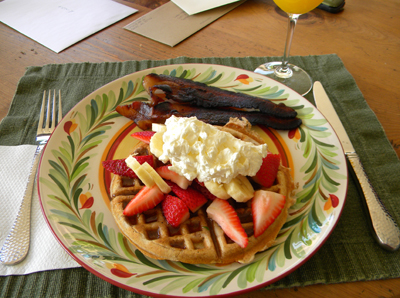 For Mother's Day, Dave and my adorable son, Connor, made me not only breakfast but dinner as well! So when our Phoenix Suns swept the Spurs to advance in the playoffs, it was as if I hit the jackpot yesterday!
Breakfast was thick-cut bacon, mimosas, and cinnamon-pecan waffles with fresh strawberries, bananas, and whipped cream! And for dinner, they made lamb, chicken, and beef kabobs (picked up at Whole Foods), our favorite parmesan asparagus, toasted garlic-olive bread, and sea salt roasted fingerling potatoes with whole fresh herbs.
Since the asparagus has been featured here a couple of times already, we'll share the very easy potato recipe. You can use the fingerlings as the recipe calls for, or if fingerlings are hard to find or too costly, just use russet or Yukon gold potatoes cut into wedges. Both choices are pictured below.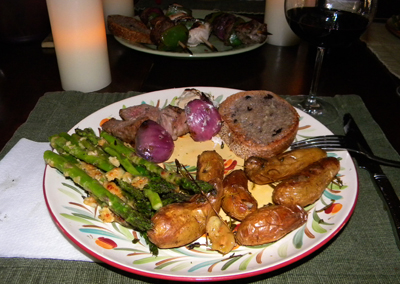 Sea Salt Roasted Fingerling Potatoes with Whole Fresh Herbs
1 pound fingerling potatoes
5 sprigs fresh rosemary
8 sprigs fresh sage
10 sprigs fresh thyme
1 large head cloves garlic, left unpeeled
1/4 cup extra-virgin olive oil
Sea salt and freshly ground black pepper
Preheat the oven to 500 degrees and place a baking sheet inside to heat.
Place potatoes, rosemary, sage, thyme, and garlic in a medium bowl.  Drizzle with olive oil, and season with salt and pepper.  Remove sheet pan from oven, lightly coat with olive oil, and pour potatoes onto pan.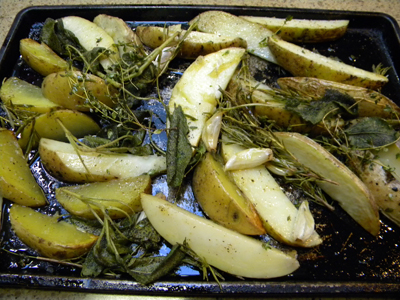 Place potatoes in the oven and reduce heat to 425 degrees. Roast for 45 minutes, or until crispy on the outside and tender on the inside.