Marissa, have some frittata!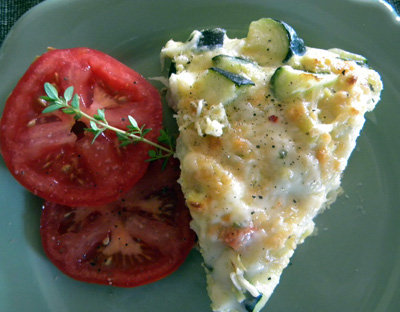 Marissa drove home yesterday and stayed overnight, just a pit stop on her way to Las Vegas for a girls' weekend. She and I took Dave out for his belated birthday dinner. Our family tradition is to take the birthday boy/girl out for a nice dinner to a place he/she has never been before, and it's always a surprise to that person right until the moment we pull into the parking lot. I chose a seafood restaurant that has been here in Scottsdale since 1971, but for whatever reason, Dave has never been there. I had not been there since I was in high school, I  don't know why!  It's this cool "old school" place called The Salt Cellar and the seafood was as good as any we've ever had on either the East or West Coast!  Dave had a Maine lobster and Marissa and I each had crab legs. So Good!!!  We had several leftover crab legs and those high-end leftovers are what inspired this "have fun in Vegas – but please be Careful and Safe!" breakfast.
If you don't have an oven-proof skillet, meaning a skillet with a handle that won't be ruined under a broiler, just tightly wrap the handle of the skillet several times with aluminum foil, now it is oven or broiler-proof.
Crab and Vegetable Frittata
1 medium russet potato
1 medium shallot, peeled and minced
3/4 cup diced zucchini
1/4 cup diced bell pepper
2 tablespoons unsalted butter
Salt and freshly ground black pepper
8 eggs
1/3 cup fat-free half-and-half
1 cup shredded Pepper Jack cheese, divided
1 cup fresh crabmeat
2 tablespoons shredded Parmesan cheese
Preheat broiler. Pierce the potato several times with a small knife, wrap in a paper towel, and microwave on high for 5 minutes.  Remove from microwave and using the paper towel to hold the hot potato, peel with a small knife. Cut potato into 1/2-inch cubes.
Melt butter in a heavy broiler-proof 10-inch-diameter nonstick skillet over medium heat. Add shallots and sauté until soft and translucent, about 3 minutes. Add potato cubes, zucchini, and bell pepper, season lightly with salt and pepper, and sauté until tender, about 6 minutes.
Whisk eggs, half-and-half, 3/4 cup of the pepper-jack cheese and the crabmeat in a medium bowl, season with pepper. Add egg-crab mixture to skillet; fold gently to combine. Cook, without stirring, until eggs are almost set about 3 minutes.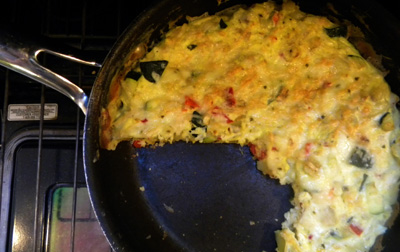 Sprinkle with the remaining 1/4 cup pepper jack cheese and Parmesan cheese. Place pan on the top shelf of the oven and broil until frittata is puffed and cheese begins to turn golden about 3 minutes. Cut into wedges and serve.
Serves 6 to 8