sick of summer
The large majority of followers of this page live in the Phoenix metro area. So I know that you are as sick of summer as I am, especially this year.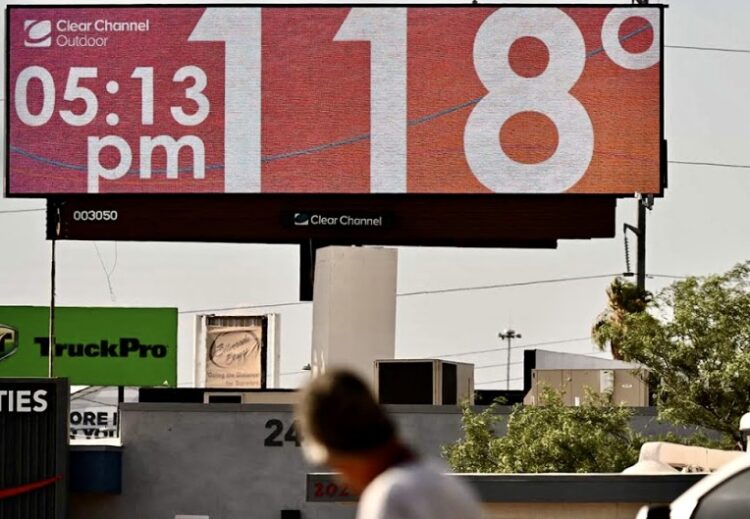 Today, Saturday, July 29, marks the 30th straight day of 110° plus days. Tomorrow, 109° is predicted but we shall see. To give some perspective, the 1974 record of 18 straight days of 110° or above was broken in mid-July. And seven of these last 30 days were 118° or 119°, so yeah, we've had enough!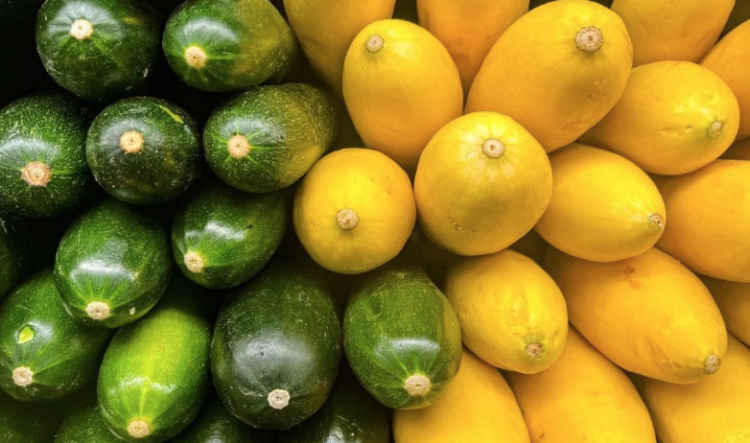 All that being said, there is one good thing about summer and that is summer squash, zucchini to be exact. One of the most versatile veggies out there. My favorite thing to do with zucchini is to make zucchini nut bread, but it's too damn hot to turn on the oven, so pasta will be just fine.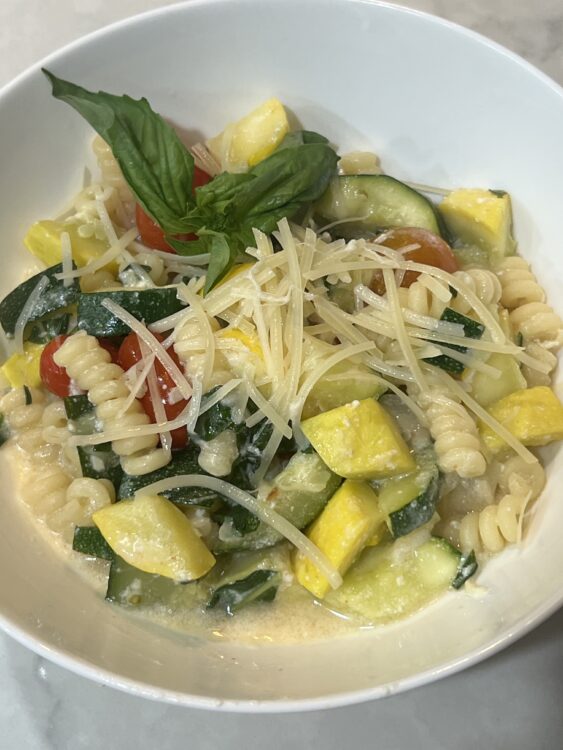 Summer Squash & Chicken Pasta
1 pound fusilli, penne, or another short-cut pasta
2 tablespoons olive oil
4 tablespoons unsalted butter, divided
1 medium yellow onion, peeled and diced
4 cloves garlic, peeled and minced
1/2 teaspoon red chile flakes
2½ pounds zucchini and/or yellow squash, ends trimmed and diced
1½ cups cherry or grape tomatoes, left whole
Zest of 1 large lemon
2 cups plain Greek yogurt (not low or nonfat)
2 cups shredded cooked chicken breasts or rotisserie chicken
1/4 cup loosely packed fresh basil leaves, chopped
1/4 cup loosely packed fresh mint leaves, chopped
Freshly ground black pepper, to taste
1 cup grated Parmesan cheese, divided
Bring a large pot of water to a boil and add salt. Add the pasta and cook for 1 minute less than the package directions, it will finish cooking in the pan at the end.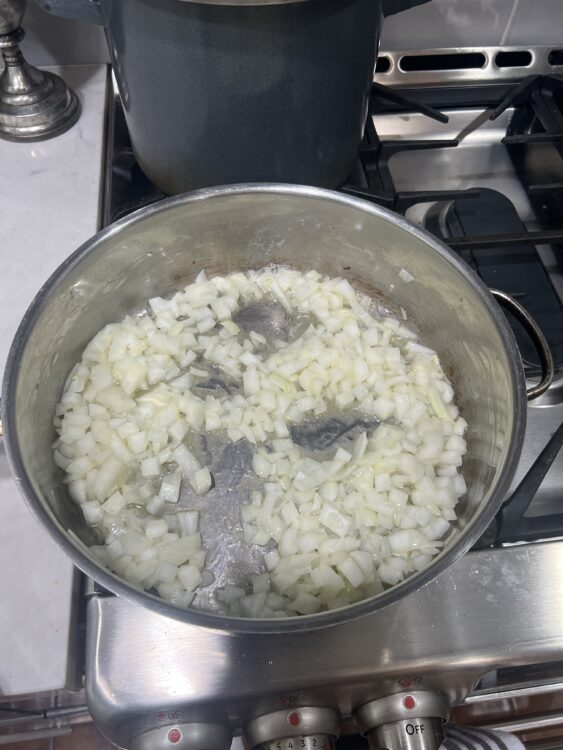 Meanwhile, heat 2 tablespoons olive oil and 2 tablespoons butter in a large deep skillet over medium heat. Add the onions and sauté until soft, 3 to 5 minutes. Add the garlic and chile flakes and sauté for 1 minute.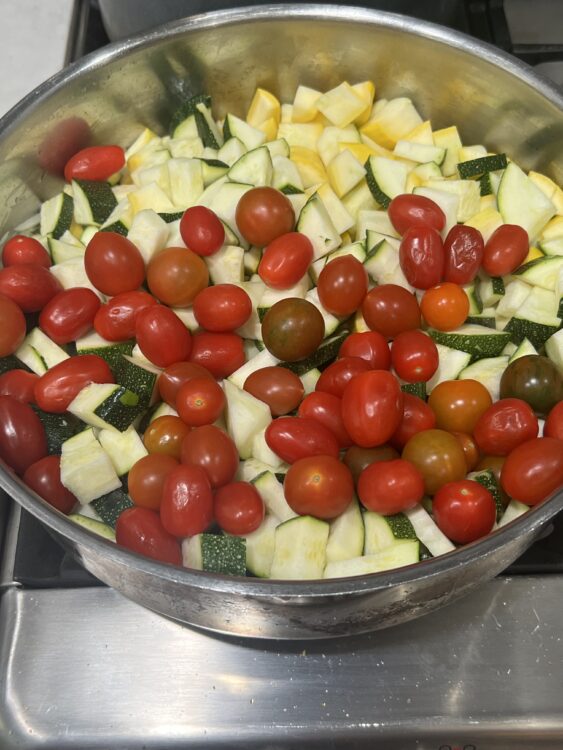 Add the zucchini and tomatoes and season with a generous sprinkle of salt. Cook, stirring occasionally, until zucchini is tender and the tomatoes have softened and burst, about 5 to 7 minutes.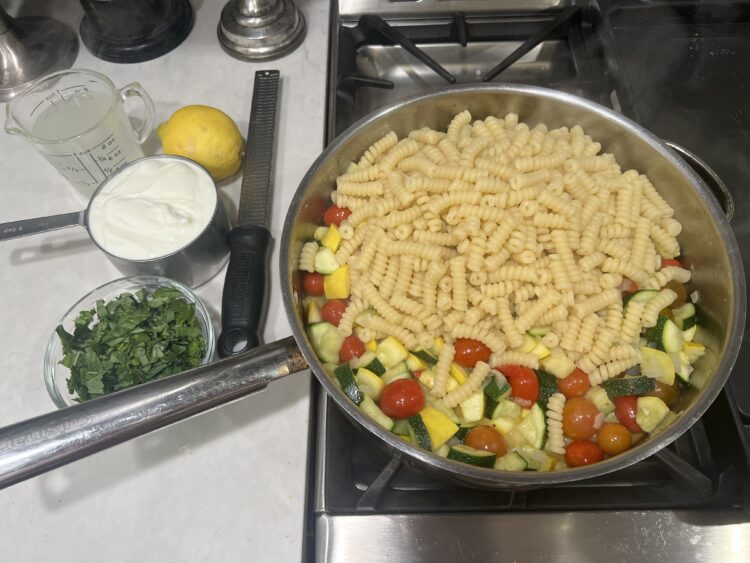 Once the pasta is cooked, set aside 1 cup of the pasta water. Drain the pasta and add to the pan with the zucchini. Add the lemon zest, yogurt, shredded chicken, remaining 2 tablespoons of butter, and 1/4 cup of the reserved pasta water. Stir until well mixed and the pasta is fully coated in the sauce. Add additional pasta water if the sauce is too thick.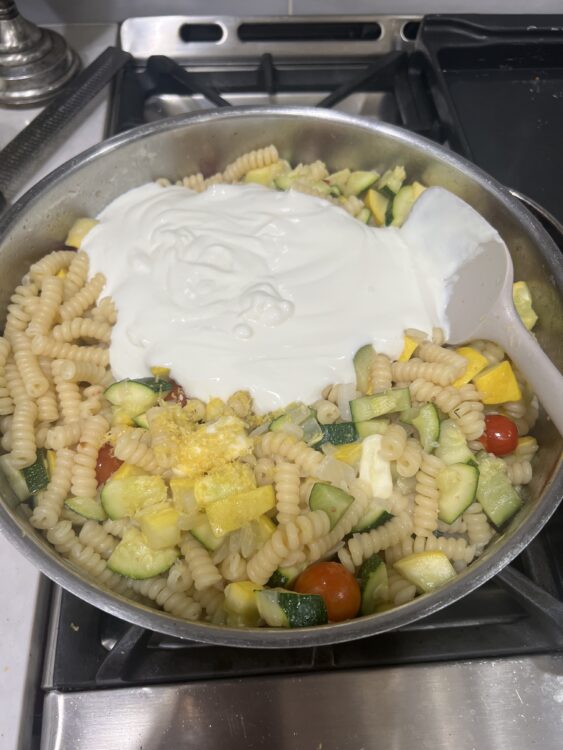 Stir in the basil, mint, and 3/4 cup Parmesan. Season to taste with black pepper. Remove from heat and serve immediately. Sprinkle with the remaining 1/4 of Parmesan cheese.
Serves 8-10