stand by me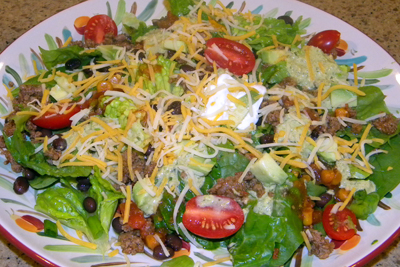 When I am at a loss for what to make for dinner, taco salad is a go to recipe. It can be as easy or complicated as you choose. After being out of town for a week and eating out each night, homemade dinner was a must. The problem was I was short on time, I'd driven up to Flagstaff to retrieve Connor, rushed home to get the four of us ready to fly out the next morning for an early flight to Chicago. Normally I wouldn't even bother making dinner on such a night, but Connor hadn't had a home-cooked dinner for nearly 3 months, so taco salad it was.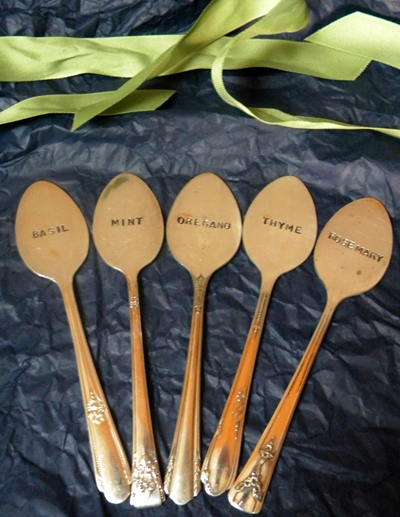 This was the first time the kids were together in 3 months too, so they gave me my birthday gift. These darling herb garden markers! Marissa found and ordered them online from Etsy.com.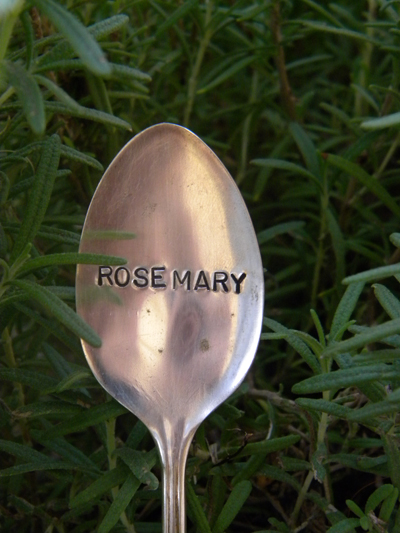 I love them! Thank you Marissa and Connor. Another thank you to Marissa for allowing me to post this picture of her. I'd forgotten to sprinkle the tortilla strips on top before taking the official photo of the salad, and since we'd already dug in… Well, as you can see, I may have taken a few too many before she couldn't take it anymore.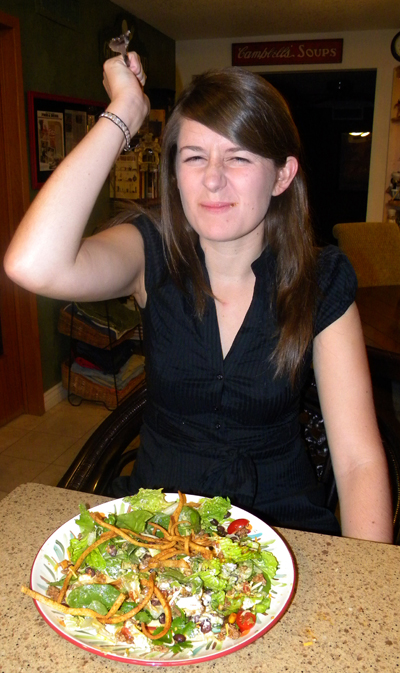 Scottsdale Taco Salad
Dressing
1 poblano pepper, roasted, peeled and seeded
1 egg
2 tablespoons fresh lemon juice
2 tablespoons Dijon mustard
1 large garlic clove, peeled
3/4 cup corn oil
1/2 cup buttermilk
Salt and pepper, to taste
Salad
5 corn tortillas
2 teaspoons salt
1 1/2 tablespoons chili powder, divided
1 pound ground turkey
1 tablespoon red wine vinegar
1 tablespoon ground cumin
1 tablespoon chili powder
1/2 teaspoon ground cinnamon
Salt and freshly ground black pepper
3/4 cup purchased salsa, divided
1 head romaine lettuce, washed, spun dry and torn into bite-size pieces
2 cups baby spinach leaves, washed and spun dry
1/2 bunch cilantro, leaves striped from stems
1 can black beans, drained and rinsed
1 cup cherry tomatoes, halved
1 bunch green onions, thinly sliced
1 cup shredded sharp cheddar cheese
1 avocado, peeled and diced
1/4 cup sour cream
Dressing: In a blender, combine the roasted pepper, egg, lemon juice, mustard, and garlic.  Blend until smooth. With the blender running, slowly drizzle in the oil until the mixture is slightly thick.  Add the buttermilk and continue to blend for 1 minute.  Season with salt and pepper.  Cover and refrigerate for at least 1 hour.   The dressing will keep for up to 2 days in the refrigerator.
Salad: Stack tortillas and cut into very thin strips. On a baking pan, mix strips with 2 olive oil, salt, and 1/2 tablespoon (1 1/2 teaspoons) chili powder.
Bake tortilla strips in a 425 degree oven, stirring occasionally, until crisp, about 8 minutes. Set aside and let cool.
Brown the turkey in a large skillet, add the vinegar, cumin, chili powder, and cinnamon and stir to blend. Mix in 1/4 cup of the salsa. Season with salt and pepper.
Toss the romaine, spinach, and cilantro leaves in a large bowl. Top greens with black beans, tomatoes, onion, cheese, and avocado. Dollop with sour cream, drizzle with dressing and the remaining 1/2 salsa, then sprinkle with tortilla strips.  Serve immediately.
Serves 4