skins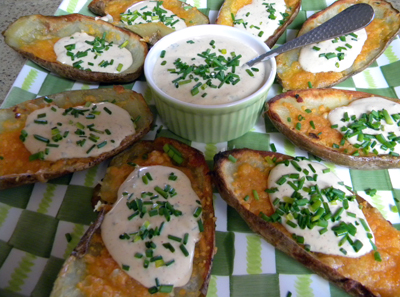 Potato skins are something I generally associate with the fall or winter. I'm not really sure why that is, but when they are grilled, instead of baked and broiled, they just seem more "summery". These were a huge hit on the last day of summer kids' classes! Speaking of which, ever wonder what the kitchen looks like before and during classes? A few photos are at the end of the recipe… I wasn't brave enough to put up any "after" pics!  Tomorrow I'll share a few photos of what my fridge looks like after a shopping "spree" before a week of classes – it's scary – I'll tell you that!
Grilled Potato Skins with Spiced Chipotle Sour Cream
Seasoned Sour Cream
1 cup sour cream
3/4 cup mayonnaise
1 tablespoon lemon juice
3 tablespoons minced green onion
1 tablespoon finely minced fresh parsley
1 tablespoon finely minced fresh dill
1 teaspoon garlic salt
1 teaspoon smoked paprika
1/2 teaspoon onion powder
1/2 teaspoon Worcestershire sauce
1/4 teaspoon celery salt
1/4 teaspoon dill weed, finely diced
1/8 teaspoon cayenne pepper
1 small chipotle chile, finely minced
Potatoes
6 russet potatoes, scrubbed
6 slices bacon
1/4 cup unsalted butter
2 garlic cloves, peeled and minced
2 cups shredded sharp cheddar cheese
1/4 cup chopped chives
Seasoned Sour Cream: Mix sour cream and mayonnaise in a large bowl.  Add remaining seasonings, spices, and chipotle, one at a time, mixing after each addition.  Chill until ready to serve.
Potatoes: Preheat the oven to 350 degrees.  Bake potatoes on the middle rack for 1 hour. Remove from oven and let sit until cool. Meanwhile, cut the bacon into 1-inch pieces. Fry bacon in skillet until crisp, drain on paper towels, and set aside.
Preheat the grill to medium heat. Cut potatoes lengthwise, and spoon out most of the flesh, leaving a half-inch shell. Melt the butter in the microwave and add the minced garlic. Brush the potatoes with the mixture. Use tongs to turn over and butter the bottoms of potatoes.
Place potatoes on the grill and cook until crisp, about 4 minutes on each side. Remove from heat.  Divide the cheese up among the potatoes while they are still hot. Top the potatoes with the seasoned sour cream, and chives.
Serves 12