self-imposed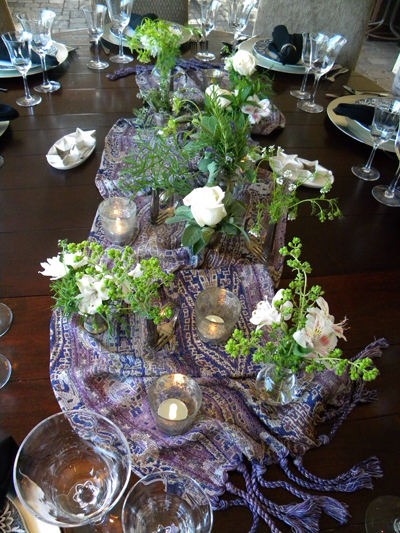 First and foremost, I must thank my amazing guest blogger of the past two days; my gorgeous, generous, gracious, and very talented daughter, Marissa. It was a joy to have two full days off without any stress or guilt. Yes, it is strange but true, I feel guilty when I don't post. Not because any of you, my kind and loyal followers make me feel so, just my own self-imposed desire to be a true "daily" blogger.  Take, for instance, last Friday and Saturday. I was overwhelmed and overworked preparing for a cooking class birthday party I was holding on Saturday night. I had not only the usual recipes to type and copy and the food to shop for and prep – but also a house to clean, furniture to move, linens to press, centerpieces to make, china, crystal, and cutlery to polish, a table to set, and weather to fret over.  Posting was out of the question and I felt bad about that. But the class went off without a hitch, (in part, thanks to my perfect assistant, Marissa) the dinner was lovely, the weather cooperated, and the guests left educated, full, and happy.
The menu was made up of recipes I've previously posted here; including Pomegranate Molasses Lamb Chops, Parmesan Roasted Asparagus, Mediterranean Grilled Chopped Vegetables, and Herbed Chèvre Crostini, and the dessert, a roulade that I made a small but tasty change to.
The birthday girl requested a dessert including Key limes, so I switched my Lemon Curd Lemon Roulade into a Key Lime Curd Key Lime Roulade. You can almost always find inexpensive Key limes locally at Ranch Market. They are tiny, have lots of seeds (use a strainer when juicing) and give off very little juice, so you'll need a bunch! Also, do not expect your curd to be green, remember it is the egg yolks that make lemon curd yellow, not the lemon zest or juice. So unless you would like to add a drop or two of green food coloring, your lime curd will also be yellow. Additionally and unfortunately, the lime zest you add at the beginning will turn a rather unattractive gray color. Go ahead and add it for the flavor it will impart while the curd is being cooked, you will strain it out anyhow. Then once the curd has cooled completely, stir in more zest and you'll have pretty little green specs of color and more Key lime zing in the finished curd.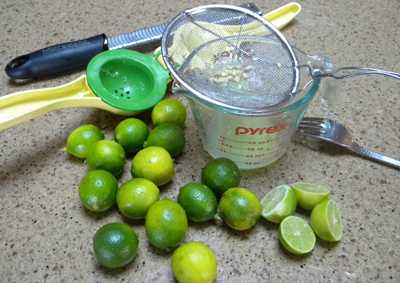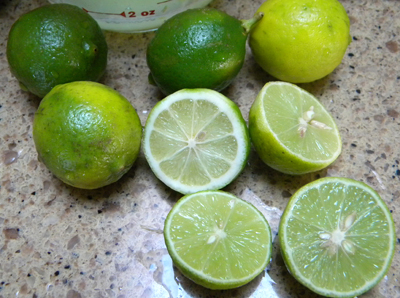 Key Lime Curd
2 eggs
2 egg yolks
3/4 cup sugar
4 tablespoons finely grated Key lime zest, divided
1/2 cup freshly squeezed Key-lime juice (about 20 -25 limes)
1/2 cup (1 stick) cold unsalted butter, cut into about 24 small pieces

Whisk together the eggs, yolks, sugar, 2 tablespoons of the Key lime zest, and all the Key lime juice in a heavy saucepan.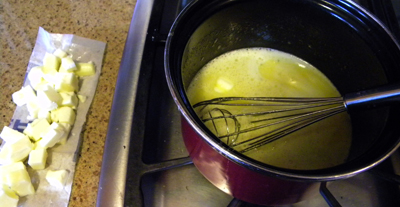 Place pan over low heat. While whisking constantly, add the butter, one piece at a time, adding another piece as the previous melts, until all the butter is incorporated and the curd starts to thicken.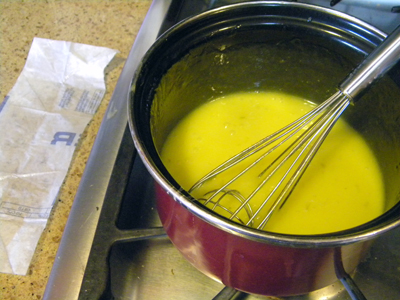 Remove from heat, immediately strain into a bowl, and place plastic wrap directly on the surface to prevent skin from forming.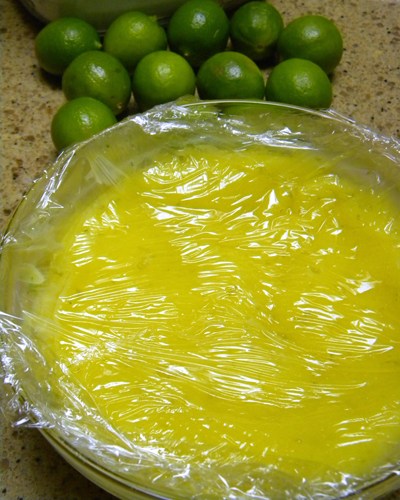 Chill completely. Just before using, stir in the remaining 2 tablespoons Key lime zest.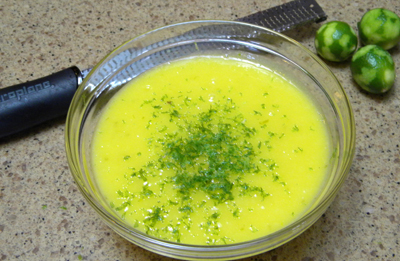 Makes about 2  1/2 cups curd