roll-ups, pinwheels, whatever
enter site by Linda Hopkins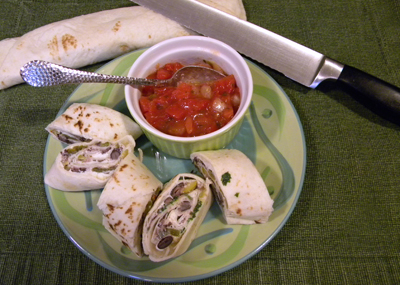 There is something about a roll-up or pinwheel that kids just love. I'm not sure what it is. Maybe they appreciate that they can actually see everything that is "in there". Or maybe they are attracted to the nice size, easy to eat in a couple bites. Whatever it is, these make a great appetizer for an adult party, a nice "packable" lunch for the office
(just bring a plastic knife to slice when you're ready to eat),
or a great picnic or after-school snack for the kids.
Black Bean Tortilla Pinwheels
http://cinziamazzamakeup.com/?x=miglior-sito-per-comprare-viagra-generico-200-mg-a-Napoli 1 garlic clove, peeled
8 ounces cream cheese, room temperature
1 teaspoon ground cumin
Five 10-inch flour tortillas, warmed in the microwave for easier rolling
1 1/2 cups canned black beans, rinsed and drained
1 cup canned chopped roasted mild green chiles, drained
1 cup grated sharp cheddar or Mexican blend cheese
1/3 cup chopped pimiento-stuffed olives
1/3 cup minced fresh cilantro
Salsa, if desired for dipping

quanto costa viagra generico 25 mg in farmacia a Genova With the machine running, drop the garlic through the feed tube of a food processor to mince. Remove lid and add the cream cheese and cumin, turn on machine to blend.
http://maientertainmentlaw.com/?search=best-prices-on-levitra-in-florids Spread the cream cheese mixture evenly over the tortillas, all the way to the edges. Do not clean out processor bowl.
misuse of levitra professional Place the beans in the food processor and use the pulse button to just slightly mash the beans.
source Spread the mashed beans over the cream cheese mixture. Sprinkle the chiles, cheddar cheese, olives, and cilantro over the beans and roll-up the tortillas tightly. Wrap each in plastic and chill for at least 40 minutes or up to one day ahead.
http://cinziamazzamakeup.com/?x=comprare-viagra-generico-pagamento-online-a-Parma Cut each tortilla roll into 3/4-inch slices with a sharp knife and serve with salsa, if desired.
http://maientertainmentlaw.com/?search=cialis-online Makes about 40 pinwheels