remedy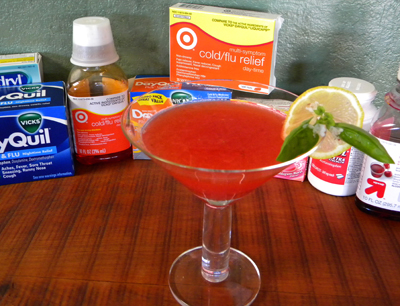 I was treated to a fabulous lunch at T. Cooks at the Royal Palms yesterday by my two "cooking cohorts" Barb Fenzl and Kim Howard. Kim told us about a delicious martini she'd had over the weekend at Modern Steak, called Retail Therapy.  It sounded so good and I knew I'd want to re-create here, but hadn't thought I'd be doing it so soon.
I brought home an unwanted souvenir from my recent travels – a furious head cold! I've been downing the Sudefed and Nyquil like candy, but last night didn't think I could stand even one more dose. So instead, I opted for my own remedy, which I shall rename Head Cold Therapy! It worked like a charm – I slept like a baby. This may not be the perfect remedy for everyone, but it is one great martini!
Head Cold Therapy Martini
Macerated Strawberries
8 ounces (1 cup) fresh strawberries, hulled and quartered
2 tablespoons premium vodka
1 teaspoon sugar
Martini
12 macerated strawberry quarters
3 basil leaves, torn
2 ounces premeium vodka
1 ounce Grand Mariner
2 teaspoon fresh lemon juice
Ice
Additional basil leaves and lemon slices, for garnish

Macerated Strawberries: Gently stir together strawberries, 2 tablespoons vodka, and sugar until sugar is dissolved, then let stand at least 30 minutes. Makes enough strawberries for 4 martinis.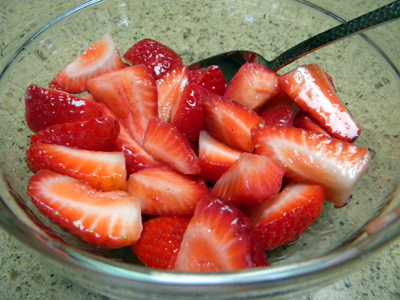 Martini: In a shaker, muddle 12 of the strawberry quarters and the torn basil.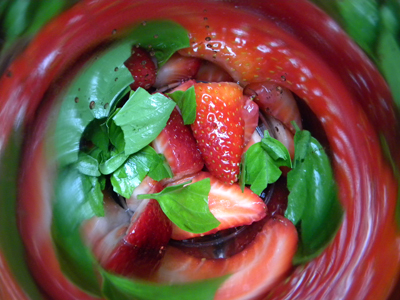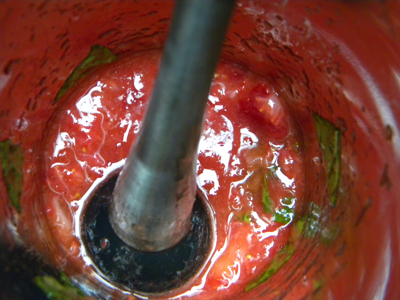 Add vodka, Grand Marnier, lemon juice, and 4 or 5 ice cubes. Shake well until very cold. Strain in a martini glass and garnish with basil and a lemon slice. Final step – drink and feel all better!
Makes 1