Red Kuri
My dear friend, Kim Howard, brought me a wonderful gift a few nights ago when she came over for a little party I had. From one cook to another, a gift of a pretty squash is just the most perfect gift. Kim found the red Kuri squash at Whole Foods. She correctly knew that I would love to try something new and then share it here, with you. Thank you, Kim, love you!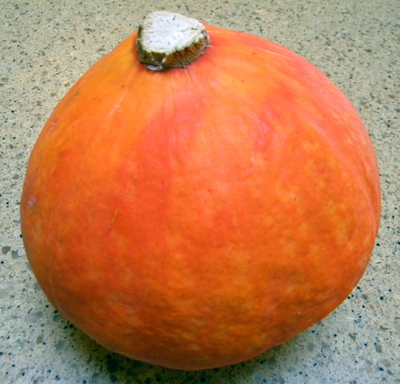 Red Kuri squash has a delicate chestnut flavor and is smooth and creamy. Like pumpkin, Kuri is perfect for both savory and sweet dishes. It is thick-skinned, brightly colored a red-orange, and has the appearance of an oblong pumpkin without the ridges. It is available year-round and can be baked, braised, pureed, or steamed. Served as a side dish, soup, or even dessert. Red Kuri is a good source of fiber. It also provides vitamin A and vitamin C, some of the B vitamins, calcium, potassium, iron, riboflavin, and thiamine. Low in calories and sodium, this deep-colored squash also contains beta-carotene.
When you see the name of the recipe, you may ask yourself, "What is a mélange?"  Mélange is a synonym for stew, you see, both Marissa and I have a nasty image in our heads when we hear the name "stew", so I went a bit French on you and change the name. It sounds so much more gourmet, doesn't it?! The reason I decided to make a stew with this new squash was that I already make a delish pumpkin-pork stew that I serve over rice and I knew, that for a first try, I couldn't go wrong with a similar application. Think along those lines, if you decide to try out a new fruit or vegetable you find intriguing while strolling the bins at the grocery store or this fall while enjoying a farmer's market.
Kuri Squash and Chicken Mélange over Quinoa with Spiced Kuri Seeds
One 2 to 2  1/2 pound Kuri squash
2 tablespoons olive oil, plus additional for rubbing on squash and coating baking sheet
Salt and freshly ground black pepper
1  1/2 teaspoons ground cumin, divided
1 teaspoon ground cinnamon, divided
1/2 teaspoon Kosher salt
1/4 teaspoon freshly ground black pepper
1 red onion, peeled and diced
3 garlic cloves, peeled and minced
1 teaspoon peeled and finely minced ginger root
1/2 teaspoon ground coriander
1/2 teaspoon chipotle chili powder
Pinch of cayenne
2 boneless and skinless chicken breasts halves cut into 1-inch cubes
1 1/2 cups chicken broth
Quinoa
2 tablespoons olive oil
2 large shallots, peeled and diced
1 cup quinoa, rinsed under cold running water
Salt and freshly ground black pepper
2 cups chicken broth
Preheat the oven to 350 degrees.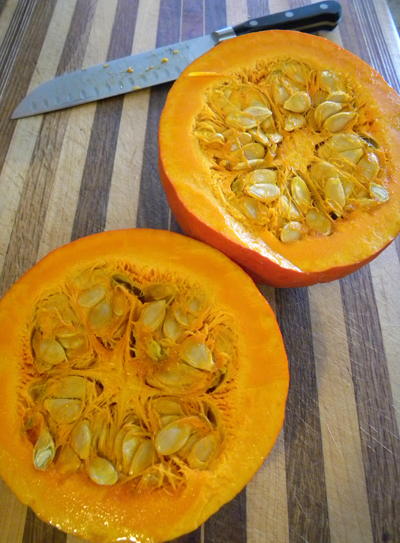 Cut the squash in half and spoon the seeds out and place the seeds in a large bowl full of hot water, set the bowl aside.  Rub the cut side of the squash halves with olive oil and season with salt and pepper. Place the squash, cut side down, in a rectangular baking dish. Add 1/4 cup water and bake in preheated oven for 40 minutes, or until the squash is tender when pierced with a paring knife.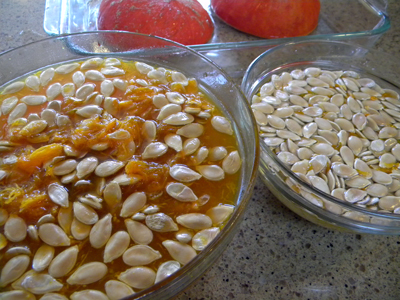 While the squash roasts, use your hands to squish and squeeze the seeds, releasing them from the stringy pulp. Lift out the loose seeds and place them in another bowl of hot clean water.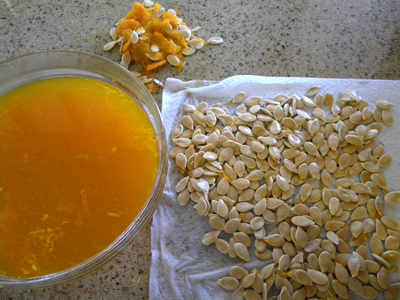 Do not obsess about getting every last seed. The few tablespoons of seeds that remain stuck to the pulp aren't worth the frustration! Pour the seeds from the second bowl into a strainer and place them under hot running water, rubbing the seeds against the strainer with your hands to remove some of the little bits of pulp remaining. Again, don't worry about getting off every little bit, the remaining bits will cook-off in the oven. Place seeds on a paper towel to drain, there will be about 1 cup of seeds.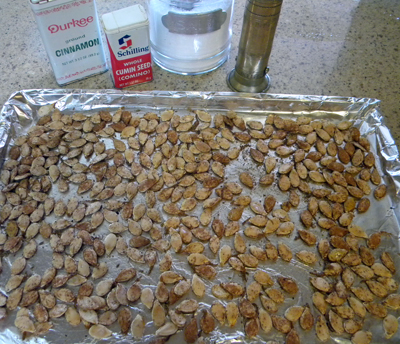 Line a baking sheet with foil and lightly coat with olive oil. Combine the seeds with 1/2 teaspoon of the cumin, 1/2 teaspoon of the cinnamon, plus the salt and pepper on the baking sheet and toss to combine. Spread out into a single layer and bake alongside the squash for about 25 minutes, or until seeds are crispy and light golden brown, stirring after the first 12 minutes. Remove from the oven and cool completely before serving. Remove the squash from the oven and remove halves from the pan, set aside until cool enough to handle. Use a paring knife to cut off the peel and then cut the squash into 1-inch cubes.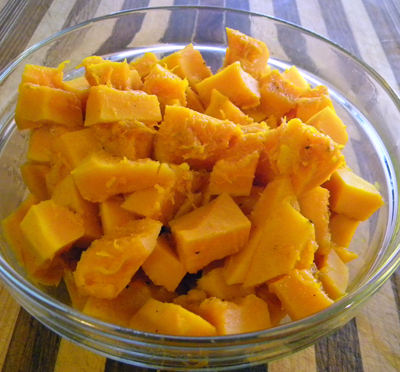 Meanwhile, heat a large pot over medium heat and add the olive oil, swirl the pan to coat, and add the onion. Sauté the onions until soft and translucent. Add the garlic and ginger and sauté for 1 more minute, stirring constantly. Stir the remaining 1 teaspoon cumin, the remaining 1/2 teaspoon cinnamon, coriander, chipotle chili powder, and cayenne into the onion mixture.
Add the chicken and sauté, stirring constantly until cubes are no longer pink about 4 minutes.  Add the broth and squash cubes and bring to a boil. Reduce heat to a low simmer and cook until the chicken is completely cooked about 10 minutes.  You should have a thick stew consistency.  Add more stock if desired, depending on your taste.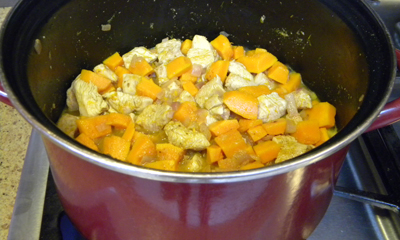 While the stew simmers, make the quinoa. In a medium saucepan, heat olive oil. Add the shallots and cook for 1 minute. Add quinoa and stir until the grains are well coated with oil. Season with salt and pepper then add chicken broth. Bring to a boil, cover, and reduce to a simmer. Cook until all the liquid is absorbed, about 12 minutes.  Taste for seasoning, adjust as needed. Place a mound of quinoa in the center of each of the four dinner plates. Spoon the mélange over the top and sprinkle with the Kuri seeds.
Serves 4