quick hor d'oeuvre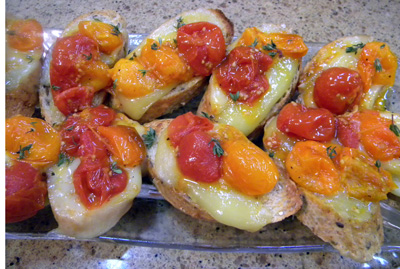 Bruschetta (pronounced brus 'ketta) is a snack or appetizer from Italy. It consists of grilled or broiled bread that is traditionally rubbed with garlic and topped with olive oil, salt, and pepper. There are more variations of toppings than one can count, making it a very fun and versatile hor d'oeuvre.
I love roasting cherry tomatoes that have been drizzled with olive oil, salt, and pepper. They are sweet and tangy and are like little bursts of goodness in your mouth. If possible, use different colors of tomatoes for an even more pleasing presentation. In the photo below, my daughter, Marissa, and her boyfriend, Alberto, are enjoying the bruschetta with us on New Year's Eve.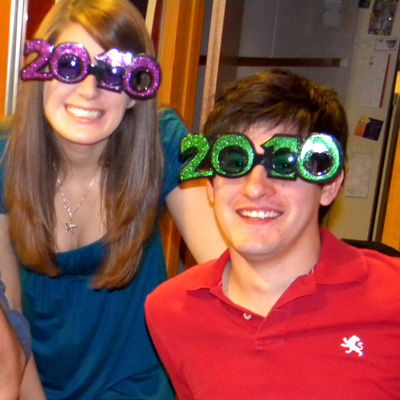 Brie and Roasted Cherry Tomato Bruschetta
2 pints cherry tomatoes
2 garlic cloves, peeled and crushed
1 teaspoon fresh thyme leaves
3 tablespoons olive oil
Kosher salt and freshly ground black pepper
1/4 cup (1/2 stick) unsalted butter, melted
1/2  whole-grain baguette, cut into 1/2-inch slices on the diagonal
1/2 pound brie, rind removed and thinly sliced
Fresh thyme leaves, for garnish
Preheat oven to 350 degrees.
Place the cherry tomatoes and garlic onto a baking sheet, drizzle with olive oil, sprinkle with thyme, and season with salt and pepper. Bake just until they burst and the juices are lightly caramelized for about 20 minutes.  Use a rubber spatula to gently scoop the tomatoes into a microwave-safe bowl along with all the juices on the pan; set aside. Set the oven to broil.
Butter the bread on both sides and top each with a couple of slices of brie. Broil until the cheese is bubbling and slightly browned. Top with the tomatoes, reheating them briefly in the microwave if needed.  Garnish with fresh thyme leaves. Serve immediately.
Serves 6 to 8