not pumpkin pie
Turkey Day is only 6 days away!!! Complete Thanksgiving Planning Guide and Timeline.
I was going to call these appetizer ravioli "Mascarpone-Spiced Pumpkin Ravioli."  But upon Marissa's first bite, she declared them "Pumpkin Pie Ravioli" – a new and improved name is born.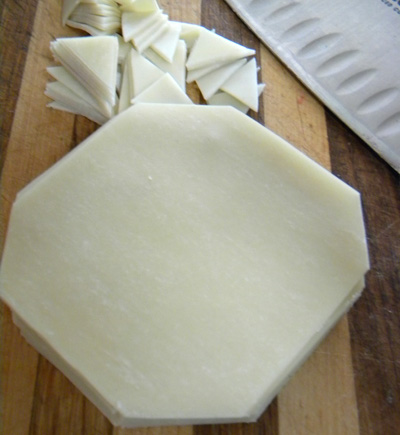 Using purchased wonton wrappers to make ravioli is one of the best shortcuts around. Your standard grocery store sells square wrappers, but if you have an Asian market nearby, you can always find round wrappers too.  If you, like me, are too busy to make the special trip to the Asian market, you can either use a cookie cutter to make the squares into rounds, or you can only cut a couple at a time. A time-saving method is to just use a knife and round off the corners of an entire package at once.  They may not be perfectly round, but so what! I made a mix of square and round(ish) ravioli for a little extra eye-appeal.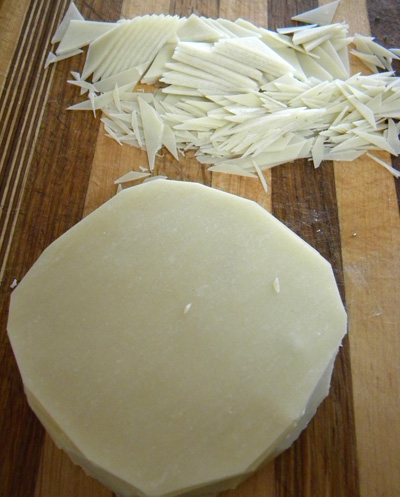 Once the wrappers are filled, sealed and placed on the baking sheets; they may be individually quick-frozen (on the baking sheets) and then transferred into freezer zip-locks for later use (Boil directly from the freezer, do not thaw). In other words, make them this weekend as your starter for next Thursday's big feast.
Savory Pumpkin Pie Ravioli with Sage Brown Butter
15-ounce can pumpkin puree
1/3 cup mascarpone cheese
2 tablespoons honey
1/4 cup dried cranberries, coarsely chopped and divided
1 teaspoon ground cinnamon
2 teaspoons minced fresh sage, divided
1/4 teaspoon freshly grated nutmeg
Salt and freshly ground black pepper
2 packages Wonton wrappers
Cornstarch
1/2 cup (1 stick) unsalted butter
1 sprig fresh sage
1/3 cup toasted pine nuts
1/2 cup shaved Parmesan cheese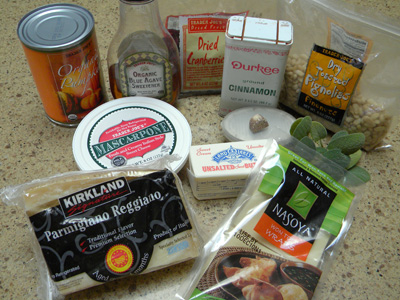 In a large bowl blend together pumpkin puree, mascarpone, honey, half of the chopped cranberries, cinnamon, 1 teaspoon of the minced sage, and nutmeg. Season to taste with salt and pepper.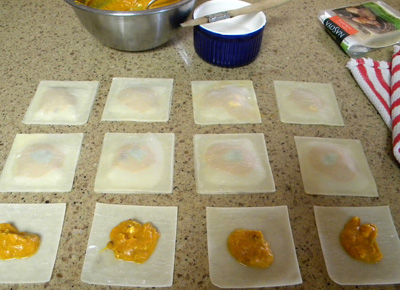 Lay out half (about 13) of one package wonton wrappers on a work surface. Keep remaining wrappers covered with a clean tea towel to prevent them from drying out.  Place a heaping teaspoon of filling in the center of each. Using a pastry brush, brush the edges of each wrapper with water and top each with another wrapper, press to seal edges completely.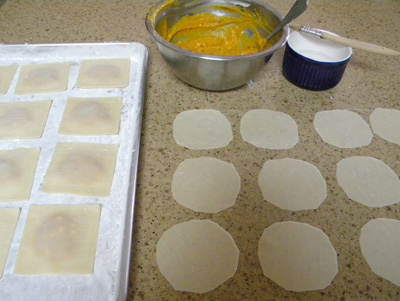 Place filled ravioli on a baking sheet that has been lightly dusted with cornstarch. Immediately cover with a clean tea towel or plastic wrap. Repeat with the remaining package wrapper and remaining filling.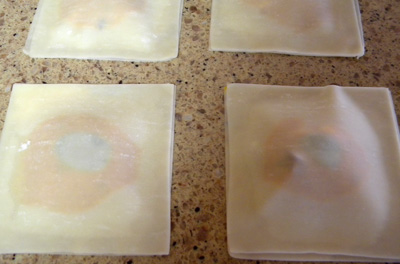 (A pretty variation is to place a fresh sage leaf on top of the filling before sealing with top wrapper.)
Place the butter and sage sprig in a large skillet and brown the butter over medium-low heat. While making the sauce, cook the ravioli in heavily salted water until they float to the surface.  Use a slotted spoon to remove cooked ravioli and transfer to the brown butter for about 2 minutes.  Transfer to serving plates, drizzle with any butter left in the skillet. Sprinkle with the remaining cranberries, remaining teaspoon minced sage, pine nuts, and shaved Parmesan.
Makes about 52 ravioli