modern ratatouille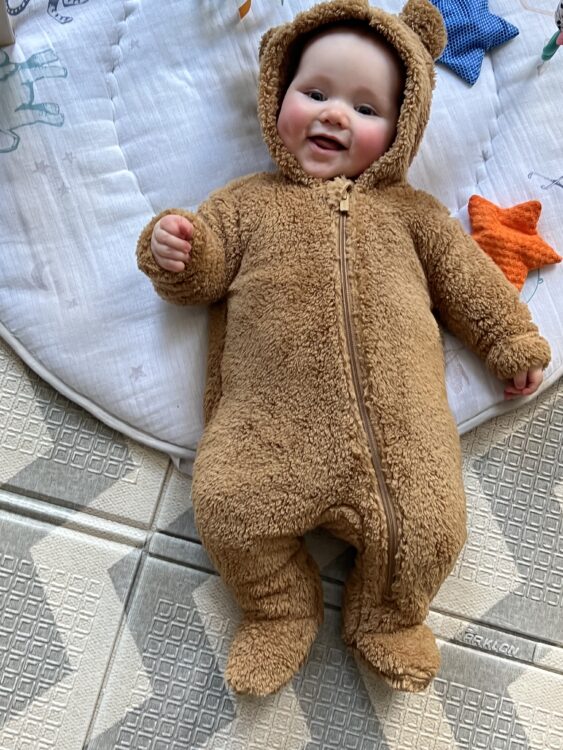 Aw, ratatouille, the French classic. Someone in my family, who shall remain anonymous, thought ratatouille was Italian. Oh, la vache!
No, ratatouille is a classic Provencal French vegetable stew recipe. The word ratatouille is derived from the Occitan term "ratatolha" and the French words "rata" meaning chunky stew and "touiller" which means to toss food or stir up.
This recipe takes the "stew" out of it and is visually pleasing with all the components showing off their beautiful colors and textures.
(the splatter on the serving plate was intentional although, now that I see more clearly, I should have wiped off that larger drop in the bottom corner of the plate.)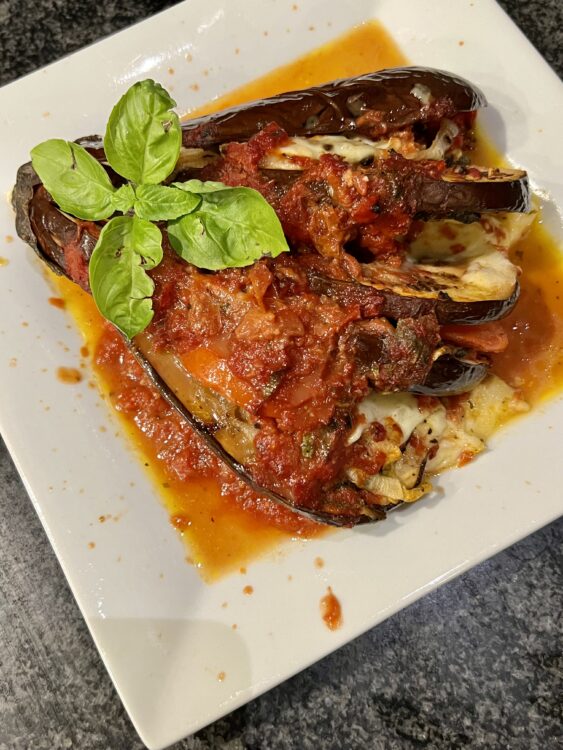 Ratatouille Fans
Sauce
Olive oil
16-ounce can crushed tomatoes
4 garlic cloves, peeled and minced
2 teaspoons Italian dry seasoning
2 teaspoons sugar
Salt and pepper, to taste
8 large basil leaves, julienned, plus more for serving
Fans
2 large eggplant
1 large zucchini, thinly sliced into coins
1 red bell, thinly sliced
1 large onion, peeled and thinly sliced
16 ounces mozzarella cheese, thinly sliced
4 Roma tomatoes, thinly sliced
Sauce: Heat 1 tablespoon of olive oil in a large saucepan. Add the can of crushed tomatoes, garlic, sugar, Italian seasoning, salt and pepper, and julienned basil. Bring to a boil, then reduce heat and simmer for 20 minutes, stirring occasionally.
Fans: Preheat oven to 400 degrees.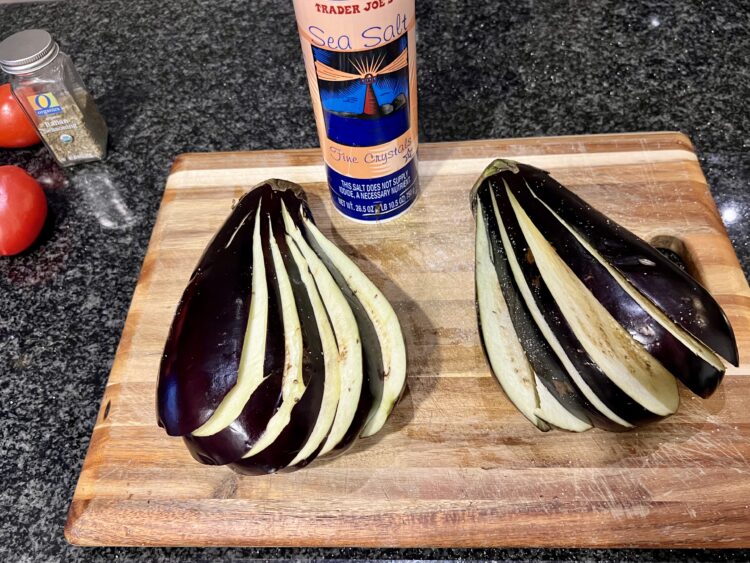 Wash and dry eggplant, cut lengthwise without cutting through the stem end. Lightly press on the stem of the eggplant to fan it out. Season with salt and leave to rest for 20 minutes. Carefully dry eggplant with paper towels and place on a baking tray line with parchment or foil.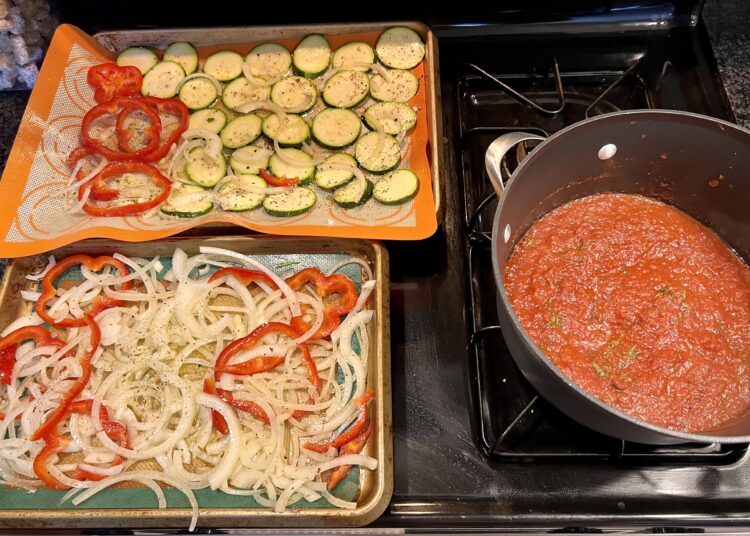 Line another baking sheet with parchment or foil and drizzle with olive oil. Lay out the zucchini, red bell, and onion, in one layer, drizzle with olive oil, then season with salt, pepper, and Italian seasoning.
Place in oven and roast for 20 minutes, turning over slices after then minutes.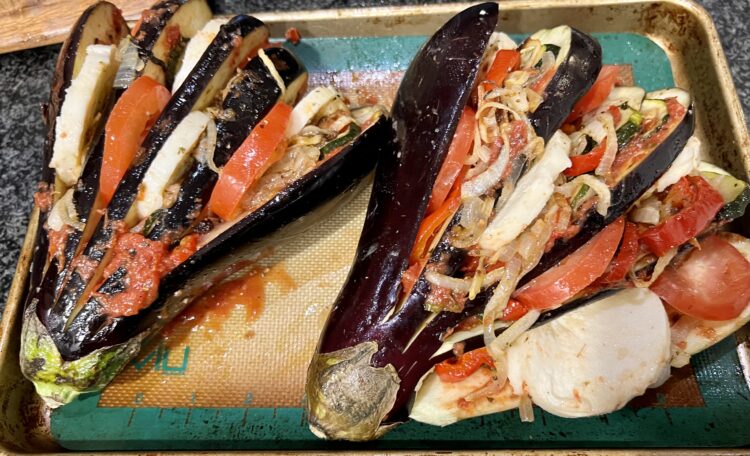 Reduce oven temperature to 350 degrees. Brush each slice of eggplant with tomato sauce and place the zucchini, bell pepper, and onion slices in between each eggplant slice. Add a slice of fresh tomato and mozzarella to each section. Lightly drizzle with olive oil and more of the sauce.
Bake the fans for 45 to 50 minutes, until toasted and soft. Add a large spoonful of warmed sauce to each serving plate, and top each plate with a ratatouille fan. Sprinkle with basil and serve.
Serves 2