preservation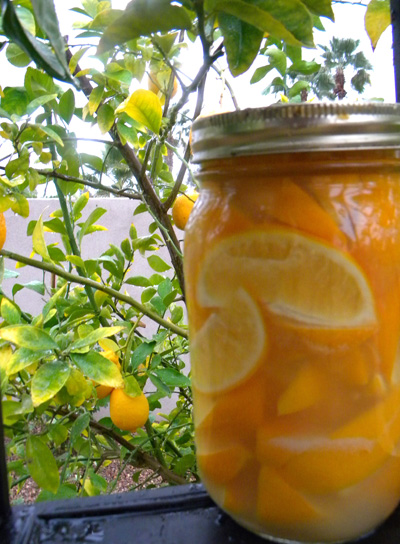 Preserved lemons are a common ingredient in Moroccan and other North African cuisines. The pulp is sometimes used in stews and sauces and can be used sparingly in Bloody Marys or added to homemade seafood cocktail sauce. But the true treasure of preserved lemons is the peel. The flavor is slightly tart, intensely and wonderfully lemony. Preserved lemon peel is the key ingredient in many Moroccan dishes such as tagines.
Not all preserved lemon recipes call for olive oil, but I like to add it after the fermenting process to help "seal" or cover the lemons and prevent spoilage. Since I have Meyer lemons from my yard and also have the Queen Creek Meyer Lemon Olive Oil, I'll be using both of those, but regular lemons are more than fine, and in fact, are the traditional lemons used. Limes and grapefruit can be preserved, using the same method and are delicious with curries, seafood, and lamb.
Make your own preserved lemons along with me today, because next week I'll be posting delicious recipes to get you started using your new bounty!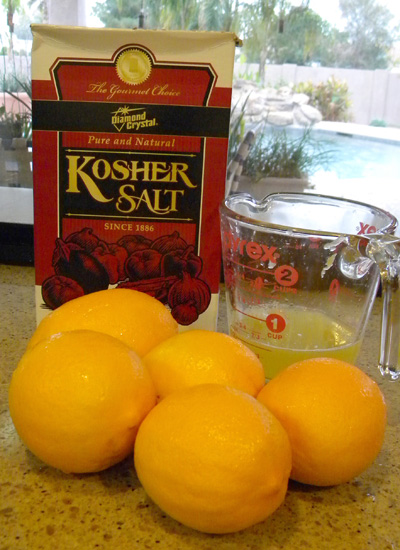 Preserved Lemons
7 large lemons (regular or Meyer), divided
1/2 cup Kosher salt
3 tablespoons olive oil
Bring a large pot of water to a boil, add 5 of the whole lemons, and blanch in the boiling water for 5 minutes.  Remove with a slotted spoon and when cool enough to handle, cut lemons into 8 wedges each then remove and discard the seeds.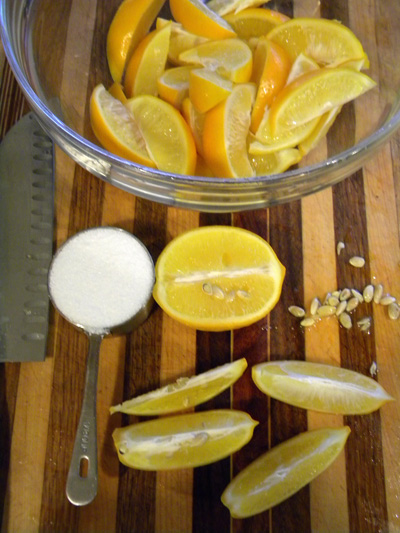 Toss with salt in a bowl and pack the lemon wedges, plus all the juice and salt left in the bowl, into a 1-quart (4 cups) jar with a tight-fitting lid.
Squeeze juice from the remaining 2 lemons to measure at least 1/2 cup. Add enough juice to completely cover the lemons and then close the jar tightly with its lid. Let stand at room temperature, shaking and turning gently once a day for 5 days. Then open the jar and add olive oil, cover tightly with a lid, and refrigerate.
(Preserved lemons will keep for up to a year in the refrigerator, completely covered with liquid and/or oil.)
Makes 40 pieces