prepping for St. Pat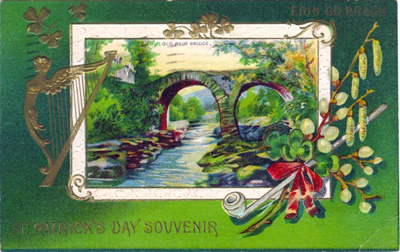 One week from today is St. Patrick's Day!  Here are a few fun St. Patrick and St. Patrick's Day facts from Wikipedia:
Blue was the original color associated with St. Patrick, not green.

St Patrick used the three-leaf shamrock to explain the Holy Trinity (the Father, the Son, and the Holy Spirit) to the Irish people.

St. Patrick died on March 17th 461 AD.

The Irish Society of Boston organized what was not only the first Saint Patrick's Day Parade in the colonies but the first recorded Saint Patrick's Day Parade in the world on 17 March 1737.

The first parade in Ireland was not until the 1931 parade in Dublin.

Chicago dyes its river green and has done so since 1962 when sewer workers used green dye to check for sewer discharges and had the idea to turn the river green for St. Patrick's Day.

St. Patrick's Day is a one-day reprieve from the forty days of fasting during the season of Lent. For many Christians, this includes indulging in ale.

Saint Patrick's Day is widely celebrated in America by Irish and non-Irish alike. Many people, regardless of ethnic background, wear green-colored clothing and items. Traditionally, those who are caught not wearing green are pinched, usually affectionately.

And of course, corned beef and cabbage is the food most associated with St. Patrick's Day in the United States.
According to Wikipedia, "Corned beef refers to a particular style of brine-cured beef. The "corn" in corned beef refers to the "corns" or grains of coarse salts used to cure it. The consumption of corned beef has become associated with St. Patrick's Day. Although corned beef did not originate in Ireland, it has been an integral part of Irish-American culture. In Ireland, the closest traditional dish is Bacon and Cabbage (more akin to Canadian-style bacon or ham). Corned beef and cabbage became popular in America after Irish immigrants in the eastern United States used corned beef instead of pork in their traditional dish."
All that said, although I am 100% Irish, I cannot stand corned beef and cabbage! So when I volunteered to appear on Channel 12 Valley Dish for the St. Patrick's Day show, I was expected to make something along those lines – yuck! So after mulling it over, I came up with the perfect solution – Pizza!
Yes, pizza, a traditional Italian dish would solve all my issues with that Irish-American dish I so despise. I mean, what's not to like; bread, cheese, potatoes (very Irish!), cheese, caramelized onions, garlic, and more cheese.
With those stellar flavors to cover up the other two – I knew I couldn't go wrong. And I was right!  Although, on the other 364 days of the year, I'd prefer it with crisp crumbled bacon (like a true Irishwoman!) rather than corned beef.  So get to the store this week, buy the ingredients and make it along with me at 4:30 on Channel 12 Valley Dish with Tram Mai on March 17th – St. Patrick's Day… I'll drink to that!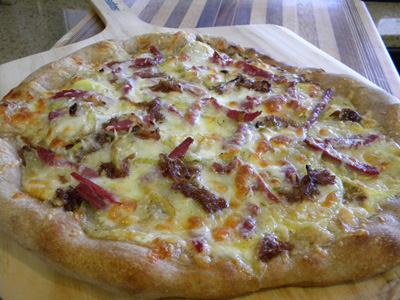 Corned Beef, Cabbage, and Potato Pizza
5 tablespoons olive oil, divided
1 tablespoon unsalted butter
1 medium red onion, peeled, halved through the root end, and thinly sliced
1 cup thinly sliced green cabbage
2 garlic cloves, peeled and minced
Salt and freshly ground black pepper
1 large or 2 small Yukon gold potatoes, peeled and thinly sliced
1 pound prepared whole-wheat pizza dough (available at Trader Joe's)
1 cup shredded Fontina cheese
3 ounces thinly sliced cooked Deli corned beef, cut into thin strips
1/2 cup shredded mozzarella cheese
1/4 cup shredded Parmesan cheese
Heat 1 tablespoon olive oil with 1 tablespoon butter in a skillet over medium-high heat. Add the red onion and cook over medium heat until caramelized. Add the cabbage and garlic, season with salt and pepper, and sauté until just soft, about 4 more minutes, set aside.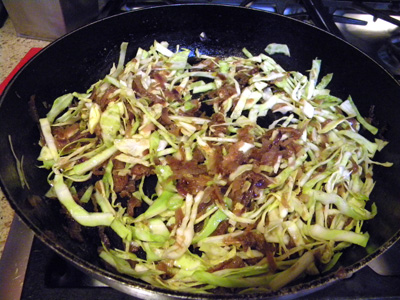 Place a pizza stone in the oven and preheat to 500 degrees. Toss the potato slices with 2 tablespoons olive oil and season with salt and pepper. Roast in a single layer on a baking sheet in the preheated oven, until golden, about 12 to 14 minutes, turning potatoes over, halfway through.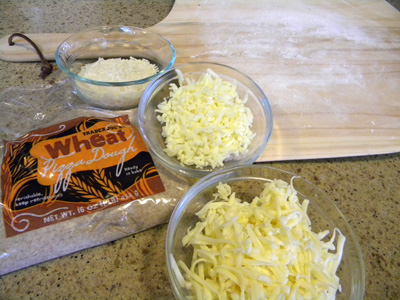 Roll dough into a 14-inch round. Place the round on a pizza peel sprinkled with cornmeal (if baking on a stone) or a large oiled pizza pan if you do not have a stone; drizzle the dough with 2 tablespoons olive oil. Scatter the Fontina cheese evenly over the crust, leaving a clean 1/2-inch border all the way around. Top with the onion-cabbage mixture, corned beef, and potatoes. Sprinkle the top with the mozzarella and Parmesan cheeses. Carefully slip the pizza onto the hot stone, if using, or place the pan in the oven. Cook until golden and crispy, about 10 to 12 minutes.
Makes 1 large delicious Irish pizza