potatoes, aïoli, and great Cuisinart feature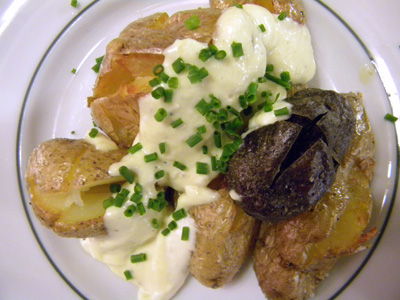 The original version of this recipe is from Tyler Florence of the Food Network.  I made his recipe for a series of classes I just finished teaching at Les Gourmettes Cooking School. With Tyler's Twice Cooked Potatoes, the second cooking is achieved by deep frying the potatoes, and are they delicious! But after serving 33 students in two nights, I came to the conclusion that using the original version as part of a buffet doesn't work well because of the final frying step. The potatoes are best eaten immediately, as most fried foods are.  What made the potatoes so wonderful was the crispiness achieved by deep frying.  My double roasting technique results in a similar crisp texture, but without the extra fat, plus the potatoes can now be served hot or held at room temperature, without becoming greasy. Not only are these potatoes a great vegetable side-dish, they also make perfect little party nibbles!
Aïoli is a garlic and olive oil sauce from France, with a texture very much like mayonnaise. Aïoli is sometimes called the "butter of Provence" because it is such an integral part of their cuisine. In Provence, usually two cloves are used per person, that may seem like a lot, but roasting the garlic as done here, mellows out the garlic considerably.
The Cuisinart has a special feature just for the purpose of making fresh mayonnaise and aïoli. The lid has a spout (a feed tube) with a "food pusher".  The food pusher has a small hole in the bottom that allows oil to drip slowly into the work bowl at just the right rate, a "slow and steady stream" allowing the mayonnaise to emulsify perfectly.

Twice Roasted Baby Potatoes with Aïoli
40 to 50 small new potatoes or fingerlings
Olive oil
Kosher salt
Freshly ground black pepper
Garlic Aïoli
2 heads garlic
Olive oil
3 sprigs fresh thyme
1 extra-large egg yolk
1 lemon, juiced
Kosher salt and freshly ground black pepper
1/2 cup olive oil
1/4 cup sour cream
1/4 cup plus 1 tablespoon minced chives, divided
Preheat oven to 400 degrees.
Lay potatoes out in a single layer on a baking sheet.  Drizzle with olive oil and season with salt and pepper. Toss the potatoes so they are evenly coated with oil.  Cut heads of garlic through the middle, horizontally, and place in the center of a double square of heavy-duty foil.  Drizzle with olive oil, add thyme sprigs and seal the pouch tightly around the edges.  Place on baking sheet with potatoes and roast potatoes and garlic for 40 minutes, until tender.  Remove garlic packet from pan, open up foil and set aside to cool slightly. Increase oven temperature to 450 degrees.
When the potatoes are cool enough to handle, make an X cut on 1 side of each potato and then squeeze gently from the bottom, pushing out a little of the potato to form a flower shape, place potatoes back onto baking sheet, toss gently to coat again with the oil on the pan. Return potatoes to oven and roast another 12 to 15 minute to crisp. Meanwhile make aïoli.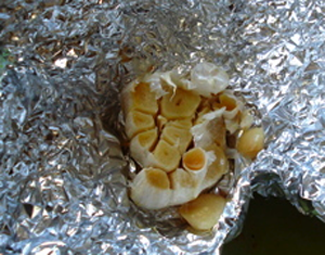 Garlic Aïoli: Remove the garlic from foil and squeeze the plup into the bowl of food processor.  Add the egg yolk, lemon juice, salt, and pepper to the bowl and process until smooth.  With the machine running, pour in the olive oil into the feed tube "food pusher" and allow to drip into the work bowl via the "drip hole" in a slow and steady stream until the mixture emulsifies.  Remove aioli to a medium bowl.
Stir in sour cream and adjust seasoning with salt and pepper. Spoon aïoli into a serving bowl and garnish with 1 tablespoon of the chives.   Place bowl in the center of a serving platter.  Arrange potatoes on platter and sprinkle with remaining 1/4 cup chives. (For serving as hor d'oeuvres; dollop each potato individually with aioli and a sprinkle of chives and place on the platter or pass on a tray.)
Serves 10 as part of a dinner buffet or about 25 as passed hor d'oeuvres