poach, blanch, roast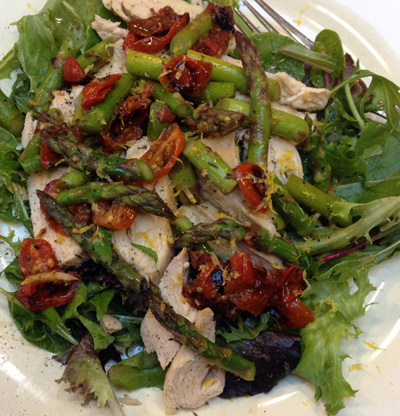 I'm using three different cooking methods to make a simple salad. This will infuse as much flavor as possible into each ingredient without adding fat. This is achieved by;
Roasting cherry tomatoes
Poaching chicken breast
Blanching asparagus
As an added bonus, the poaching/blanching broth may be saved and added to soup on another day.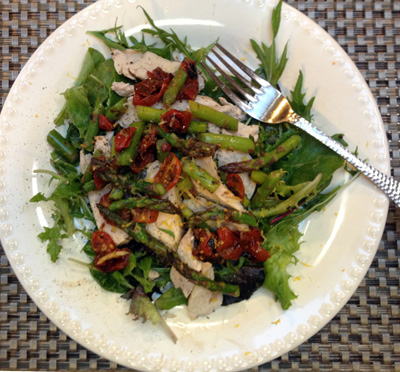 Chicken, Asparagus, and Cherry Tomato Salad
1 cup cherry tomatoes, halved
Pam non-stick cooking spray
1 teaspoon Italian seasoning, divided
Salt and freshly ground black pepper
1/2 cup chicken broth
2 boneless skinless chicken breasts
8 asparagus spears, tough ends snapped off
2 tablespoons Ken's Lite Balsamic Vinaigrette
Zest of 1 large lemon, divided
4 cups mixed salad greens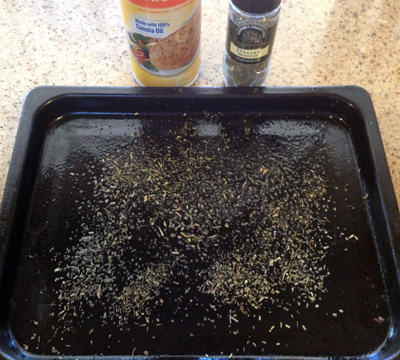 Preheat oven to 375 degrees. Spray a small baking sheet with Pam, and sprinkle with 1/4 teaspoon of the Italian seasoning.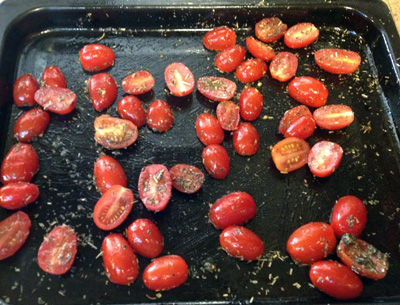 Place cherry tomato halves on a baking sheet, spray tomatoes with Pam and sprinkle with another 1/4 teaspoon of the Italian seasoning and season with salt and pepper; toss to coat. Place baking sheet on middle rack and roast in preheated oven until tomatoes are slightly browned, about 25 minutes.
Meanwhile, place each chicken breast between two sheets of plastic wrap and pound out until the breasts are an even thickness.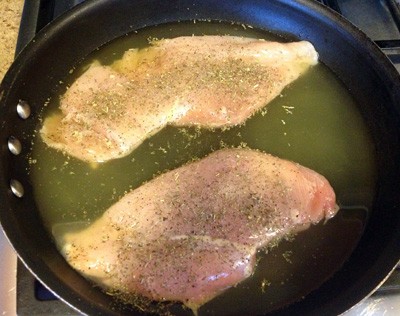 Bring the chicken broth plus 1/2 cup water to a boil in a large skillet, add the breasts, and season the top side with salt, and pepper, sprinkle with the remaining 1/2 teaspoon of Italian seasoning. Boil for 2 minutes, turn the breasts over, and boil for another minute. Cover with a tight-fitting lid, turn off the heat, and let sit for 15 minutes, or until cooked through.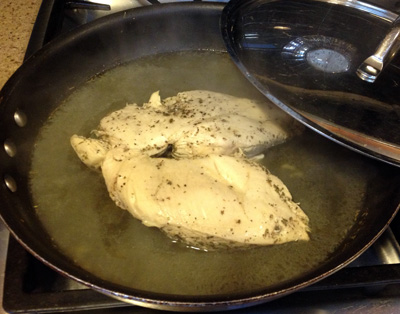 Remove breasts to a cutting board, when cool enough to handle, slice on the diagonal into 1/2-inch slices.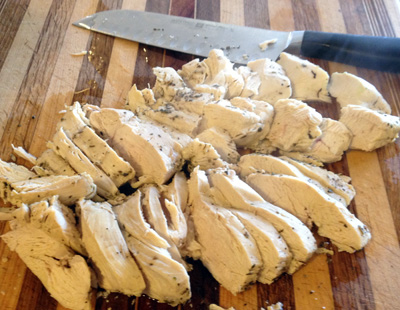 Reserve the broth in the skillet.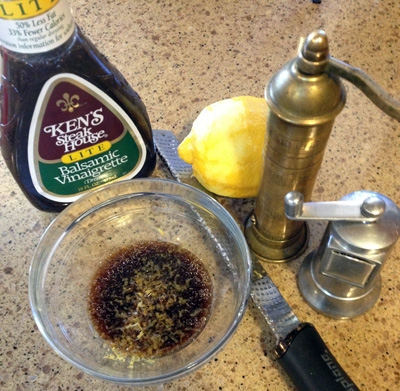 Place the vinaigrette in a large bowl. (Use a large bowl, not a small bowl, as pictured here!) Use a Microplane to zest the peel from half of the lemon into the dressing, season with salt and pepper, and whisk to combine, set aside.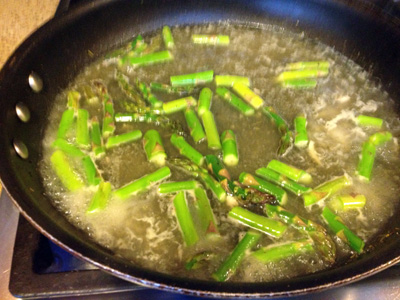 Cut the trimmed asparagus spears into 1-inch pieces, slicing on the diagonal. Bring the broth back to the boil; add the asparagus, blanch for 2 to 3 minutes, or until tender-crisp and bright green. Use a slotted spoon to remove asparagus from a strainer and run under cold water to stop the cooking and set the color.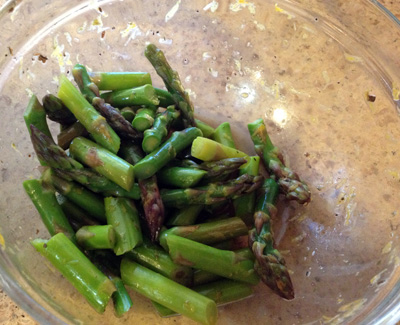 Place drained asparagus in a medium bowl, add 2 teaspoons of the dressing to the asparagus and toss to combine.
When the tomatoes are finished roasting, add to the bowl with the asparagus, and use a rubber spatula to scrape all the juices from the baking sheet into the bowl, as well. Toss to combine.
Add the salad greens to the large bowl with the remaining dressing, and toss to coat. Divided between two dinner plates.
Top greens with sliced chicken, then with the asparagus and tomatoes. Use the Microplane to zest the peel from the remaining half of the lemon, season with salt and pepper, and serve immediately.
Serves 2