you say filo, I say phyllo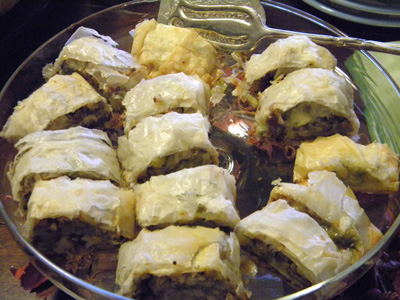 I've been making these delectable fall-inspired appetizers for at least a dozen years and they are always a huge hit. I can't recall exactly where the original recipe came from, all I know is that it was in one of the many Williams-Sonoma cookbooks I used to own. Depending on my mood or what I have on hand I'll sub in walnuts for the pecans, Gorgonzola for the Roquefort, and pears or a mix of pears and apples, instead of all apples. Another fun addition is dried cranberries that have been soaked in a little cranberry juice or red wine, to plump them up. Just sprinkle them on before sprinkling on the nuts. FYI: 12 sheets of phyllo is just less than half a package.
Autumn Phyllo
Spirals
1 Golden Delicious apple; peeled, cored, and finely chopped
4 ounces cold Roquefort cheese, crumbled
2 tablespoons flour
12 sheets phyllo dough, thawed according to package directions
1/2 cup unsalted butter, melted and cooled
1 cup pecans, toasted and finely chopped
Freshly ground black pepper

Preheat the oven to 350 degrees. Line a baking sheet with foil and set aside.
Unroll one portion of the phyllo from the package, and cover the stack of phyllo with a clean dishtowel to prevent the sheets from drying out. In a medium bowl, combine apple, Roquefort, and flour and toss to coat completely.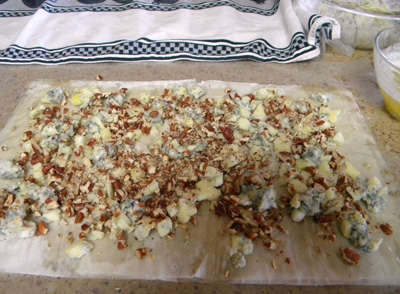 Lay a large sheet of waxed paper on a work surface and sprinkle very lightly with flour. Place one sheet of phyllo on top. Using a pastry brush, coat with a thin layer of melted butter. Top with the second sheet of phyllo and then a third, buttering each sheet. Scatter half of the apple-cheese mixture over the phyllo stack, distributing evenly. Sprinkle evenly with half of the pecans. Top off with a few grinds of pepper.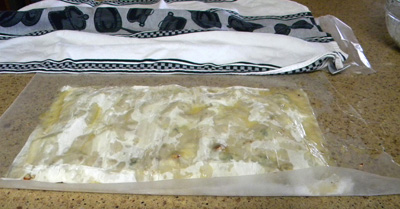 Top with 3 more phyllo sheets, brushing each one evenly with the butter.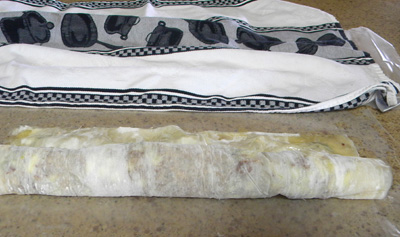 Starting from a long side, carefully roll up the phyllo layers as tightly as possible, using the waxed paper as a guide. Transfer the roll onto the prepared baking sheet. Brush the finished roll with butter, and cover lightly with another clean dishtowel. Repeat with the remaining ingredients to make a second roll.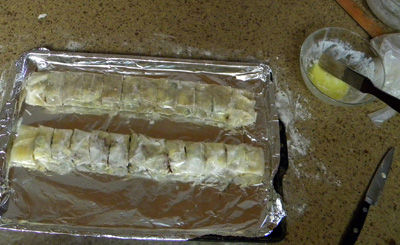 Using a sharp, thin-bladed paring knife, cut about three-fourths of the way through the rolls at 1-inch intervals. This will not only make them easier to cut and serve after they are baked, but will crisp up the edges of each serving.
At this time the rolls on the baking sheet may be wrapped very well in plastic and refrigerated for up to 8 hours.
Bake until golden, about 25 minutes. Remove from the oven and let cool slightly on the baking sheet. Carefully transfer the rolls onto a cutting board and finish cutting all the way through the 1-inch pieces.
Arrange the spirals, cut sides up, on a platter. Serve immediately.
Makes 24 spirals