Peggy's Greek Quesadillas
http://cinziamazzamakeup.com/?x=comprare-vardenafil-online-sicuro-Liguria by Linda Hopkins
click This fun spin on quesadillas is what Peggy chose to make for the Holiday Appetizer Pot-Luck. They were a big hit!
http://cinziamazzamakeup.com/?x=dove-acquistare-viagra-in-contrassegno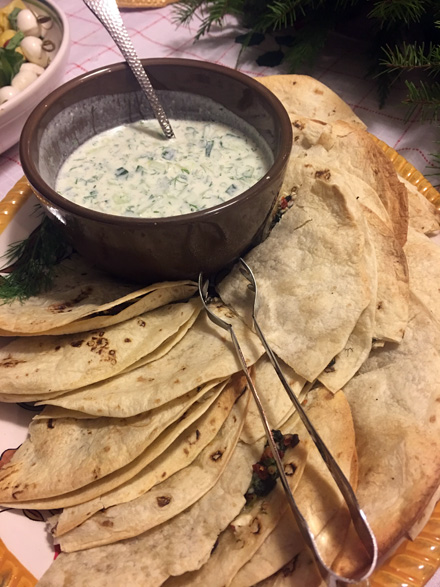 Greek Quesadillas with Tzatziki Sauce
http://maientertainmentlaw.com/?search=free-cialis-brand-name vardenafil generico Sicilia Tzatziki Sauce
1 cup plain Greek yogurt
1 English cucumber, finely diced
2 cloves garlic, pressed
1 tablespoon chopped fresh dill
1 tablespoon freshly squeezed lemon juice
1 teaspoon lemon zest
1 teaspoon chopped fresh mint
Kosher salt and freshly ground black pepper, to taste
2 tablespoons olive oil
http://maientertainmentlaw.com/?search=prescription-price-lasix Quesadillas
8 flour tortillas (8-inch)
10-ounce package frozen chopped spinach, thawed and drained
1/2 cup julienned sun dried tomatoes in olive oil, drained
1/2 cup chopped pitted kalamata olives
1 cup shredded mozzarella cheese
1 cup crumbled feta cheese
1 tablespoon fresh dill, plus more for garnish
http://cinziamazzamakeup.com/?x=cialis-generico-in-24-ore Tzatziki Sauce: Combine Greek yogurt, cucumber, garlic, dill, lemon juice, lemon zest and mint in a small bowl; season with salt and pepper, to taste. Drizzle with olive oil. Refrigerate for at least 10 minutes, allowing the flavors to meld.
can lasix break up thick mucus Quesadillas: Preheat oven to 400 degrees. Line a baking sheet with foil.
Top a tortilla with spinach, sun dried tomatoes, olives and cheeses, and then top with another tortilla. Repeat with remaining tortillas to make 4 quesadillas.
Place quesadillas onto the prepared baking sheet. Place into oven and bake until the cheese has melted, about 10 minutes.
Slice into wedges and serve immediately with tzatziki sauce, garnished with dill.
Makes 4 quesadillas