Peggy's Día de Muertos Posole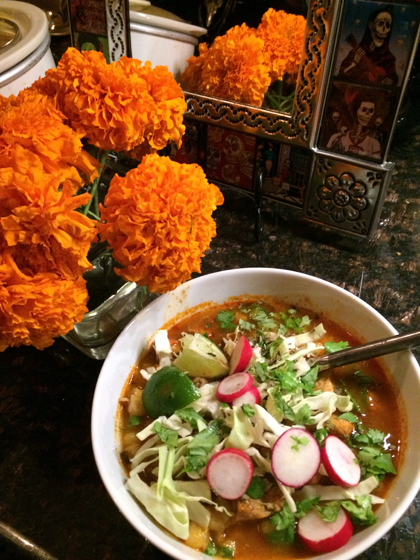 Peggy had a Día de Muertos (Day of the Dead) party on Halloween night. The day before, I was at her house helping her make posole, just so I could give you her recipe.
The sacrifices I make for you lovely people!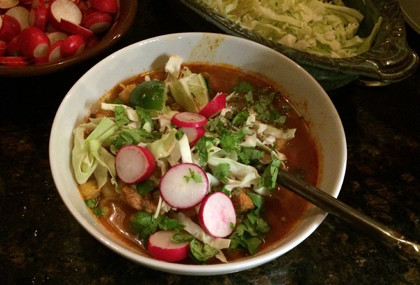 Peggy's Posole (also known as Pozole)
6 pounds pork shoulder, cut into 1 to 1 ½-inch cubes
Salt and freshly ground black pepper
Olive oil
2 medium onions, peeled and diced
6 garlic cloves, peeled and minced
6 bay leaves
1 tablespoon ground cumin
3 tablespoon dry Mexican oregano
Two 6-pound and 9-ounce cans white hominy, drained and rinsed
Two 28-ounce cans Las Palmas red chile sauce
Garnishes
1 small green cabbage, thinly sliced
2 bunches cilantro, roughly chopped
1 small white onion, peeled and diced
4 avocado, diced
6 to 8 limes, quartered
1 bunch red radishes, thinly sliced
Mexican oregano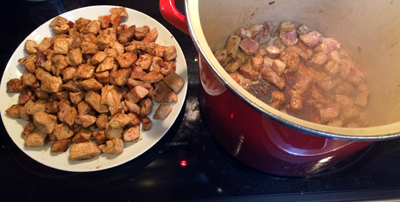 Pat the pork cubes dry with paper towels then season with salt and pepper. Heat two tablespoons of oil in a large pot or Dutch oven. When oil is hot, brown the meat on all sides, working in batches, taking care not to crowd the pan or stir the meat too much.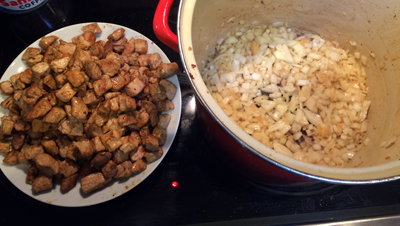 As the meat browns, transfer to a plate and continue until all the meat is browned, adding more oil, as needed.  As soon as the last batch of meat is removed, add the onions to the pot and stir, then add garlic and stir while scraping up the browned bits on the bottom of the pot.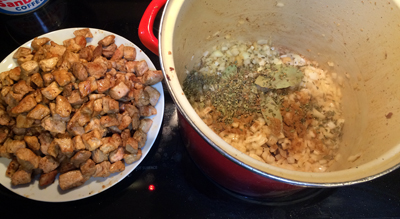 Once the onions are translucent, add the bay leaves, cumin, oregano, and two teaspoons of salt.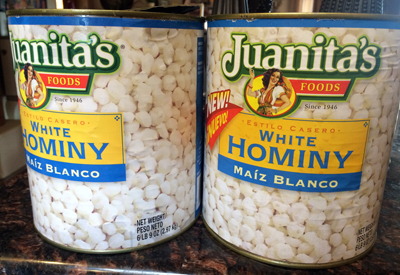 Add the rinsed hominy, and stir to combine.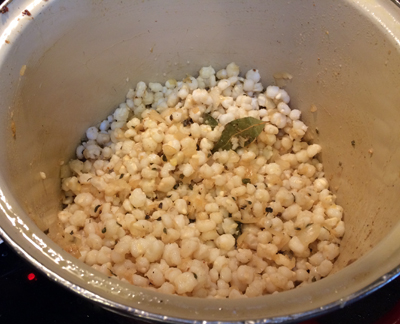 Add the chile sauce.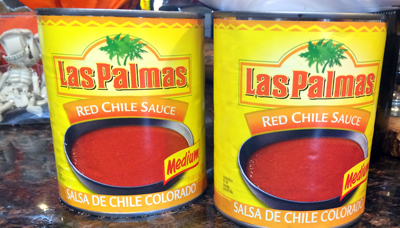 Fill each of the empty chile sauce cans with water and add the water to the pot, then bring to a low boil.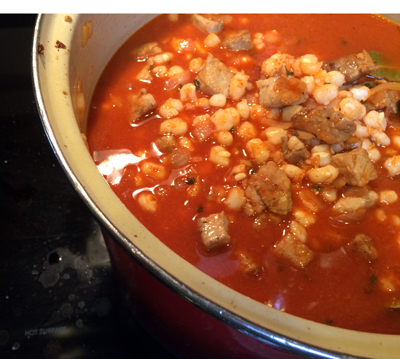 Lower the heat to maintain a low simmer, while the pot is partially covered. Cook for 3 to 4 hours, stirring occasionally until the pork is very tender. Skim away excess fat. Taste for seasoning and add more salt to taste.
The posole should have plenty of broth, as you will be adding a lot of garnishes. Add more water if needed.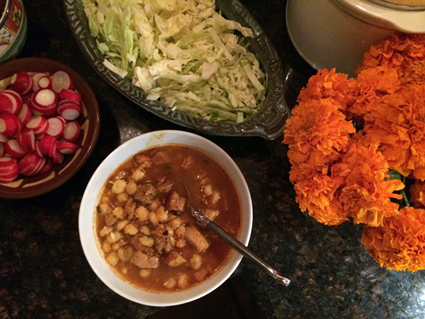 To serve, arrange the garnishes in bowls and ladle the posole into bowls. Let your guests garnish as they please.
Serves a huge crowd – at least 30 people! A party in a pot!
*Freezes great.