party chili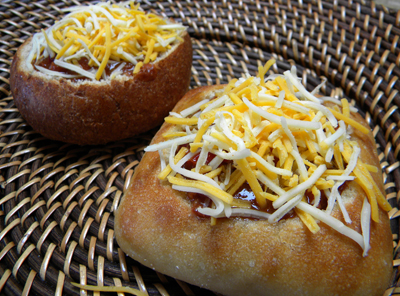 If you're looking for an easy and fun thing to feed the kids before they head out trick-or-treating this weekend, or a different way to serve chili to the gang hanging out in your den watching football this season, I've got just the thing. Bread bowls filled with steaming hot chili. Use this recipe, your family favorite, or even canned chili that you've zipped up with a bit of sautéed onion and garlic. Whatever you decide, individual and edible bowls are always a hit.
Chili in Individual Bread Bowls
1 pound lean ground beef
2/3 cup diced onion
2 garlic cloves, peeled and minced
1 jalapeno, seeded and minced
2 cups canned tomatoes with juices
2 cups canned kidney beans, rinsed and drained
1/2 cup chopped celery
1 teaspoon sugar
1  1/2 tablespoons chili powder (I prefer chipotle or ancho chili powder)
Beer or water, as needed
2 tablespoons cornmeal
8 large dinner rolls or focaccia rolls
1/4 cup unsalted butter melted with 1 peeled and minced garlic clove
Shredded sharp cheddar cheese, or a Mexican blend
In a large pot, brown the ground beef and add the onion, sauté for 1 minute and then add garlic and jalapeno and continue to sauté until the onion is translucent.
Add the tomatoes, kidney beans, celery, sugar, and chili powder to the meat mixture.  Cover and cook for 10 minutes, stirring frequently.  Uncover and add beer or water to achieve the desired consistency. Stir in cornmeal. Cook for at least 10 minutes more to allow the flavors to blend.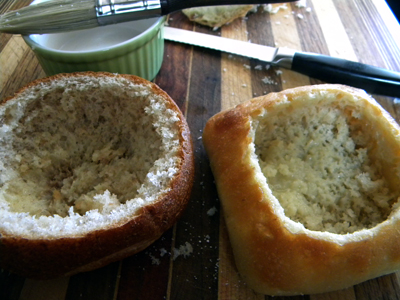 While chili cooks preheat the oven to 400 degrees. Slice off the tops of rolls and hollow out the center of each, taking care not to make any holes or tears in the bottom or sides.  Brush the inside of each roll with garlic butter and place it on a baking sheet.  Place in preheated oven and bake until the interior of rolls is crisped slightly.
Ladle chili into warmed bread bowls and top with shredded cheese.
Serves 4