part 2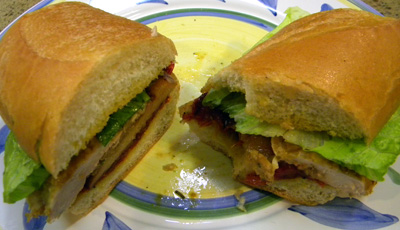 This is part 2 of our recipe that began with yesterday's slow-roasted tomatoes and the tomato water produced from seeding the tomatoes.
The sandwiches are rather complex, for a sandwich, anyhow. The various components may be used separately for a huge range of different dishes. Use the dressing for a salad or pasta; the chicken will stand on its own or maybe chopped into a salad or pasta, and the peaches are fabulous on their own or chopped into a salad or topped with ice cream for a sweet and savory dessert. Plus those tomatoes from yesterday … well the sky is the limit with those beauties!
Slow-Roasted Tomato, Chicken, and Peach Sandwiches
Tomato Water-Basil Vinaigrette
1/2 cup tomato water (Click here)
1/2 cup plus 2 tablespoons packed basil leaves, divided
1 garlic clove, peeled and minced
3/4 cup dry white wine
1/4 cup peeled and sliced shallot
1 thyme sprig
1/4 bay leaf
1/2 teaspoon black peppercorns
1/2 teaspoon Champagne vinegar, or to taste
1/4 cup olive oil

2 boneless skinless chicken breast halves, pounded thin
1 cup plain low-fat yogurt
1 cup mustard-flavored pretzel crumbs (about 3 1/2 ounces)
Grated zest of 1 lemon
1 tablespoon fresh rosemary, finely minced
1/4 cup shredded Parmesan cheese
1 large peach, cut in half, pitted, and cut into 6 slices
Salt and freshly ground black pepper
1 baguette
Olive oil for brushing grill pan
Slow-roasted tomatoes (Click here)
4 large lettuce leaves
Several whole basil leaves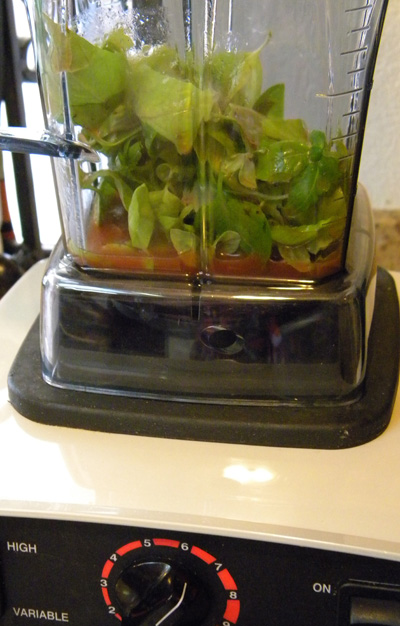 Vinaigrette: Purée tomato water, 1/2 cup of the basil leaves, and garlic in a blender until smooth.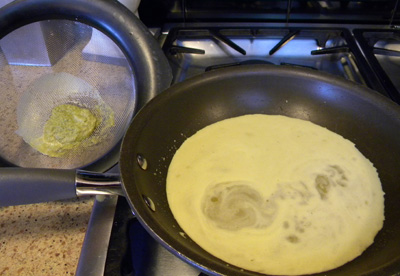 Strain through a fine-mesh sieve directly into a small skillet, tapping on the side of the colander with a spoon to allow all the juices to flow through. Reduce liquid over high heat to 2 tablespoons, watch closely, it happens quickly. Transfer to a medium bowl and set aside.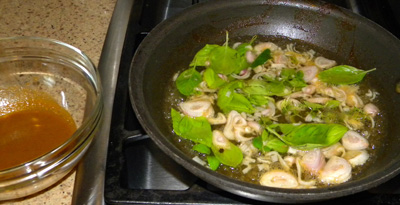 Boil wine, shallot, thyme, bay leaf, peppercorns, and the remaining 2 tablespoons basil leaves in the same skillet until liquid is reduced to about 2 tablespoons, watching closely.
Strain through a fine-mesh sieve into the bowl with the tomato water reduction, pressing on and then discarding solids. Cool slightly. Whisk in vinegar, then add oil in a slow stream, whisking.  Season to taste with salt.
Place the chicken, yogurt, and 2 tablespoons of the vinaigrette in a gallon-size zip-lock bag and refrigerate for at least 2 hours.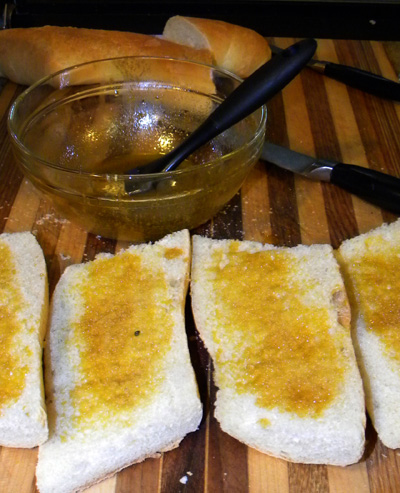 Preheat the oven to 425 degrees and heat a grill pan to high heat. Cut the baguette first crosswise into 4 equal portions and then cut each portion in half lengthwise then brush with vinaigrette.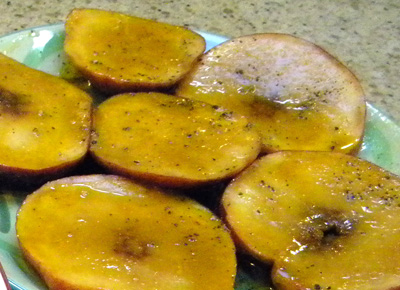 Brush the peach slices with vinaigrette and sprinkle peaches with pepper.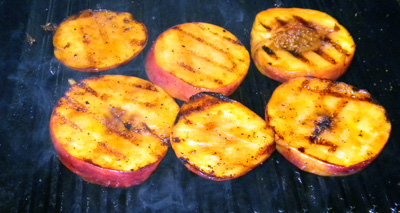 Grill the bread slices, then the peaches on the hot grill pan, and set both aside.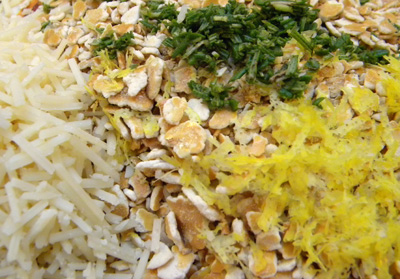 On a dinner plate, combine the pretzel crumbs, lemon zest, rosemary, and Parmesan.
Remove the breasts from the marinade, shaking off any excess yogurt, and press them firmly into the crumb mixture. Brush the grill pan with olive oil and place the chicken on the grill pan and mark both sides, then transfer to a baking sheet lined with a Silpat mat or foil and bake until cooked through and firm, about 15 minutes. Cut each breast in half, lengthwise.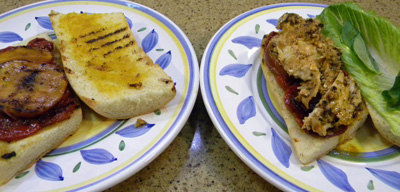 To assemble the sandwiches; pour all the remaining vinaigrette over the tomatoes and toss.  Line the bottom half of each baguette slice with a singer layer of tomatoes, top with peach slices, chicken, lettuce, and a couple of basil leaves. Place atop baguette slice on each and press slightly.
Makes 4 sandwiches