panini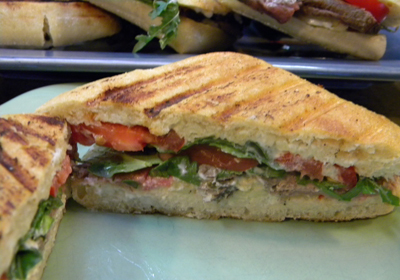 The filet mignon that was served to us at the Larry Fitzgerald dinner on Monday night at Morton's was huge! All three of us brought home large portions. The beef was already cooked perfectly (of course), so I didn't want to reheat too much and end up overcooking them. So… panini sandwiches were the perfect vehicle for the perfect steak!
Rich Man Panini
2 ounces cream cheese, room temperature
2 tablespoons prepared horseradish
2 tablespoons sour cream or yogurt
2 tablespoons olive oil
4 ciabatta rolls, split in half
8 thin slices Pepper Jack or Fontina cheese
1 pound medium-rare beef tenderloin, sliced thin
12 thin tomato slices
1/2 cup fresh arugula leaves
Place cream cheese, horseradish, and sour cream in a small bowl and use a fork to blend together until smooth.
Preheat a panini press.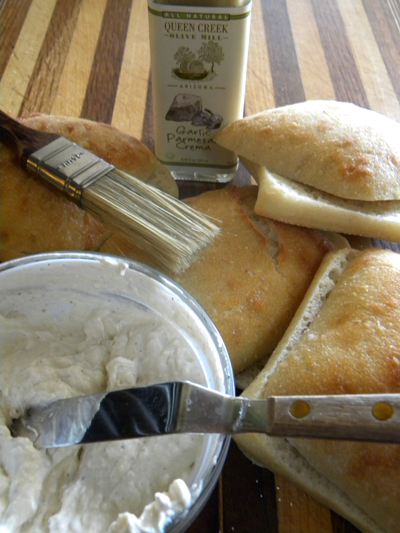 Spread the top sides of the bottom halves of the ciabatta rolls with the horseradish mixture. Lightly oil the bottom sides of the bottom halves and lay down on the preheated panini pan. Top each with 2 slices of cheese, 1/4 of the beef, 3 tomatoes, and 1/4  of the arugula leaves. Spread the horseradish cream on the inside top halves of the rolls and place atop the sandwiches.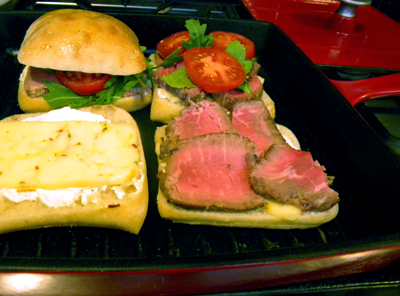 Brush the top of the rolls with oil and press down the panini lid.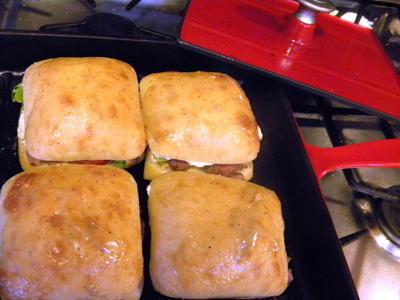 Cook for about 5 minutes, or until golden brown and the cheese has melted.
Serves 4