open face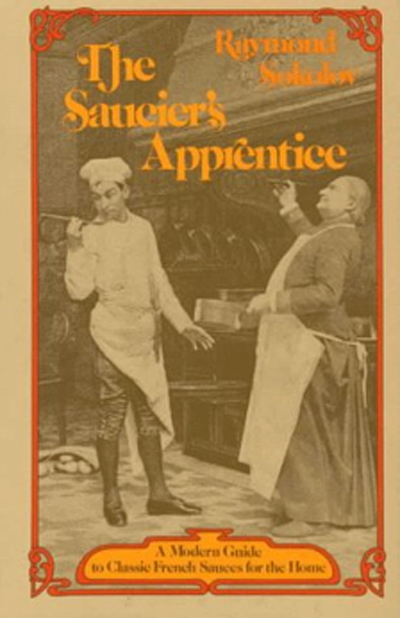 After making a cheese sauce for the chowder recipe I posted yesterday, I was in the mood to make cheese sauce again the next day.
I had a huge hunk of fabulous Manchego cheese in the fridge so I created this saucy open-face sandwich, which would be equally delicious without the bread and served as a chicken main course dish.
Besides making the classic sauce for a humble mac & cheese, I seldom make the cheese sauce. Maybe I should listen to Julia Child and do it more often.
"Sauces are the splendor and the glory of French cooking" ~ Julia Child 
How about a quick lesson in the classic French sauces?
Let's begin with the queen of the mother sauces of French cuisine ~ Béchamel sauce – also known as white sauce is made with a white roux of butter and flour that is then cooked in milk. Béchamel is used as the base for other sauces, such as Mornay sauce, which is what I've been making, it is Béchamel with cheese.
In the late 19th century, famed French chef Auguste Escoffier created the list of the five mother sauces.  They are:
Sauce Béchamel, a milk-based sauce, thickened with a white roux.
Sauce Espagnole, a fortified brown veal stock sauce.
Sauce Velouté, white stock-based sauce, thickened with a roux or a liaison, a mixture of egg yolks and cream.
Sauce Hollandaise, an emulsion of egg yolk, butter, and lemon or vinegar.
Sauce Tomate, tomato-based
That is quite a bit more information than you need to make this simple sauce and dish, but it's good basic stuff to know.
Open-Faced BCT Sandwich with Manchego and Jalapeño Jelly Sauce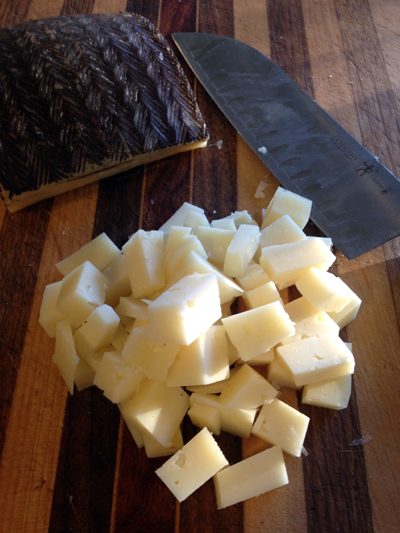 Manchego and Jalapeño Jelly Sauce
1 tablespoon unsalted butter
1 garlic clove, peeled and finely minced
1 tablespoon flour
Salt and freshly ground pepper
1 cup non-fat milk
1 cup manchego cheese
2  1/2 tablespoons jalapeño jelly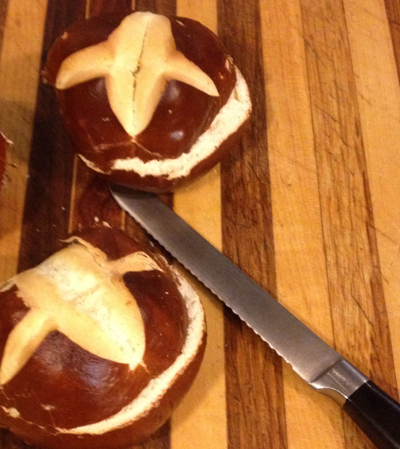 Sandwiches
1 large boneless, skinless chicken breast
Salt and freshly ground pepper
2 pretzel rolls, split and lightly toasted
1 tomato, sliced
4 slices bacon, cooked crisp
Sauce: Melt the butter and sauté garlic over low heat for 1 minute. Add the flour and stir until well blended, continue to cook for 2 minutes, stirring constantly. Season with salt and pepper.
Add in the milk, all at once, and lightly simmer for 5 minutes. Stir in the cheese in small batches until melted.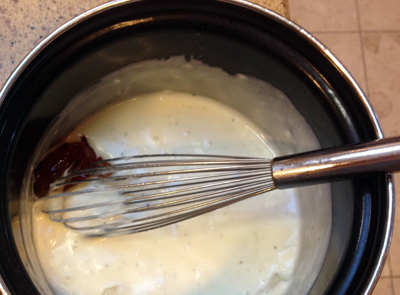 Stir in the jalapeño jelly. Keep warm on low, stirring occasionally.
Sandwiches:  Place the chicken breast between 2 sheets of plastic wrap and pound with a meat pounder until the fat end is the same thickness as the "tail" end.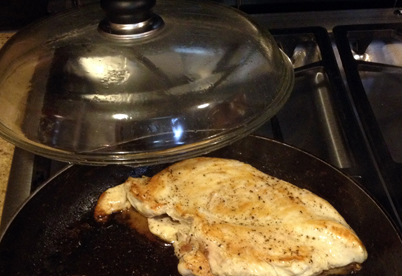 Season the chicken generously with salt and pepper. Cook the chicken in a hot and lightly oiled skillet (or use a bit of the bacon drippings from frying your bacon) until cooked through, about 3 to 4 minutes per side.  Let sit for a couple of minutes before slicing thinly on the diagonal.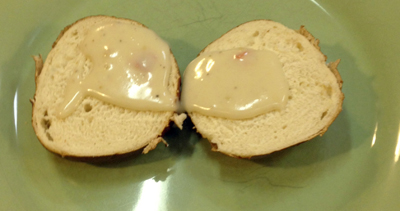 Place the open rolls on a dinner plate and drizzle each half of each roll with a little bit of the sauce.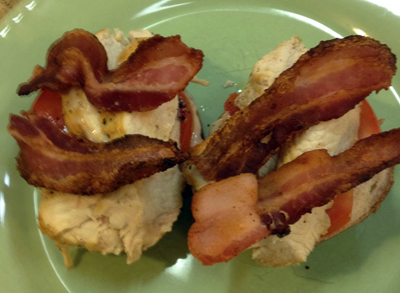 Top each with a tomato slice, pieces of sliced chicken, and bacon. Then ladle the remaining sauce over the sandwiches and serve immediately.
Makes 2