one for you and you and you and you…
Gratin and scalloped potatoes are so versatile, from the cheese to the flavorings – the mixing and matching options are endless. For the cheese; Swiss, cheddar, blue, goat, or no cheese at all. There are too many flavorings to mention but a short list might include onion, red pepper, tomato, fresh herbs, bacon, or mushrooms. The liquid doesn't have to be milk or cream; you can use chicken broth, wine, sour cream, yogurt, and even water. What I like best about the gratins featured here is the size. Individual gratins are prettier than the "scooped from the pan" version and are perfect with a summer BBQ side.
Individual Potato Gratins
2 tablespoons unsalted butter, melted
2 or 3 large Russet potatoes, peeled and thinly sliced
Salt and freshly ground black pepper
1/4 cup finely minced green onion
1/4 cup peeled and finely minced red onion
1/2 cup grated Gruyere cheese
1/2 cup shredded Parmesan cheese, divided
1 1/2 cups half-and-half or heavy cream, divided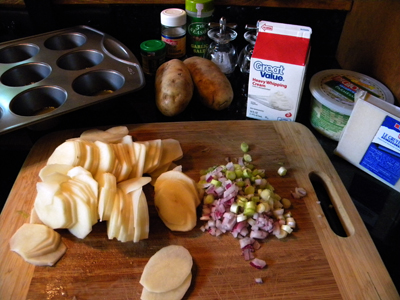 Preheat the oven to 375 degrees. Using a pastry brush, generously coat 12 muffin tins with melted butter.
Season potato slices with salt and pepper. Mix together the green and red onion and season with salt and pepper.
Place 1 or 2 potato slices in each muffin tin. Sprinkle with half of the onion mixture. Top each with another 2 or 3 potato slices, and sprinkle with the remaining onions. Top with the remaining potato slices and sprinkle with the grated Gruyere cheese.
Pour 2 tablespoons of the cream into each muffin tin and sprinkle with half of the Parmesan cheese. Season the top of each gratin with salt and pepper.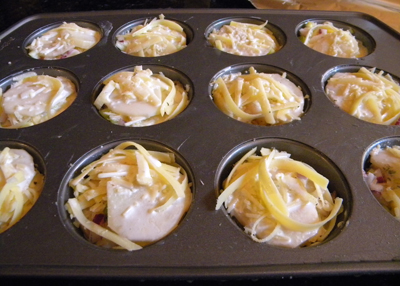 Cover with foil and bake for 20 minutes. Take out of the oven and remove the foil.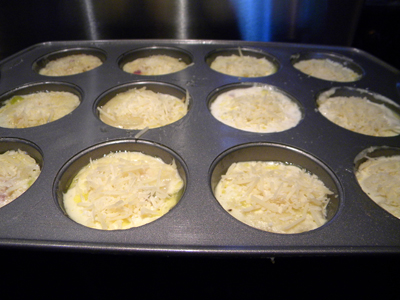 Sprinkle with the remaining Parmesan cheese and return to the oven for 15 to 20 minutes, or until cooked through and golden on top. Allow gratins to cool in the pan for 5 minutes before using a spoon to lift the gratins out of the muffin tins and onto a serving plate.
Makes 12