nuts & vinegar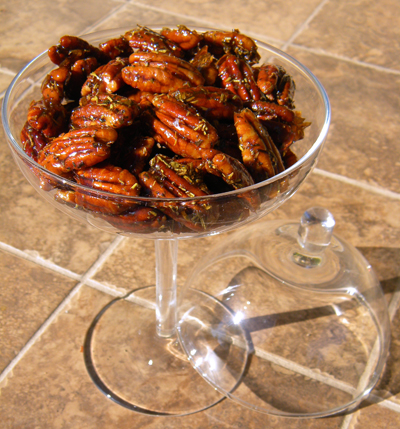 Once you taste these unique candied pecans, you'll be making them over and over again. And although you will be tempted to make a double or triple batch, it is best to make 1 cup at a time. Immediately as they are coming out of the oven, you need to get them onto a sheet of foil and separate them carefully and quickly, or you'll have one big ball of pecans that will have to be chopped to get apart. Yes, they would still taste delish, but they don't look so nice when they aren't individual pecan halves. So avoid that temptation, because unless you're a Tanzanian Devil, you just can't move that fast!
Once again you are getting two recipes for the price of one! When you remove the pecans from the oven, there will be small pools of caramel left on the foil. They will harden and dry quickly. Once they are cool enough to handle, peel them off the foil and save. You can use them to make a fabulous vinaigrette, which you can use for a wonderful salad, with or without the pecans.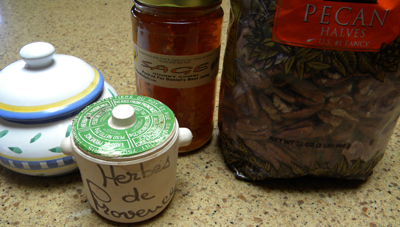 Herbes de Provence Pecans
Pam
1/3 cup honey, warmed briefly in the microwave
1 cup pecans
1 tablespoon Herbes de Provence, divided
1 tablespoon sugar
Preheat the oven to 350 degrees. Cover a baking sheet with foil and spray with Pam. In a large bowl, stir together honey, pecans, and half of the Herbes de Provence; tossing to coat well. In a small bowl, mix together the remaining half of Herbes de Provence and sugar.
Spread pecans in 1 layer on a prepared baking sheet and sprinkle with herbs/sugar mixture. Bake in the middle of preheated oven for 12 minutes, then stir and bake for 4 minutes more.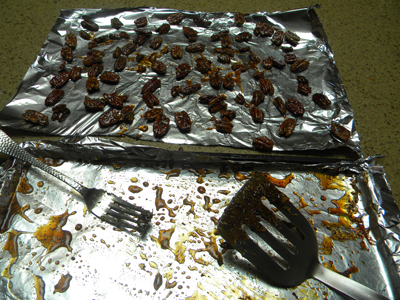 Use a slotted spatula, spoon, or large fork to transfer nuts immediately to a clean, Pam coated, a sheet of foil and, working quickly, separate pecans with a fork.  Cool for at least 1 hour to allow to set up and harden and at least 2 hours before packaging.
Makes 1 cup
Herbes de Provence and Honey Vinaigrette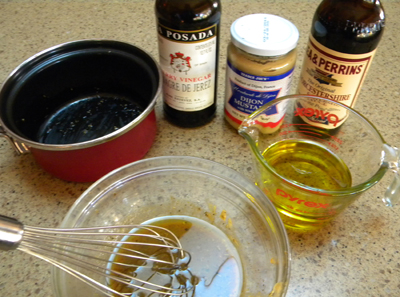 1/4 cup Sherry vinegar
Caramelized honey pieces left from making Herbes de Provence Pecans
1 tablespoon Worcestershire sauce
2 garlic cloves, peeled, minced, and smashed into a paste with 1/2 teaspoon salt
2 teaspoons Dijon mustard
1/2 cup olive oil
Salt and freshly ground black pepper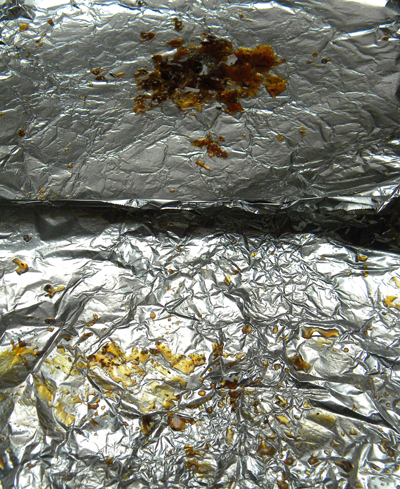 In a small saucepan heat the vinegar, add the caramelized honey pieces, and stir to melt, pour into a bowl and whisk in the Worcestershire sauce, garlic paste, and Dijon.
Add the olive oil in a stream, whisking, and whisk the dressing until it is emulsified. Season to taste with salt and pepper.
Makes about 1 cup