not just any old gazpacho
This was the "main course" for my Pool Party class at Les Gourmettes. It's a bit chunky, a sorta soupy, kinda spicy, and really good!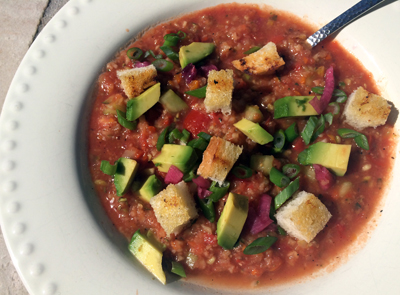 Fire-Roasted Gazpacho
1 large onion, peeled and cut into 3 thick rounds
2 zucchini, trimmed and cut in half lengthwise
1 each red, yellow, orange bell peppers
2/3 cup olive oil
3 thick slices fresh sourdough bread
4 garlic cloves; 1 of the cloves peeled and cut in half and the 3 remaining cloves peeled and minced
8 large tomatoes, cored, seeded, and diced
2 English cucumbers, peeled, seeded, and diced
1/2 cup Sherry or red wine vinegar
2 cups tomato juice
1/2 teaspoon ground cumin
1/4 teaspoon cayenne pepper
Salt and freshly ground black pepper
Garnish
2 green onions, green tops only; thinly sliced on the bias
1/4 cup finely diced red onion
1 avocado, diced
Preheat the grill to high heat.
Brush onion, zucchini, and whole peppers with olive oil and arrange on grill over high heat. Place the bread slices on the grill alongside the vegetables. Grill the bread just until toasted and grill marks are made on each side. Remove from grill and rub each slice with the garlic clove halves and set aside.
Grill vegetables, turning occasionally, for 3 to 4 minutes per side or until the skin of peppers blister and turn black and onion and zucchini are roasted.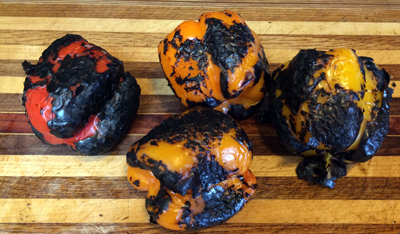 Remove and place the peppers in a bag to steam and then slough off the skin and cut peppers open to remove the seeds and membrane.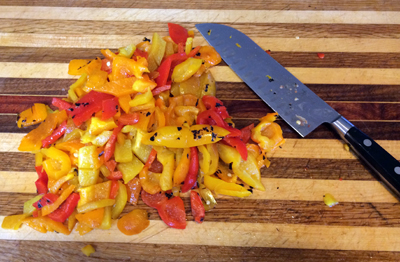 Place 1 slice of the bread in a food processor and process until breadcrumbs are made. Transfer to a bowl and set aside, no need to wash the processor bowl. Cut the remaining two slices of bread unto croutons and set them aside for the garnish.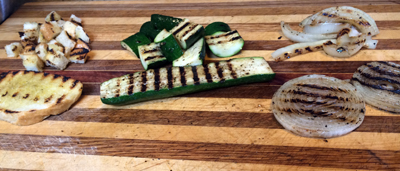 Roughly chop the onion, zucchini, and peppers and place them in the same food processor bowl. Use the pulse button and process until coarsely chopped and then transfer to a large bowl.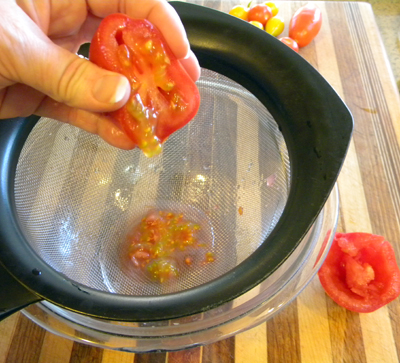 Add the tomatoes, cucumber, garlic, and breadcrumbs to the bowl. Stir in vinegar and tomato juice.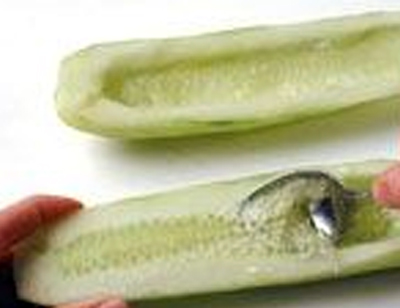 Gradually whisk in any remaining olive oil, to combine. Add the cayenne and cumin. Taste and season with salt and pepper.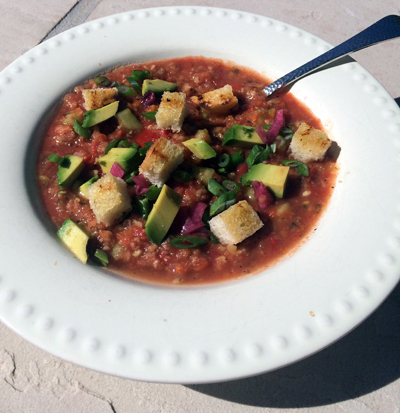 Refrigerate for 2 to 3 hours until well chilled.  Ladle into bowls and garnish the soup with the scallions, red onion, avocado and reserved croutons.
Serves 6