mussles, beer, and bread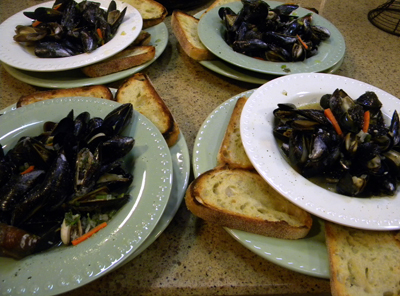 Last week, I spoke about my love for the mussels at Tarbell's Restaurant. Well, I haven't been able to get them off my mind since, so that means only one thing… make some! This recipe is adapted very slightly from Mark Tarbell's recipe on his website.

There can be one little itty bitty problem with mussels (bivalvia mollusca) and their cousin, clams. The grit and sand sometimes found inside can ruin an otherwise perfect meal. But it doesn't have to be that way. There is an easy way to get the mussels to give up their sand.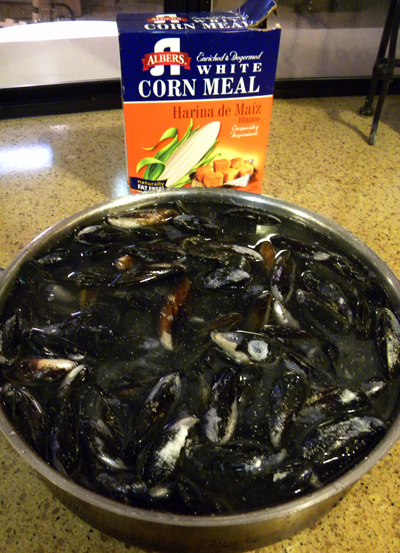 You just dissolve about 1/4 cup salt in a large bowl or pot filled with cold tap water and add the mussels and enough cold water to cover them. Then sprinkle with cornmeal. Soak for 2 hours or overnight, uncovered, in the refrigerator. The mussels will actually take in the cornmeal and expel the grit or sand. Before using, rinse the mussels and scrub if scruffy-looking, and snip off the "beards" (dark threads) with scissors. If mussels have opened slightly before cooking, tap the shell. They should snap shut. Discard any mussels that don't pass the tap test, as well as any that fail to open during cooking. And be sure to have plenty of warm and toasty bread to soak up all the delicious juices!
Steamed Mussels inspired by Tarbell's Restaurant

4 pounds live mussels
1/2 cup cornmeal
1/4 cup olive oil, divided
1/4 cup peeled and julienned carrot
1/4 cup diced red or green bell pepper
1/2 cup thinly sliced green onions
1 medium shallot, peeled and diced
2 garlic cloves, peeled and minced
1/4 cup mixed fresh minced herbs; such as oregano, thyme, rosemary
1/4 cup lemon juice
1/2 cup white wine
1/4 cup (1 stick) unsalted butter, cut into cubes
12-ounce bottle dark beer
Salt and freshly ground black pepper, to taste
1 loaf hot fresh Italian or French bread, sliced
Pick through the mussels, examining each one closely. Discard any mussels that are cracked, broken, or that won't close when tapped. After discarding the dead or damaged mussels, place the remaining mussels in a large bowl filled with well-salted cold tap water.  Sprinkle with cornmeal and allow to sit for at least 2 hours or up to overnight, uncovered, in the refrigerator. Drain and rinse mussels and set them next to the stovetop along with the remaining prepared ingredients.
Heat a very large pan, with a lid over high heat. Add 2 tablespoons of olive oil. Add the mussels along with the remaining ingredients, with the exception of the salt, pepper, bread, and the rest of the olive oil, to the pan.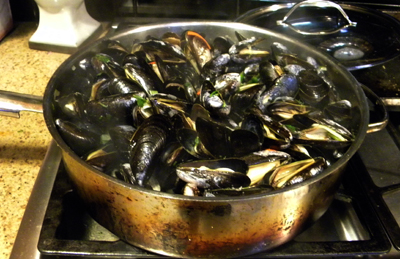 Cover immediately and steam just until the mussels open, shaking the pan every 30 seconds or so, for a total of about 5 minutes. Uncover the pan, if most of the mussels are open, they are done.  If not, give them a stir, recover and steam for another minute or two.
Drizzle with the remaining 2 tablespoons olive oil and season with salt and pepper, to taste. Divide between 6 serving bowls. (Do not force or pry open any unopened mussels – they were dead when you bought them and are not fit to eat.) Serve with plenty of warm bread.

Serves 6