more squash
Finally! For two nights now we have had our windows open. The first evening we could hear the falling rain, all night long. Joy! Although the word from the weatherman is that it'll be back up in the mid to high 80's next week, we're just enjoying it while we can. On that note, the winter squash dish yesterday made me crave more of the same. Today, instead of the exotic Red Kuri squash, we'll go a little more traditional and work with the super fun spaghetti squash. Although the spaghetti-like strands of squash taste nothing like pasta, it's a tasty and healthier way to "feel" like you're eating pasta…
Spaghetti Squash with Baked Italian-Turkey Meatballs
1 large spaghetti squash (3 to 4 pounds)
3 tablespoons olive oil, divided
1 onion, peeled and finely chopped
3 garlic cloves, peeled and minced
1/2 teaspoon red pepper flakes
1  1/2 teaspoons dried oregano
1/4 cup shredded Parmesan cheese, plus more for garnish
1/4 cup Panko breadcrumbs
1 pound ground turkey
1 pound sweet Italian sausage
1 cup chicken broth
3 ounces baby spinach
8 ounces sliced white mushrooms

Preheat the oven to 400 degrees. Line two rimmed baking sheets with foil, spray foil with Pam, and set aside.
Heat 1 tablespoon olive oil in a large skillet on medium heat. Sauté onion until soft and translucent, add garlic, red pepper flakes, oregano, plus a pinch of salt and pepper, and cook an additional 2 minutes. Remove half of the onion mixture to a large bowl and set aside to come to room temperature. Set aside the skillet with the remaining onion mixture.
While the onion is cooling, prepare the squash. Cut in half lengthwise and use a spoon to scoop out the seeds, and discard seeds.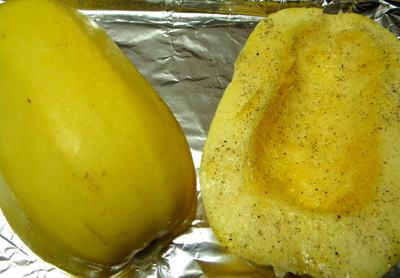 Rub cut side of squash with 1 tablespoon of olive oil and season with salt and pepper. Bake, cut sides down, on one of the baking sheets until tender, about 50 minutes.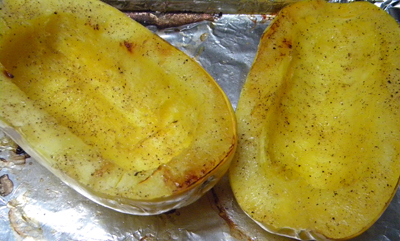 Let squash cool enough to handle, use the tines of a fork to scrape flesh into a bowl, and toss with the remaining tablespoon of olive oil.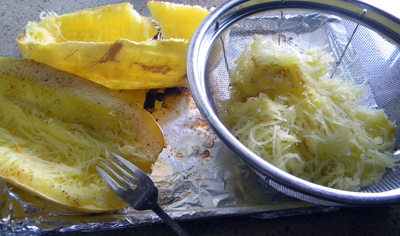 Once the squash is in the oven, return your attention to the cooled onion mixture in the bowl. Stir in 1/4 cup Parmesan cheese, Panko breadcrumbs, red pepper flakes, ground turkey, sausage, and season with salt and pepper.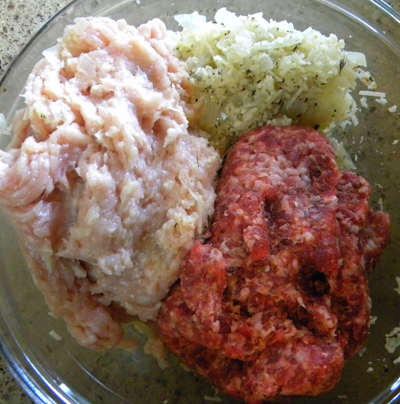 Using hands, blend well.  Wet hands with cold water to prevent the meat from sticking, form the meat into 2-inch balls.  As they are formed, place the balls on a prepared baking sheet.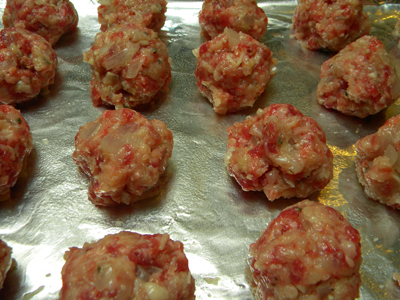 Bake in the same oven with the squash until meatballs are browned and cooked through, about 40 minutes, turning over halfway through the cooking time to brown evenly.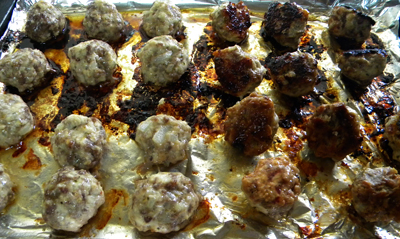 (If the strands of spaghetti squash have cooled down too much, cover the bowl with foil and warm up in the off, but still warm, oven.)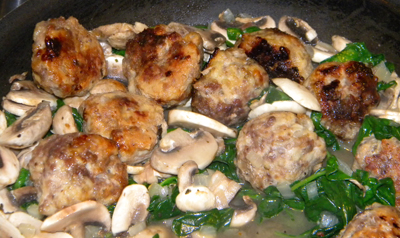 Add chicken stock and the browned meatballs to the skillet with the other half of the onion mixture. Bring to a gentle simmer, then add spinach and mushrooms and cook until spinach is just wilted 1 minute. Mound a bed of spaghetti squash on a plate, top with the meatball-vegetable mixture, and sprinkle with additional Parmesan cheese.
Serves 6