mmm, mmm, good – soup is!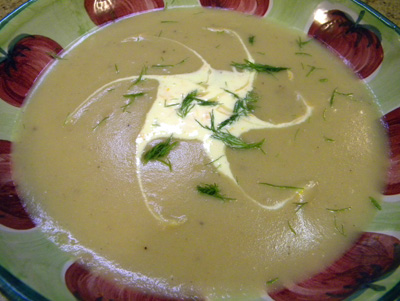 I don't know if you've figured it out yet, but I LOVE soup! Honestly, I could have soup for dinner five nights a week and be as happy as a clam. You'll find that just about all of my previous soup recipes call for chicken stock or broth (not sure what the difference is between broth and stock? Click HERE to find out). But now that I'm working towards the goal of eating more vegetarian, more often – I will be using vegetable stock, more often. Of course, vegetarians already know to substitute vegetable broth in any recipe, soup or otherwise, that calls for chicken broth. I will be going back and putting that option into all my previous soup recipes posted here and then listing them in the new "Vegetarian" category on The Recipe Index, for those of us who may need a little reminding. You can purchase vegetable broth in boxes or cans beside the chicken, beef, and fish broths, or make your own. My favorite recipe for a rich roasted vegetable broth is posted here, right below the soup recipe.
Since not everyone in my house in on-board with my goal, I do have added the option to place some chopped smoked salmon on top of the soup as a garnish. It is pretty darn tasty that way, so do as you please.

Roasted Fennel-Potato Soup with Orange Crème Fraîche
2 medium fennel bulbs, trimmed, each cut into 4 or 5 thick slices, fronds and stalks reserved
1 small onion, peeled and coarsely chopped
1 large shallot, peeled and cut in half
2 garlic cloves, peeled and left whole
2 pounds potatoes, peeled, cut into 2-inch pieces
Salt and freshly ground black pepper
6 cups vegetable or chicken broth (or more as needed, for thinning)
Orange Crème Fraîche
1/2 cup crème fraîche
Grated zest of 1 orange
1 tablespoon fresh orange juice
1 ounce smoked salmon, chopped (optional)
Preheat oven to 425 degrees. Line a large rimmed baking sheet with foil and spray with nonstick spray.
Place fennel slices, onion, shallot, garlic, and potatoes on baking sheet, spray vegetables lightly with more nonstick spray and sprinkle with salt and pepper. Roast in preheated oven 15 minutes. Toss and return to oven for an additional 20 minutes.
Meanwhile, heat broth in large pot, add the reserved fennel stalks, cover and bring to a very low simmer while vegetables roast. The stalks will give the broth, and the overall soup and richer fennel taste and will be removed before adding the roasted vegetables.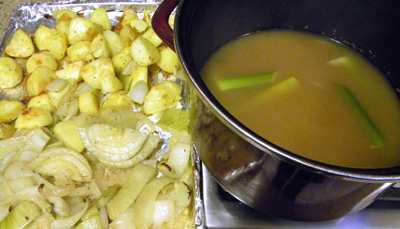 Orange Crème Fraîche: In a small bowl, stir together crème fraîche, orange zest and juice, set aside.
Using a slotted spoon, remove and discard the fennel stalks from the pot. Scrape the roasted vegetables and any juices from the roasting pan into pot with stock, bring to boil; reduce heat to medium. Cover and simmer until potatoes are tender, about 10 minutes.
Working in batches, puree soup in blender. Return soup to pot and rewarm over medium heat, stirring and thinning with more broth, as needed, for desired consistency. Taste and season soup with salt and pepper.
Divide soup among bowls. Dollop with orange crème fraîche and reserved chopped fennel fronds.
Top with smoked salmon, if desired.
Serves 6
Roasted Vegetable Broth
5 carrots, peeled and sliced 1/4-inch thick
2 large celery ribs, sliced 1/4-inch thick
1 medium celery root, peeled and sliced 1/4-inch thick
1 large onion, peeled and chopped into 1/2-inch thick pieces
1 large leek, sliced 1/4-inch thick
6 garlic cloves
2 tablespoons olive oil
2 teaspoons salt
1/4 teaspoon whole peppercorns
1/2 cup packed parsley leaves
2 bay leaves
5 fresh thyme sprigs
5 fresh sage leaves
1 teaspoon soy sauce
Preheat oven to 425 degrees. Wash and/or scrub all vegetables (especially the leeks) well.
Place carrots, celery, celery root, onion, leek, and garlic cloves on a baking sheet and toss with olive oil. Spread out evenly on baking sheet and roast in preheated oven for about 40 minutes, stirring and tossing them every 10 minutes until browned.
Transfer roasted vegetables to a stock or soup pot and add the remaining ingredients, except soy sauce, along with 2 quarts (8 cups) cold water. Bring to a boil, then reduced heat to a simmer and cover the pot, simmering for 40 minutes. Strain, pressing out as much liquid from the solids as possible, discard solids. Add the teaspoon of soy sauce to give the broth depth.
Makes about 8 cups