mayo-free potato salad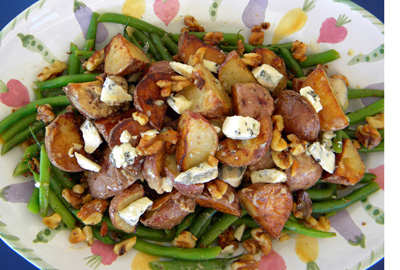 Although I use and like mayonnaise, I am not a fan of it in potato salads, coleslaw, and such. It's just too heavy and kind of just sits there and globs altogether. This salad is light, tangy, and fresh-tasting – so much better than that big mayo-mass of stuff served at picnics, and it's safe to leave out in "the weather" too!
Just add some shredded chicken to this and you'll have yourself a main-dish salad supper (use purchased rotisserie chicken or roast a chicken breast, or two, alongside the potatoes). Other great add-ins include; thin red onion slices, chopped Kalamata olives, cherry tomato halves, minced parsley, chopped sun-dried tomato, etc. Or switch out the cheese; maybe some shaved smoked Gouda, Parmesan, or Manchego. How about pecans, almonds, or hazelnuts in place of the walnuts? You get the idea, make it our own and be sure to let me know how you mixed it up!

Potato-Green Bean Salad with Mustard Vinaigrette and Roquefort
Vinaigrette
1/2 cup walnuts, coarsely chopped
1/3 cup plus 1 tablespoon olive oil, divided
Salt and freshly ground black pepper
3 tablespoons Sherry vinegar
1 teaspoon honey
1 teaspoon grainy mustard
2 pounds of well-washed baby red-skinned potatoes, quartered
2/3 cup crumbled Roquefort cheese
1/2 pound green beans, trimmed
Vinaigrette: Cook walnuts in 1 tablespoon oil in a small heavy skillet over medium-low heat, stirring frequently, until they begin to brown, about 2 minutes. Transfer with a slotted spoon to paper towels and reserve any oil left in the pan. Season nuts with salt and pepper.
In a medium bowl; whisk together vinegar, honey, mustard, 1/4 teaspoon salt, and a few grinds of black pepper. Add remaining 1/3 cup olive oil and reserved oil from the skillet in a slow stream, whisking until emulsified, and set aside.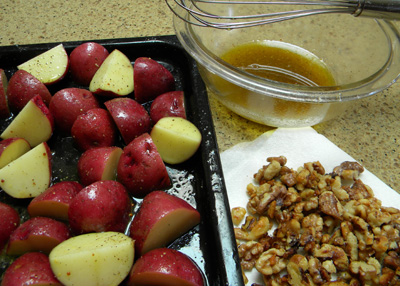 Salad: Preheat the oven to 450 degrees. Toss together the quartered potatoes and 3 tablespoons of the vinaigrette on a baking sheet. Roast for 20 minutes, stir. Reduce oven temperature to 375 degrees and continue roasting until potatoes are tender, stirring occasionally for about 30 additional minutes. Transfer to a large bowl and cool slightly, mix in 3 tablespoons vinaigrette and 1/3 cup Roquefort cheese. Season to taste with salt and pepper.
Cook green beans in a large pot of boiling salted water until crisp-tender, about 3 minutes. Drain. Place a strainer or colander over the hot pot the beans cooked in and rinse the beans under cold running water to cool and stop the cooking; drain well. (Running the cold water into the pot will cool it down as well and save you from having to dirty another bowl for the next step). Return beans to the empty and cooled pot and mix in 3 tablespoons cheese, remaining vinaigrette, and walnuts. Season with salt and pepper.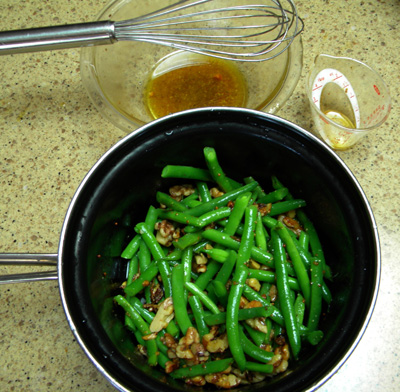 Lay out beans in a flat layer on a serving platter. Mound potatoes in the center of platter atop beans. Sprinkle with remaining cheese, and serve warm or at room temperature. Cover and refrigerate any leftover salad, and either serve cold or leave out for about an hour on the counter to serve at room temperature.
Serves 6