Max and Mushroom Soup
Can you believe that I've been here in Chicago with Marissa, Jeff, and Max for all this time, have put up 6 recipe posts, and haven't shared a single photo of Max? It's called "Lola Restraint." Trust me, if this grandma didn't have that sort of restraint and fortitude, this entire blog would turn into a blog about Max! I will not keep you waiting any longer…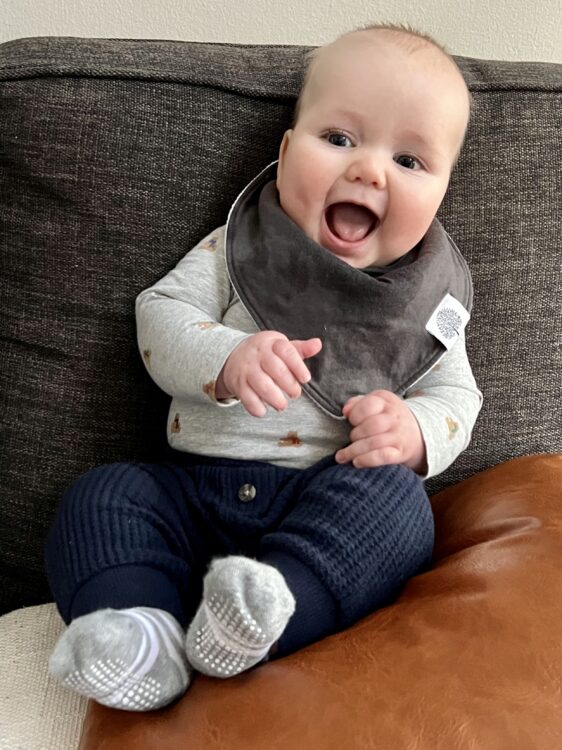 My beautiful 5-month-old boy, Max Cameron! Even with the pain in my knee, I'm enjoying every second of being this sweetie's Lola.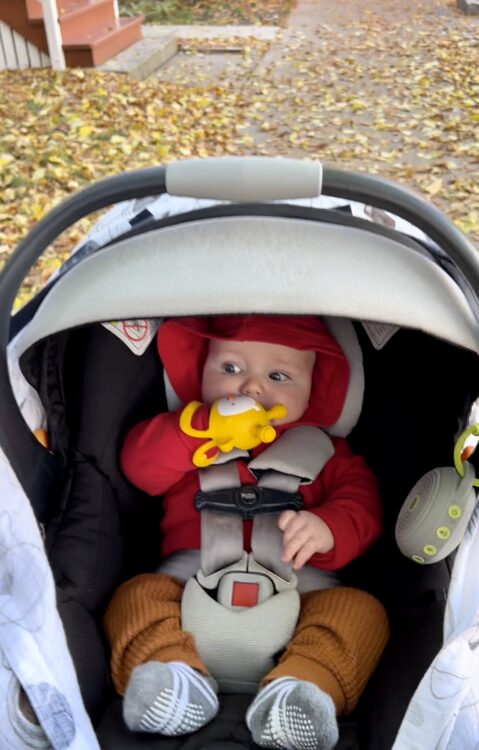 We even took a walk through the fall leaves to Trader Joe's to do some grocery shopping on the third day I was here. Although it is only 0.6 miles from the house, a 30-minute round-trip walk, we will definitely be taking the car the next time. My left knee and the right leg, which supports the other, were not happy with me! And it took quite a bit longer than what should have been 30 minutes. There is one more photo of Max and his mama at the end of this very luxurious and luscious recipe. xoxo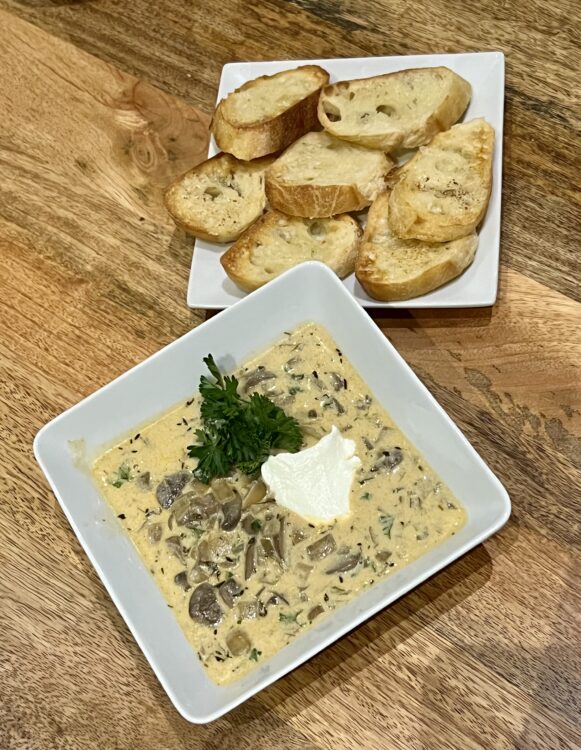 Creamy Mushroom Soup
3 tablespoons butter
1 tablespoon olive oil
1½ cups onions, chopped
1/2 cup shallots, finely chopped
1 pound fresh cremini or baby bella mushrooms, sliced
1 tablespoon fresh thyme, finely chopped
1 tablespoon fresh dill, finely chopped
1½ teaspoons smoked paprika
1/4 cup dry white wine
2 tablespoons of brandy or cognac
1½ tablespoons soy sauce
3 cups chicken broth
3 tablespoons flour
3/4 cup whole milk or half-and-half
1 teaspoon kosher salt
1/2 teaspoon fresh ground black pepper
1 tablespoon lemon juice
2 tablespoons parsley, finely chopped
2 tablespoons sour cream or crème fraîche
Garnish and Serving
Crème fraîche or sour cream
Freshly cracked black pepper
Toasted sourdough bread or baguette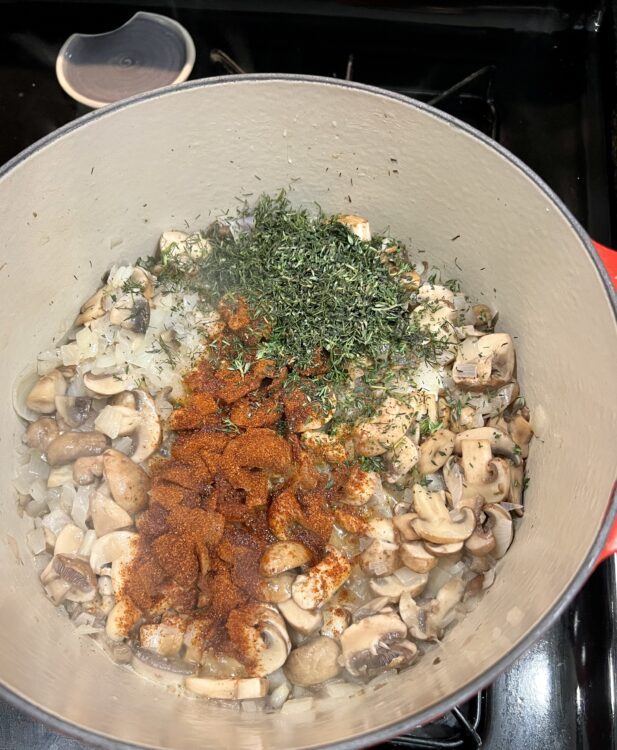 Melt the butter in a dutch oven over medium heat, then add olive oil. Sauté onions and shallots until soft and translucent. Add mushrooms and cook for 3 minutes. Add thyme, dill, and smoked paprika and cook for 1 minute.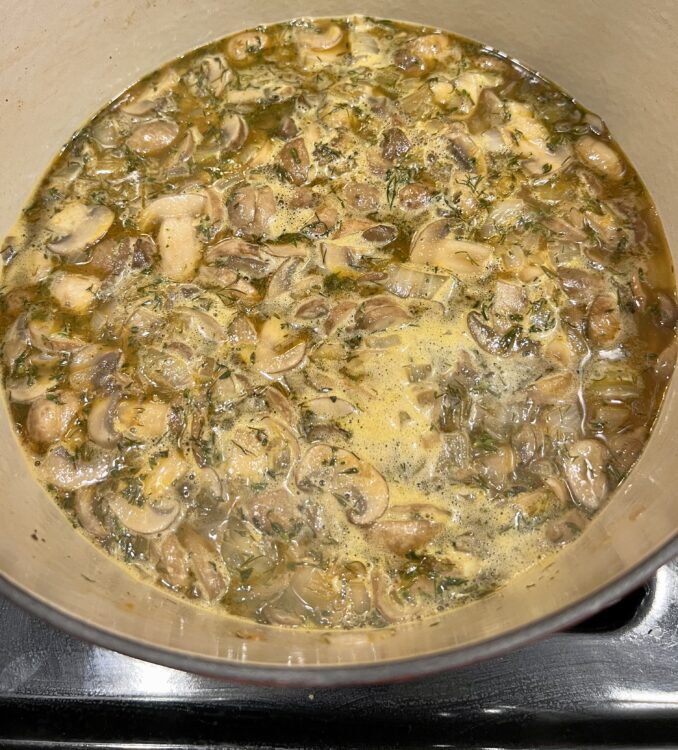 Add white wine and brandy and cook until the liquid has reduced by about half. Add soy sauce and broth and bring to a boil. Lower heat and simmer for 15 minutes.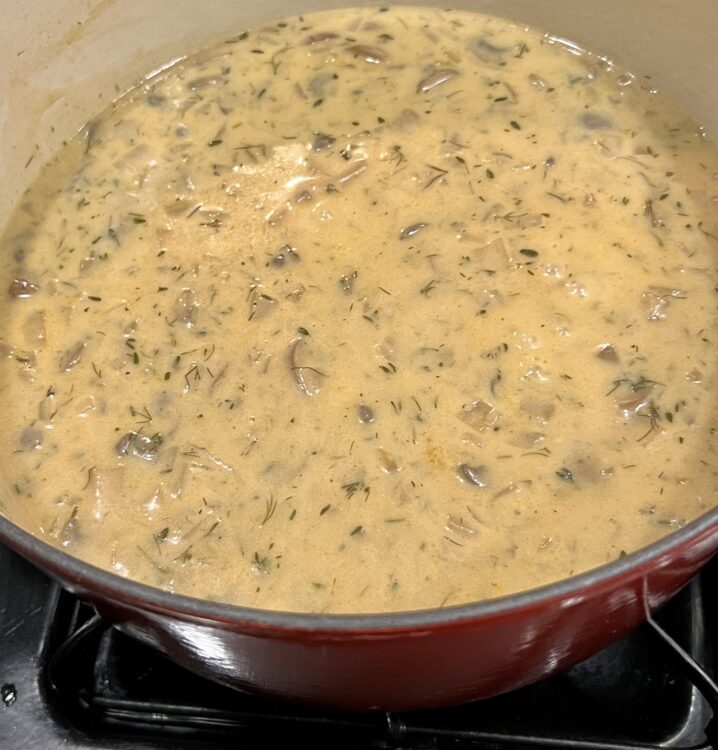 In a small bowl, add milk and flour and whisk until well combined. Slowly pour into soup, whisking all the while, to combine. Cook for another 15 minutes stirring every few minutes to prevent the flour mixture from sticking to the bottom of the pot and burning.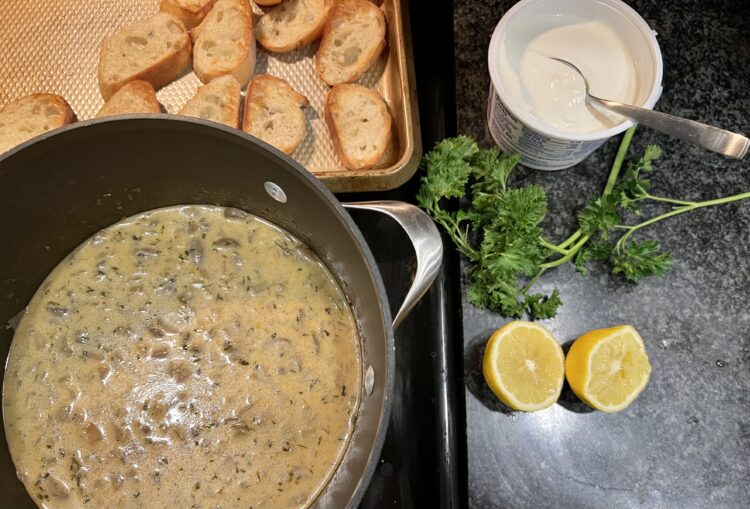 Add salt, pepper, lemon juice, parsley, and sour cream or crème fraîche. Stir to combine. Ladle into bowls and serve.
Serves 4