lucky beef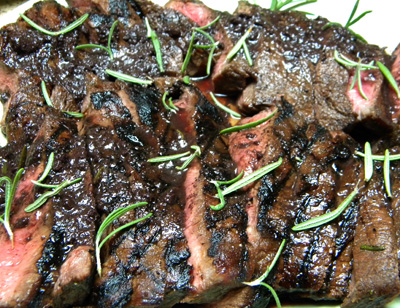 A flat iron is steak is one of the most versatile pieces of beef. It takes to a marinade like a duck to water. You can grill it, use it in stir-fry, for fajitas, braise it, pan-fry it, whatever.
The last time I posted a recipe using flat iron steak was December 21st of last year, the day after our Arizona Cardinals won the  NFC West title. I am hoping that posting another recipe today, it will send a little (actually a whole boatload) of luck to our struggling team after their humiliating defeat on Sunday. It was a sorry display and just about impossible to watch!
Cardinal's Flat Iron Steak
2 pounds flat iron steak
Salt and freshly ground black pepper
2 tablespoons honey
2 tablespoons balsamic vinegar
2 tablespoons olive oil
1 tablespoon fresh lemon juice
1/2 teaspoon Worcestershire sauce
1 spring fresh tarragon, torn into pieces (or 1/4 teaspoon dried)
1 spring fresh rosemary, torn into pieces (or 1/4 teaspoon dried)
1/4 teaspoon garlic powder
1/2 cup red wine
Season beef with salt and pepper on both sides and place in a gallon-size ziplock bag. Add the remaining ingredients, squeeze out the air in the bag, and seal.  Marinate in the refrigerator for at least 6 hours.
Preheat an outdoor grill for medium-high heat and lightly oil the grate.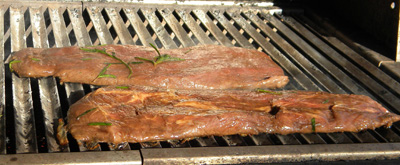 Remove the steak from the marinade, shake off excess, and pour the marinade into a small saucepan. Cook the beef on the preheated grill to the desired degree of doneness, about 4 to 5 minutes per side for medium-rare.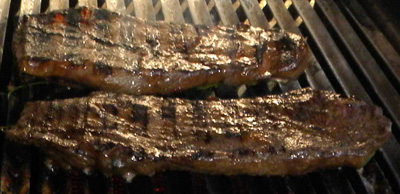 Bring marinade to a boil over high heat and continue to boil for 2 minutes. Reduce heat and simmer until liquid is reduced by half.
Remove beef to a cutting board and rest for 5 minutes before slicing on a diagonal, against the grain. Lay on a platter or serving plates and drizzle with the sauce.
Serves 4