loyal followers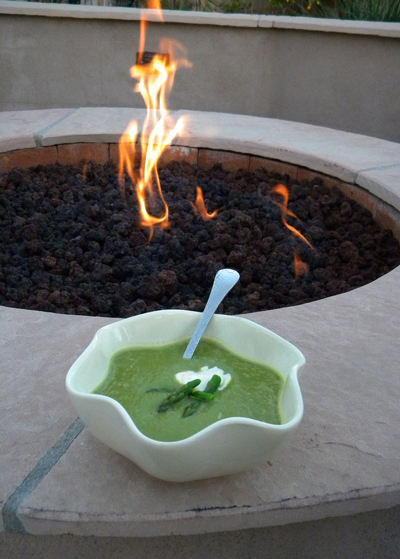 One of my most loyal and longest followers requested this recipe by email. Sharon C. has children who attend LPG every summer and she and her daughter, (along with another mother/daughter duo who are their BFF's) always leave lovely comments, which I appreciate immensely! So this is my shout-out to Sharon and Sydney C. & Debbie and Kelsey Q! Thank you, and I hope to see you again this summer!
Tip: One of the downsides to asparagus soup can be the color. When asparagus gets cooked this long to make it soft enough to puree, it fades a bit. The solution?  Add a few handfuls of fresh spinach to the pot a minute before blending. The spinach will not be noticeable in the taste but will boost the color by leaps and bounds.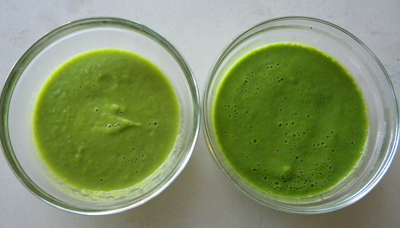 My mother-in-law was born and raised in Madison, Wisconsin, and is a life-long Green Bay Packers fan. She arrives next week, on Super Bowl Sunday, for a visit. I think I'll freeze some of this lovely green soup and serve it while we watch "The Pack" bring home the Vince Lombardi Trophy!

Asparagus Soup with Lemon Crème

2 pounds asparagus
1/4 cup unsalted butter
1 large onion, peeled and diced
2 large shallots, peeled and minced
5  1/2 cups chicken or vegetable broth
2 cups fresh spinach leaves
Salt and freshly ground black pepper
1/2 cup crème fraîche or sour cream
1 teaspoon fresh lemon juice
1/2 teaspoon finely grated lemon zest
Cut tips from 24 asparagus stalks and set aside for garnish. Cut the rest of the asparagus into 2-inch lengths.
Melt butter in a heavy large saucepan over medium heat. Add onion and shallots; sauté until soft, about 5 minutes. Add asparagus and stir together. Pour in broth and simmer until asparagus is tender, about 5 to 8 minutes, depending on the thickness of the asparagus stalks.

While soup simmers, cook reserved asparagus tips in boiling salted water until just tender, about 3 minutes, drain, run under cold water to stop the cooking, and set aside. (Alternately, you may blanch the tips as I have pictured below, that is, if you have a strainer or something similar that is small enough to fit in the pot.)
Remove pot from heat and stir in spinach. Working in batches, carefully puree soup in a blender.  Season with salt and pepper. Serve or return to pot and keep warm.
Stir together crème fraîche, lemon juice, and lemon zest in a small bowl.

Divide soup among 6 bowls. Top each with a dollop of lemon crème, top with 3 asparagus tips each, and serve.
Serves 6 to 8