Linda's Tortilla Soup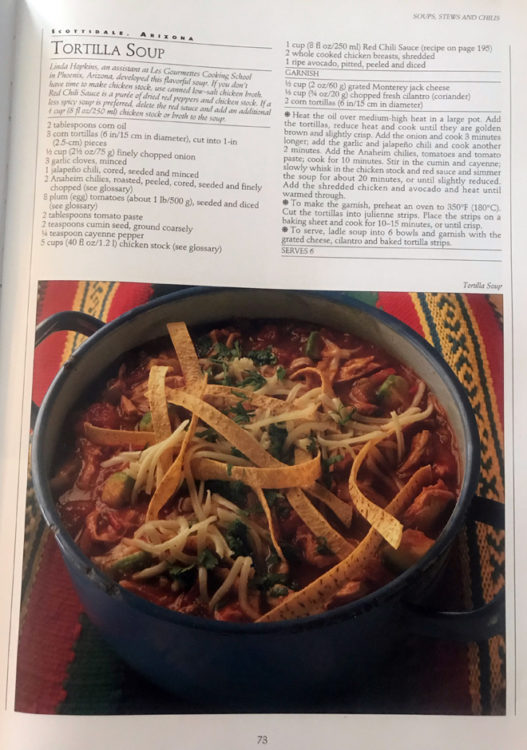 In 1993, Barbara Pool Fenzl began writing her first cookbook, Southwest The Beautiful Cookbook. It was published in 1994. In the space between, I was her recipe tester. Barb would develop the recipes and then give me a stack of recipes for me to test, make suggestions, corrections, and such.  My family vividly remembers it because the batches of recipes came not as a menu, but in groups of the same type of dishes. So one week I'd be making 6 or 7 salads, the next week it would be 5 or 6 desserts, and so on. Honestly, we loved it.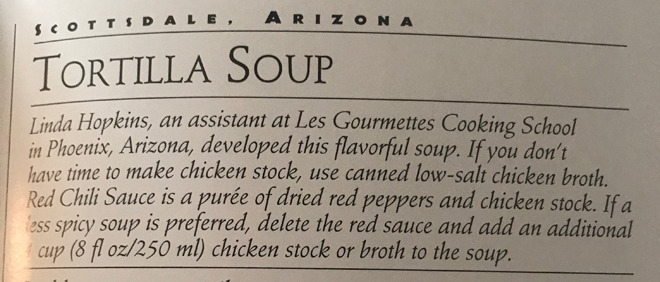 Barb also gave me the opportunity to develop and contribute a recipe of my own to the cookbook. I decided on Tortilla Soup. The only prerequisite was that the soup should include a sauce Barb had developed for the sauce section of the book. So this recipe uses Barb's Red Chili Sauce. If you would rather just buy red chili sauce or red enchilada sauce, please take that shortcut. But by all means, make the soup, it is a family favorite.
The recipe also calls for four cooked chicken breast halves. You can substitute shredded rotisserie chicken if you'd like. Use 5 to 6 cups of shredded rotisserie.
Lastly, there aren't as many in-process photos as I usually post with a recipe. That is because I made this for my final series at Les Gourmettes Cooking School, so I was only able to take photos of the pre-prep I did at home before loading it all up and taking it to the class.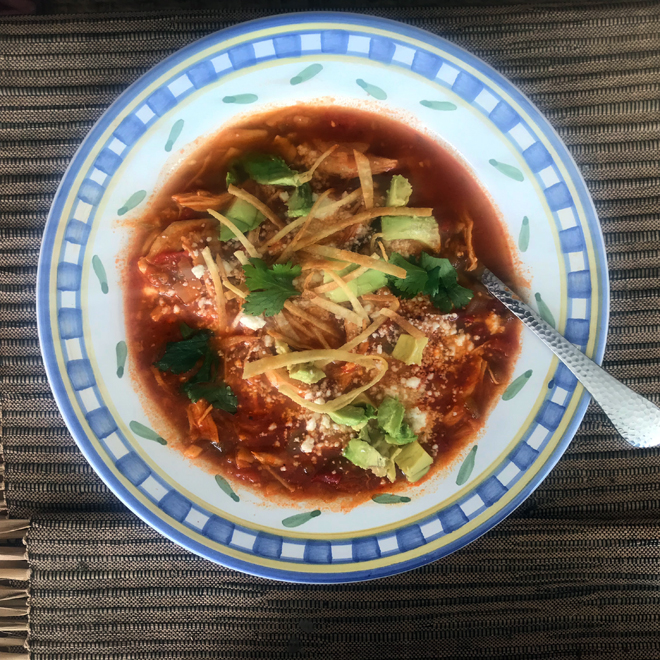 Tortilla Soup
Soup
2 tablespoons corn oil
3 corn tortillas, cut into 1-inch pieces
1/2 cup finely chopped onion
3 garlic cloves, peeled and minced
1 jalapeño chili, cored, seeded, and minced
2 Anaheim chilies, roasted, peeled, cored, seeded, and finely chopped
8 plum tomatoes, seeded and diced *see photo below
2 tablespoons tomato paste
2 teaspoons ground cumin
1/4 teaspoon cayenne pepper
5 cups chicken broth
1 cup red chili sauce (recipe below) or use store-bought red enchilada sauce
2 whole cooked chicken breasts, shredded
1 ripe avocado, pitted, peeled, and diced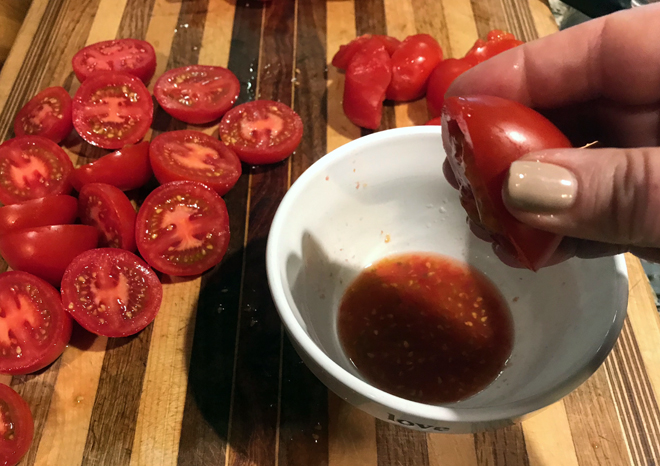 Garnish
4 corn tortillas
Pam
Salt and chili powder
1/2 cup grated Monterey jack cheese
1/3 cup chopped fresh cilantro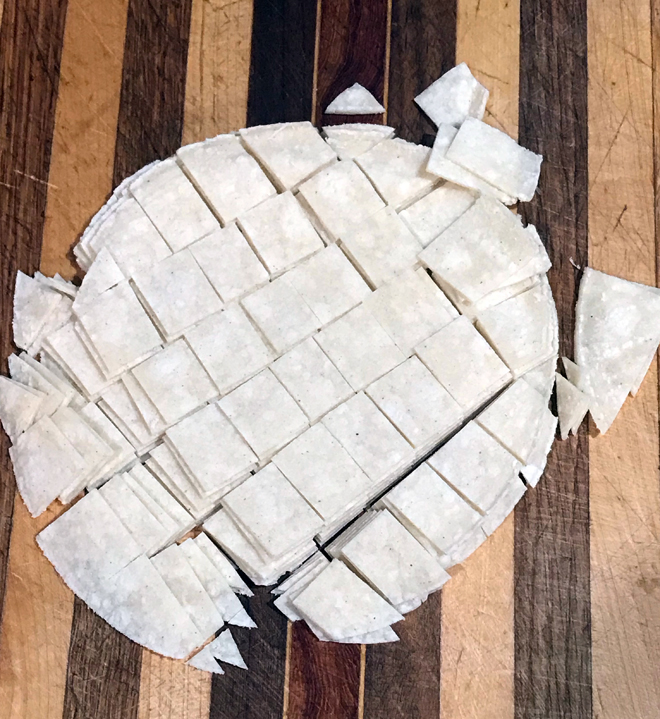 Soup: Heat the oil over medium-high heat in a large pot. Add the tortilla pieces, reduce heat and cook until they are golden and brown, and slightly crisp.  Add the onion and cook for 3 minutes, then add the garlic and jalapeño and cook another 2 minutes.
Add the Anaheim, tomatoes, and tomato paste; cook for 10 minutes. Stir in the cumin and cayenne; slowly whisk in the chicken broth and the red chili sauce and simmer the soup for about 20 minutes, or until slightly reduced. Add the shredded chicken and avocado and heat until warmed through.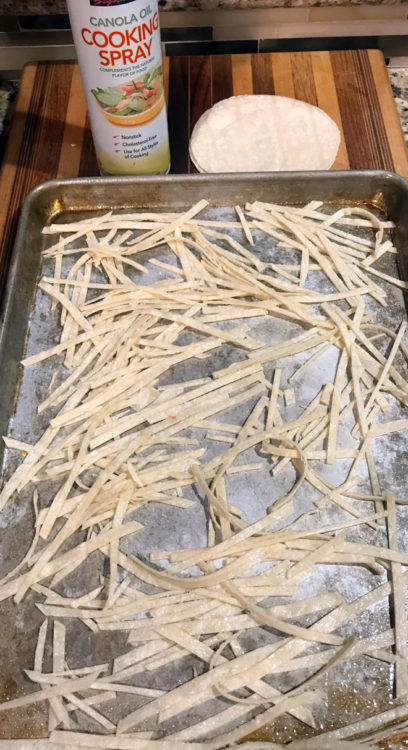 Garnish: Preheat the oven to 350 degrees. Stack and cut the tortillas into julienne strips. Spray a baking sheet with Pam, place the tortilla strips on a baking sheet and spray them with more Pam. Cook in preheated oven for 10 to 15 minutes, or until brown and crisp.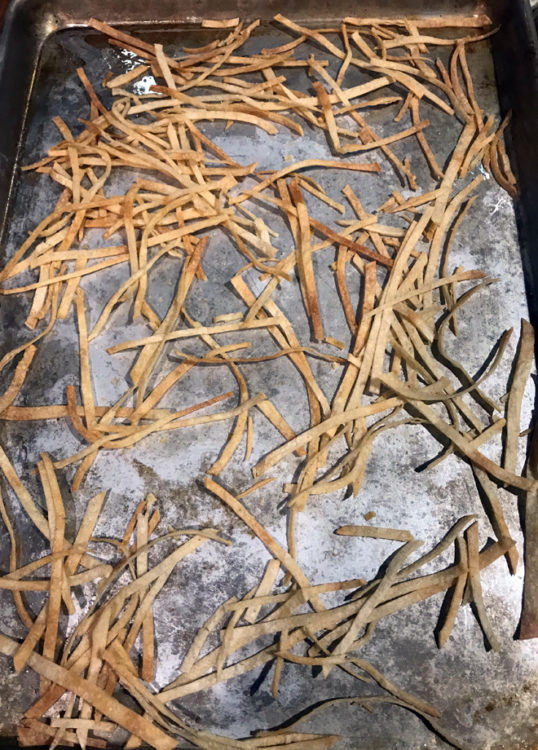 Remove from the oven a spray with Pam one last time and then sprinkle generously with salt and chili powder.
To serve, ladle soup into bowls and garnish with the grated cheese, cilantro, and baked tortilla strips.
Serves 6
Red Chili Sauce
10 whole dried New Mexico chilies
1 tablespoon olive oil
1 cup finely chopped onion
2 garlic cloves, peeled and minced
2 cups chicken broth
2 tablespoons corn oil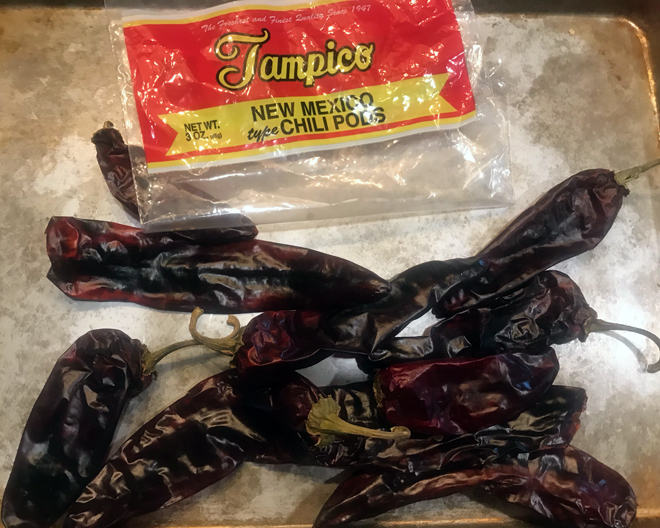 Preheat oven to 250 degrees. Place the chilies in a heavy skillet and roast them dry in the hot oven for 3 to 4 minutes, being careful not to let them burn.
Fill a pot just large enough to hold the chilies with water; bring the water to a boil and remove the pot from the heat.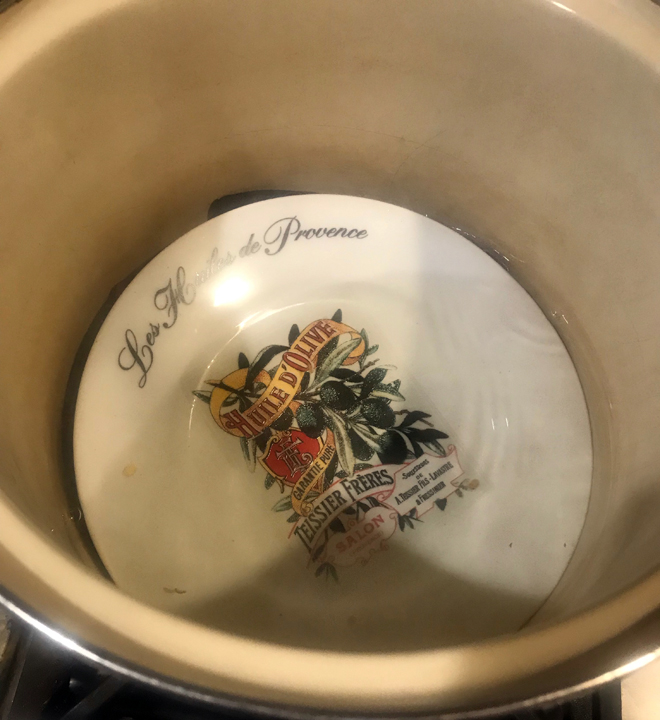 Add the roasted chilies to the hot water and, using a weight such as a smaller pot lid or a plate, keep them submerged until they are soft, about 30 minutes.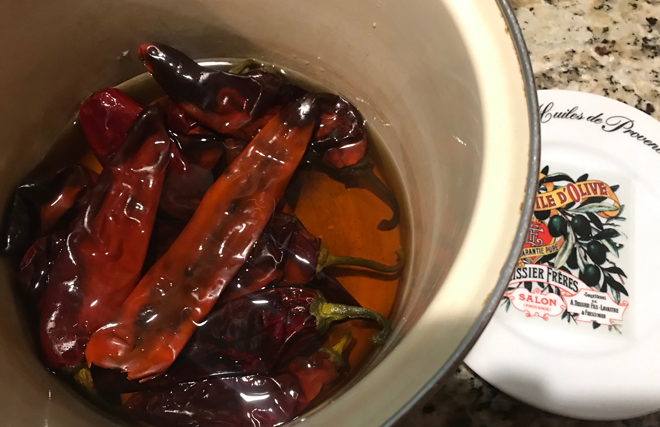 Remove the chilies from the water, stem, seed, and tear them into strips.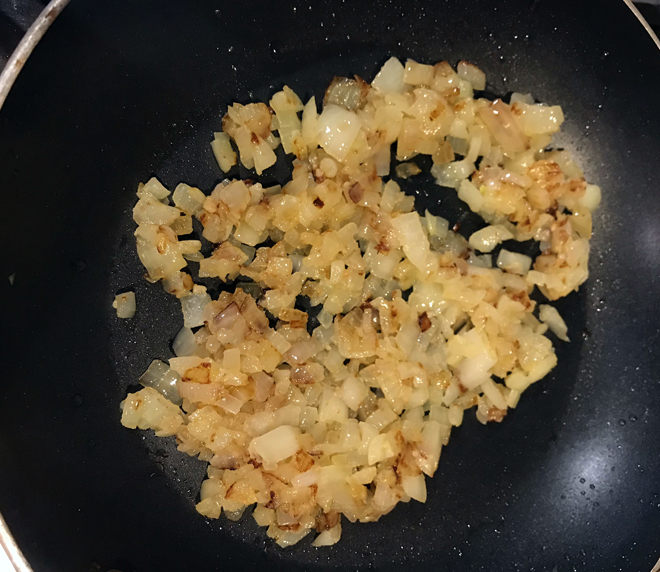 Heat the olive oil in a medium skillet over low heat; add the onion and sauté until browned, about 5 minutes.
Put the chili strips, sautéed onion, garlic and 1 cup of the broth into a blender and puree until smooth, strain.
Heat the corn oil in a heavy skillet over medium heat. Add the chili mixture to the hot oil and cook, stirring, for about 5 minutes. Add more broth until the sauce is the desired consistency. Taste and add salt to your liking. Cover and refrigerate until ready to use. Keeps 3 days, refrigerated.
Makes about 2 cups