leftovers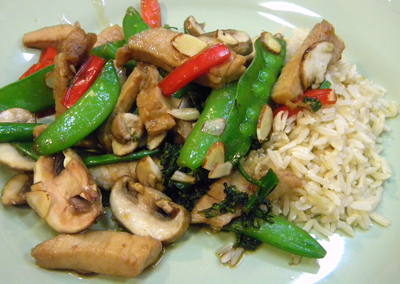 I haven't had the opportunity to cook at home much this week. In fact, Monday, Tuesday, and Wednesday nights, I wasn't even home. There were plenty of leftovers in the fridge for Dave and Marissa to help themselves to, but did they? No! Instead they just picked at stuff, never going to the trouble to even re-heat something and eat a real meal. I'm talking cheese and crackers for dinner. So when I finally was home to make dinner on Thursday night, it was up to me to use the leftovers. I made this stir-fry, using the Spanish pork from earlier in the week. That's one of the great things about stir-fry, as long as you have nice fresh veggies, you can start with raw or cooked meat and end up with great results.
Pork Stir-Fry
8 ounces raw pork tenderloin or leftover pork, cut into 1 1/2×1/4-inch strips
1/4 cup soy sauce
2 tablespoons honey
2 tablespoons toasted sesame oil
2 tablespoons dry sherry
2 garlic cloves, peeled and minced
1 tablespoon minced peeled fresh ginger
1/4 teaspoon dried crushed red pepper flakes
1 tablespoon canola oil
8 ounces baby broccoli florets
4 ounces sugar snap peas
4 ounces of snow peas
1 red bell pepper, cored, seeded, and cut into thin strips
8 ounces crimini mushrooms, thinly sliced
1/4 cup sliced almonds
4 cups freshly cooked brown or white rice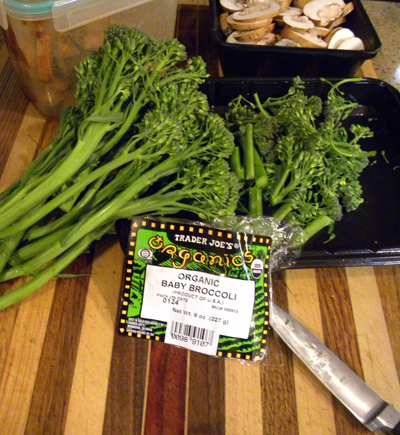 Mix pork, soy sauce, honey, sesame oil, sherry, garlic, ginger, and red pepper flakes in a bowl and marinate for at least 20 minutes.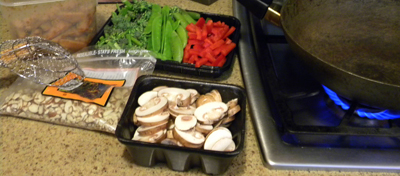 Heat a large wok until very hot, add canola oil to the wok, and roll around to coat.  If using raw pork, add pork mixture to the wok and stir-fry for 1 minute. Transfer pork to the dish.  If using leftover pork, skip this step.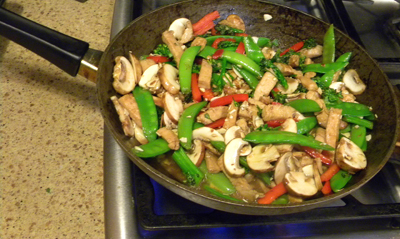 Add snap peas, snow peas, and red bell pepper and stir-fry for 1 minute. Add mushrooms and pork (either the pork tenderloin you cooked above or leftover pork) with its liquids and stir until heated through about 2 minutes. Transfer to a bowl. Sprinkle with almonds and serve over freshly cooked rice.

Serves 4