It's all about the packaging!
As you know, I am not a baker. I don't enjoy it. I don't have the patience for it. I am not good at it. Even so, there are times when I do have to bake. When teaching cooking, for example.
This last recipe from my "Gifts of Food" class at Les Gourmettes is dozy. I decided to add it to the class for one reason and one reason only – the packaging.
Big mistake for a person who doesn't enjoy baking!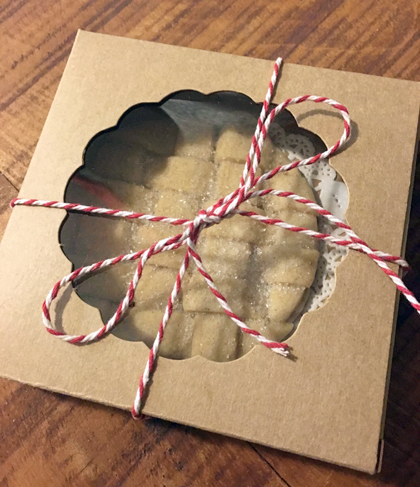 But sometimes, the packaging is everything.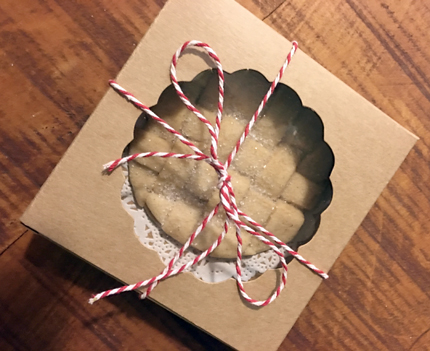 But come on! How cute is this cookie, that looks like a mini double-crust lattice pie, in an adorable little scalloped window box, on top of a doily and all tied up with baker's twine?!? To me – it's Irresistible!
I'm sure most of us can admit that we've bought something only because of the packaging and not so much for what was inside. These bad decisions not only happen when purchasing something, though. Making this cookie to teach in front of a class of students is a case in point.
In my defense, I do know how to and do enjoy doing lattice work with pie dough. On pies! Turns out that making lattice work with cookie dough is not the same thing! Not by a mile! Pie dough is flexible and easy to work with. Cookie dough is delicate, it tears and falls apart, and needs to be refrigerated over and over again.
Time and Patience!
Qualities a baker has.
Qualities I do not!
So if you're a baker – this recipe is for you!
If you're not, but you have a friend who is – a very good friend who will let you call the cookies your own – have them make them for you!
Or just make the dough, roll it out and use decorative cookie cutters on it. The cookies are not only pretty – they are quite delicious too.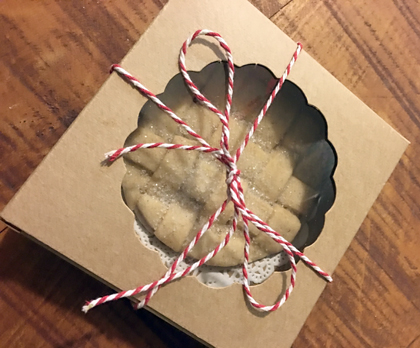 Lattice-Top-Pie Sugar Cookies
7 cups flour
3 teaspoons ground cinnamon
1 teaspoon ground nutmeg
1 teaspoons baking powder
3/4 teaspoon salt
3 large eggs
3 large egg yolks
4 sticks unsalted butter, room temperature
2 cups sugar
2 teaspoons vanilla extract
1/4 cup white sanding sugar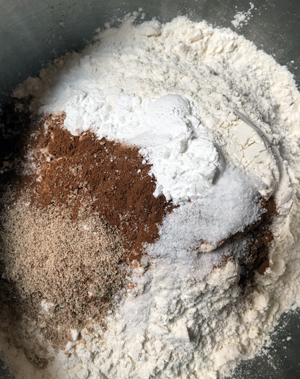 In a large bowl, combine flour, cinnamon, nutmeg, baking powder, and salt, and set aside. In a medium bowl, beat eggs and yolks together; set aside.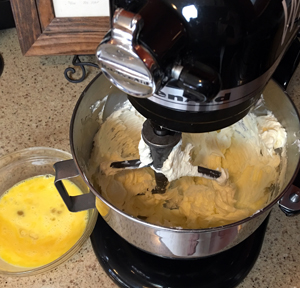 Using a standing mixer at medium-high speed, beat butter until light and fluffy. Beat in sugar, then vanilla and egg-yolk mixture.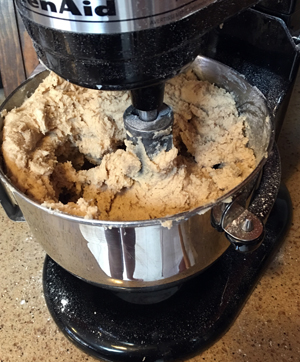 Reduce mixer speed to low and gradually beat in flour mixture just until the dough comes together.
Remove the dough from the bowl and divide it into 4 equal pieces. Shape into flat square disks, wrap tightly in plastic wrap and refrigerate for at least 2 hours or up to 3 days.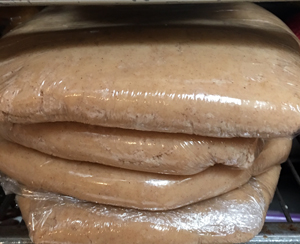 While the dough is chilling, use a ruler and pencil and draw a 14-inch square on a sheet of parchment paper.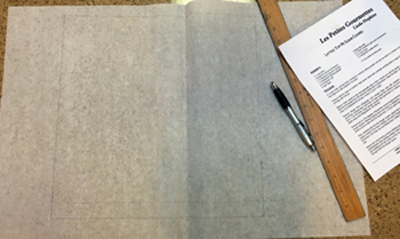 Remove dough from the refrigerator and unwrap.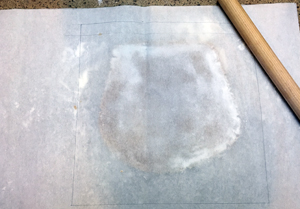 Place each disk between lightly floured pieces of parchment, dusting with more flour to keep the dough from sticking, and roll out each to a 14-inch square that's 1/8 inch thick. You can reuse the top "template" sheet of parchment for each disk of dough you roll out.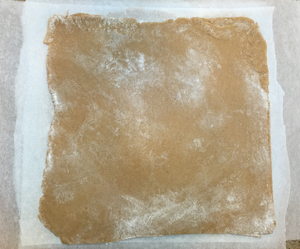 Stack dough squares, with parchment in between each dough square, on a baking sheet, cover the sheet tightly with plastic wrap and refrigerate for at least 30 minutes.
Remove the baking sheet from the refrigerator and unwrap it. Remove 2 dough squares. Rewrap the baking sheet with the remaining 2 dough squares and return to the refrigerator. Unwrap 1 dough square. Using a pizza cutter, cut the square into 1/2-inch-wide strips. Repeat with the second dough square. Use the parchment paper to help you transfer both sets of strips to baking sheets.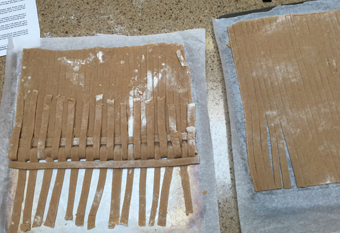 Then, working with one dough square, gently fold back every other strip in half, taking care not to create a crease at the bend. Position one strip of dough from the second square perpendicularly against the bends in the strips you just folded back. Unfold the bent strips so that they lie atop the perpendicular strip.
Repeat this crisscrossing process (folding back the strips in the first square that are now covered by the perpendicular strip, placing another strip from the second square perpendicularly against those bends, and unfolding the bent strips so they lie atop the new perpendicular strip) until a lattice pattern is woven through half of the dough square. You will need to return the baking sheet you are working on and the other baking sheet holding the loose strips to the refrigerator often, whenever the dough softens and is difficult to work with. Often!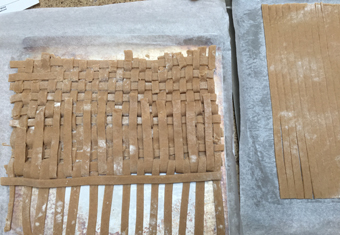 Preheat the oven to 350 degrees. Turn the parchment 180 degrees and repeat the preceding steps on the other half of the dough square.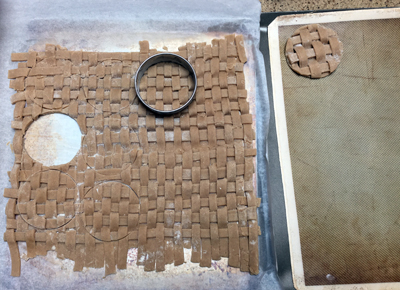 Line 2 new baking sheets with parchment or Silpat mats. Using a 3 -inch round cutter, cut out cookies and transfer to prepared baking sheets.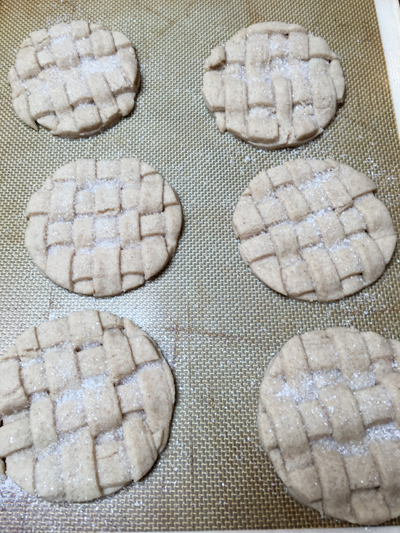 Sprinkle cookies generously with sanding sugar. Bake until golden around the edges and firm, 11 to 14 minutes.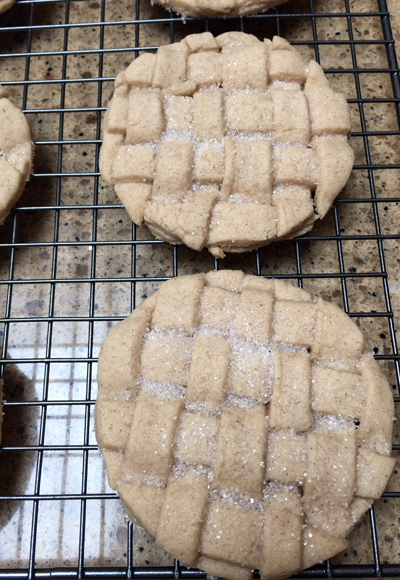 Cool cookies on baking sheets for 5 minutes, then carefully transfer to a wire rack to cool completely. Repeat with the 2 remaining dough squares.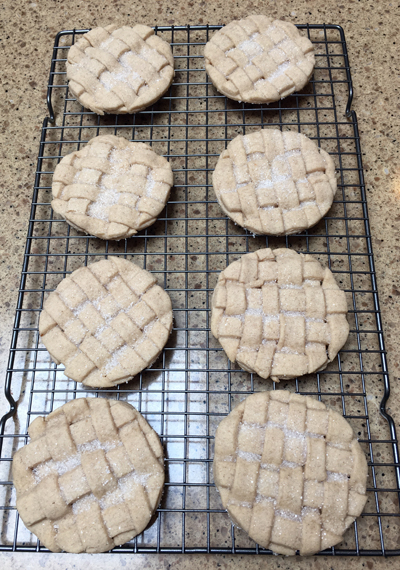 Makes 20 cookies
To package: Place a 4-inch diameter paper doily inside a scalloped window mini pie box, slide in two cookies. Close the box and tie it with the baker's twine.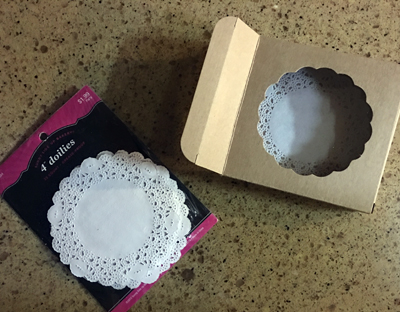 The boxes can be found HERE. I bought the doilies, sanding sugar, and baker's twine at Hobby Lobby