Happy Sunday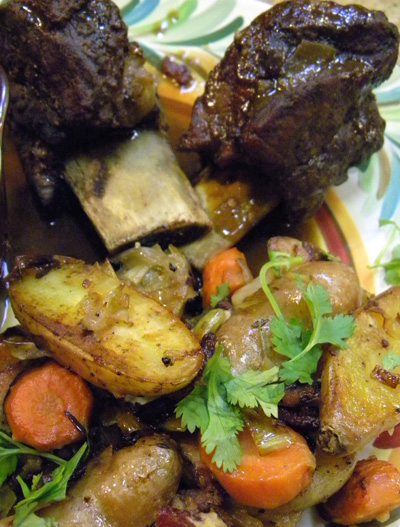 I have a thing for short ribs. In my opinion, they are the most flavorful cut of beef around and are so easy to prepare. Sear, braise, finish off, and serve. Very little actual hands-on time is required for so much goodness!  A happy Sunday, indeed.
Beer-Braised Beef Short Ribs with Fingerling Potatoes
1/2 cup flour
Salt and freshly ground black pepper
8 beef short ribs
2 tablespoons olive oil, divided
1 onion, peeled and coarsely chopped
2 carrots, peeled and sliced thick
1 tablespoon fresh thyme leaves
1 bay leaf
4 garlic cloves, peeled and minced, divided
4 cups beef broth
1 bottle of your favorite beer
3 slices bacon, chopped
2 leeks, white part only, sliced
1 pound fingerling potatoes
Heat a large cast-iron skillet over medium-high heat.
Place flour on a flat plate and season well with salt and pepper. Coat the beef in the flour mixture.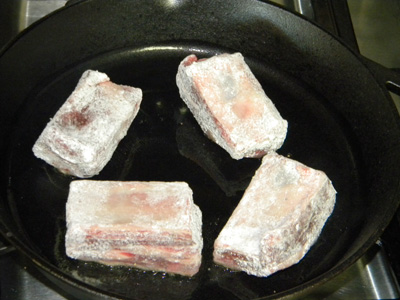 Add 1 tablespoon of olive oil to the hot skillet and sear the beef on all sides. Remove beef to a plate and set aside, do not clean out the skillet, set it off the heat.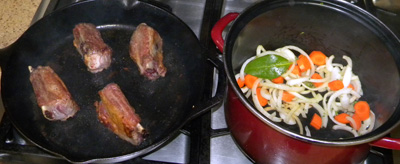 Heat a large pot over medium heat.  Add the remaining tablespoon of olive oil and sauté the leeks and carrots until just softened.  Add the thyme, bay leaf, and 1/2 of the minced garlic and continue to sauté until the vegetables are just beginning to brown. Add the beef to the pot along with the beef stock and beer and bring to a boil. Reduce heat, cover pot, and simmer for 3 hours.

During the last 30 minutes, preheat the oven to 375 degrees and sauté the bacon in the cast iron skillet until nearly crisp, add the leeks and sauté until softened.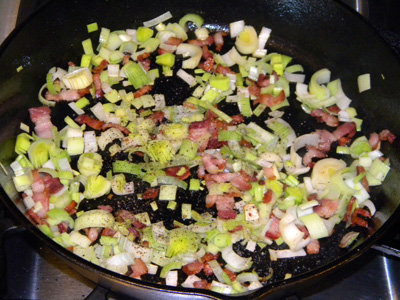 Add the potatoes and brown for about 12 to 15 minutes, stirring often. Season with salt and pepper and stir in the remaining garlic, and remove from heat.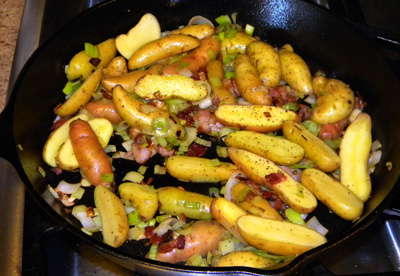 Use a slotted spoon to transfer the short ribs, carrots, and onions from the pot into the skillet and place the skillet in the preheated oven for 20 minutes to roast.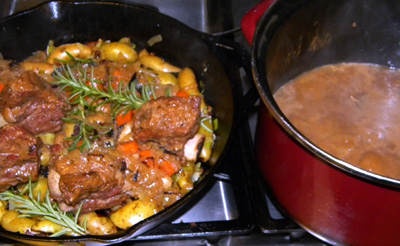 While the meat is in the oven, bring the braising liquid to a boil and reduce it to 1 cup.
Serve the potatoes and vegetables alongside the short ribs and ladle the sauce over the top.
Serves 4