happy birthday to my baby sister, Sloane!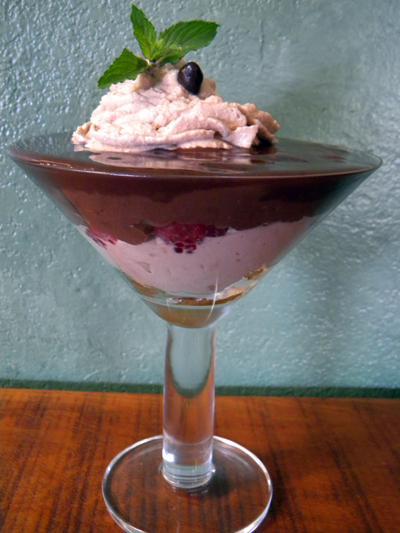 My beautiful sister, Sloane, celebrates her birthday today.  As mentioned in the "forgiveness" post of last week, she is my little sister and was at my mercy during our childhood years. That's what the six years of age difference will do for you, a distant older sister with the adoring younger always hanging around. Thankfully, we are long past those days and I can not begin to express my love, eagerness to share and be with, appreciation, and admiration for my best friend who also happens to be my sister.  This chocolate overdose dessert is for her. One component of it is our Aunt Connie's Mint Chocolate Pudding, a delicious ode to our childhood days. I love you, Sloane! xoxox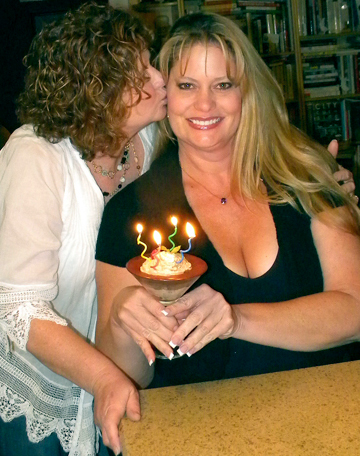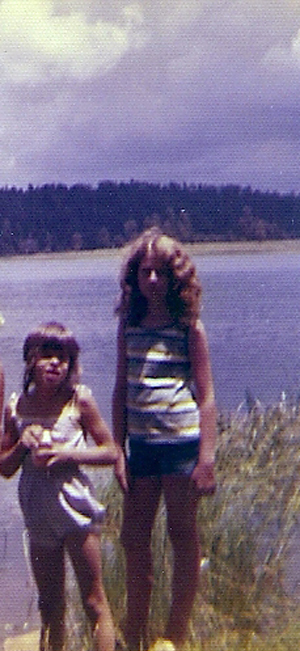 It's been a long time since I was taller than my 6-foot-tall little sister!
Sloane's Extravagant Chocolate Birthday Parfaits
Mint Chocolate Pudding
2 cups cold half-and-half
1/4 cup sugar
3 tablespoons cocoa powder
3 tablespoons cornstarch
1/2 fresh vanilla bean, split lengthwise, seeds removed with the backside of a knife
1/4 cup bittersweet or semisweet chocolate chips
Scant 1/4 teaspoon mint extract
Chocolate Whipped Cream
1 cup heavy cream
1 tablespoon cocoa powder
2 tablespoon powdered sugar
Chocolate Sauce
1/4 cup heavy cream
1/3 cup bittersweet or semisweet chocolate chips
8-ounce purchased pound cake
2 tablespoons dark rum
1 tablespoon crème de cacao liqueur
Two 1/2-pint baskets fresh raspberries
Fresh mint for garnish
Pudding: Pour the half-and-half into a medium saucepan. Sift the sugar, cocoa powder, cornstarch, and a generous pinch of salt into the half-and-half and whisk until completely blended, add the vanilla seeds that have been scraped from the bean. Place pan over medium-high heat and stir constantly with a large heatproof rubber spatula until the mixture thickens and begins to bubble on the sides of the pan, 9 to 12 minutes. Reduce the heat and stir another 2 or 3 minutes as it continues to thicken.
Stir in the chopped chocolate and mint extract, and cover with place plastic wrap directly on the surface of the pudding to prevent skin from forming. Refrigerate for at least 2 hours or up to 8 hours.
Chocolate Whipped Cream: Place cream, cocoa powder, and powdered sugar in a standing mixer and beat with the whisk attachment until soft peaks form, refrigerate until ready to use.
Chocolate Sauce: Place cream in a glass measuring cup and heat in the microwave for 1 1/2 to 2 minutes, or until almost boiling. Add chocolate and whisk until melted. Chill until cold but still pourable, stirring occasionally, for about 30 minutes.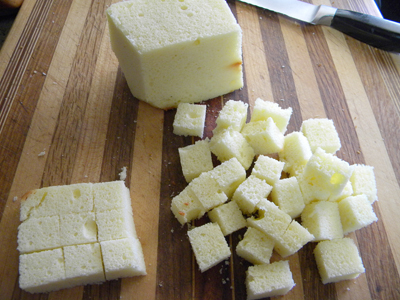 Cut cake into 1/2-inch-thick slices. Cut each slice into 9 cubes. Arrange cake in one layer in 4 parfait or martini glasses.  Mix rum and liqueur in a bowl. Drizzle over the cake. Drop 2/3 of the chocolate whipped cream by spoonfuls over the cake in glasses. Gently spread with the back of a spoon, allowing the cream to show on the sides of the glasses. Place berries over whipped cream, arranging some berries to show on the sides of glasses. Spoon the mint-chocolate pudding over chocolate whipped cream. Pour chocolate sauce over the top.
various stages of layering
Cover and chill for 4 hours or overnight.  Just before serving; spoon the remaining 1/3 chocolate whipped cream into a pastry bag fitted with a medium star tip. Pipe atop each glass. Garnish with fresh mint. Serve cold.
Serves 4