Happy Birthday, Barb!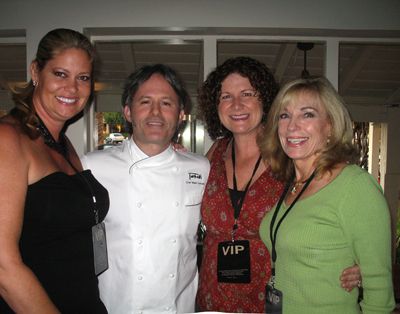 Yesterday was my dear friend and mentor, Barbara Fenzl's, birthday. Our tradition is to take each other out for a birthday lunch. I'm taking Barb to Modern Steak today for her celebratory lunch. So while we're enjoying that, here is a couscous salad for you to enjoy. The picture above of my sister, Sloane, Mark Tarbell, me, and Barb was taken at a party a couple of years ago at Tarbell's restaurant. The party was a fundraising event to celebrate after Mark won "Iron Chef America" on Food Network.
Happy Birthday, Barb. I love you and love all our time cooking together! xoxo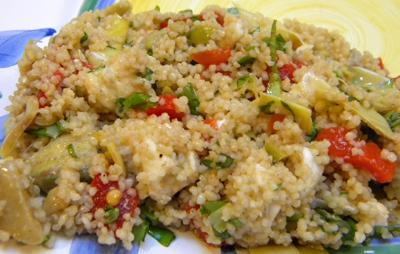 Artichoke and Mozzarella Couscous
1 cup water
1 cup uncooked couscous
1/4 teaspoon salt
1/2 cup diced piquillo peppers
1/2 cup artichoke hearts, drained and chopped
1/2 cup cubed fresh buffalo mozzarella cheese
1/4 cup fresh minced basil leaves
2 tablespoons balsamic vinegar
1/4 cup minced green olives
2 tablespoons olive oil
Salt and freshly ground black pepper
Bring the water to a boil in a medium saucepan. Stir in the couscous and salt. Remove from heat, cover, and let stand for 5 minutes.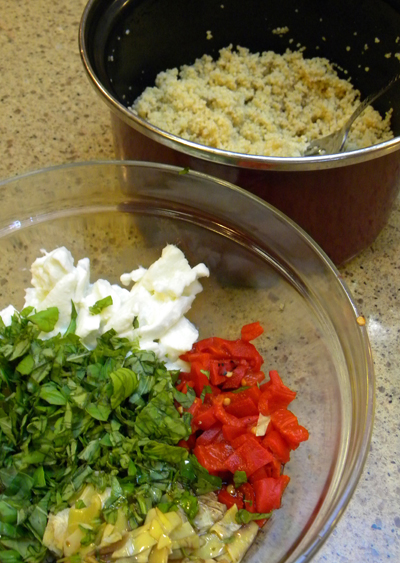 Fluff with a fork and transfer to a serving bowl. Add the remaining ingredients and toss gently to combine. May be served at room temperature or cover and chill until ready to serve.
Serves 4 as a side dish