Halloween Treat #2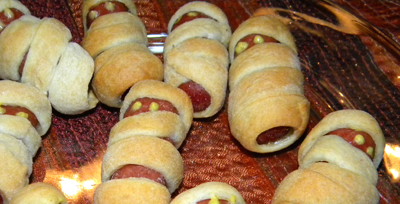 These little pigs-in-a-blanket, dressed up as Halloween mummies, will disappear before you eyes!
Mummy Weenies
From Pillsbury Halloween Fun
1 can (8 ounces) Pillsbury flaky dough sheet with no seams
1 pound package of cocktail-size smoked link sausages (Lit'l Smokies)
1/2 cup Dijon mustard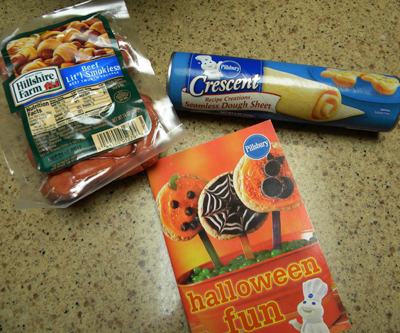 Preheat the oven to 375 degrees and line two baking sheets with foil or parchment.
On a lightly floured work surface, roll the dough sheet out into a 14×11-inch rectangle.  Cut vertically to make two 11×7-inch rectangles.  Cut each crosswise into 22 strips for a total of 44 (7 x 1/2-inch) strips.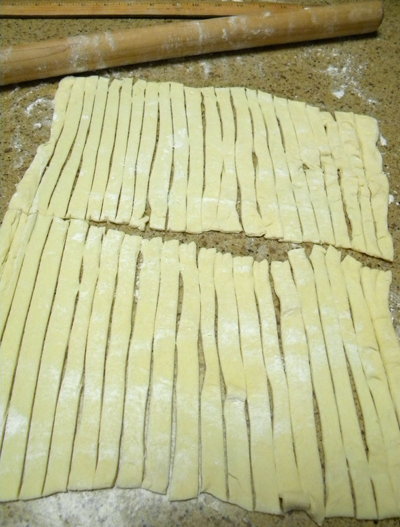 Pat sausages dry with paper towels.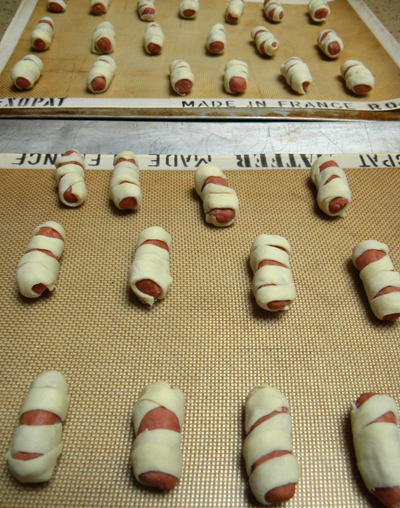 Wrap 1 strip of dough around each sausage to look like a little mummy, leaving a little space in between each wrap, and press firmly at each end to secure.  Lace on prepared baking sheets about 2 inches apart for even browning.
Bake for 15 to 20 minutes or until golden brown.  Place two small dots of mustard on each sausage for eyes and serve warm with extra mustard for dipping.
Makes 44