Guinness Fondue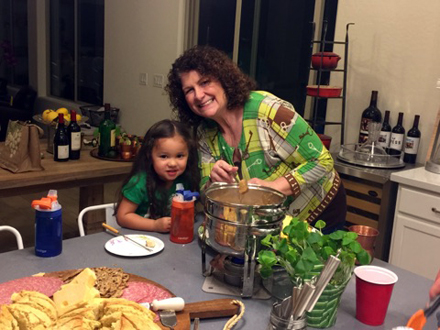 Sweet Zoey and me testing the appetizer I made for Tram and Steve's St. Patrick's Day/Going-Away dinner party last Friday night. Zoey and Zak were not fans of the Guinness Fondue, but they did love all the dippers for it.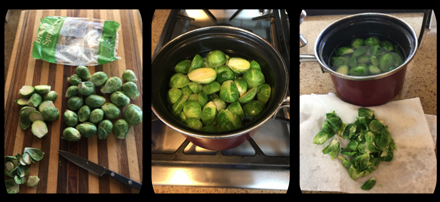 One of the dippers is blanched Brussels sprouts.
To blanch them; trim the ends and cut them in half. Bring a pot of water to a boil and add 1 tablespoon of salt. Add sprouts and boil for 3 or 4 minutes, or until a paring knife pierces a sprout easily. Drain and then shock in ice water. Drain on paper towels and leave at room temperature until serving time. Note: When you're trimming and halving the sprouts, you'll end up with a pile of single leaves. I blanched the leaves first for about 30 seconds, shocked and drained them, and used them in a salad the next day. Zero waste!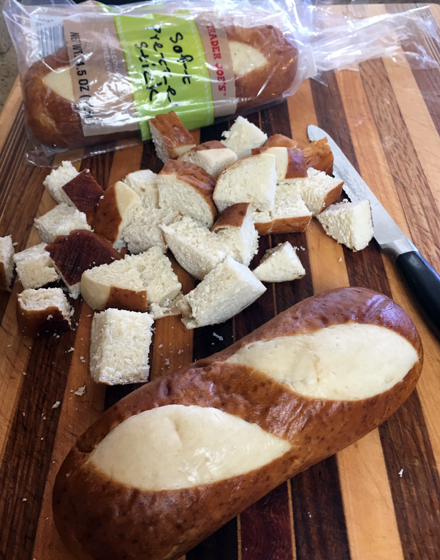 Also a note about another dipper – the pretzel roll cubes. I didn't have time to get to Costco and buy a package of their pretzel rolls, which are the best around, in my opinion. Instead, I bought the Trader Joe's pretzel rolls. You know I love my Trader Joe's, but there is no comparison between the two rolls. The Costco variety is saltier and way more pretzel-y. Lesson learned.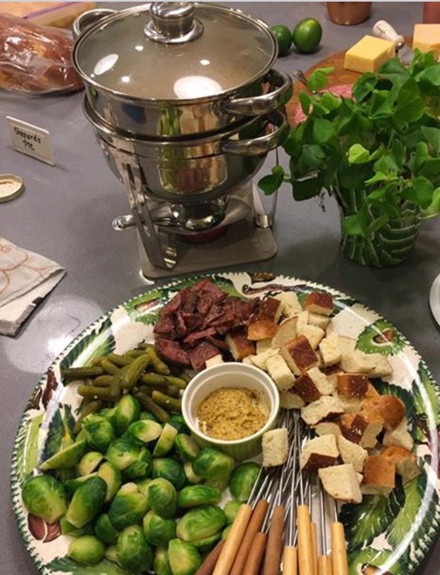 One last note before the recipe. I know, I've got so much to say about this easy-breezy appetizer! A third and very important dipper is apple cubes. In my rush to assemble and set out the appetizer when I arrived at Tram's, I forgot to add the apple cubes to the serving tray. I felt like something was missing, but I brushed it off. Finally, a guest asked, "What is this container of apple cubes for?" Darn it! Don't forget to put them out because they add a much-needed light and bright color to the tray of dippers and are a delicious fresh addition to the overall taste choices. *If you look closely in the left upper corner of the photo above, you'll see them in their storage container with the purple trimmed lid. Oh well.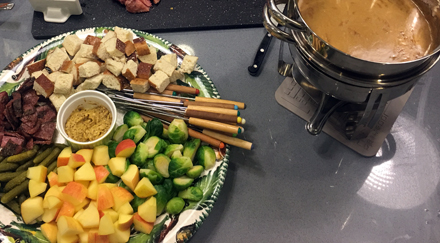 Guinness Fondue
16 ounces grated extra-sharp white Cheddar cheese
16 ounces grated Swiss cheese
1/2 cup grated Parmesan cheese
3 tablespoons cornstarch
12-ounce can or bottle of Guinness or other Irish stout beer
2 teaspoons Worcestershire sauce
2 teaspoons garlic powder
1/2 teaspoon ground dry mustard
1 teaspoon Tabasco
Freshly ground black pepper, to taste
Pretzel bread cubes
Apple cubes
Salami cubes
Brussels sprouts, halved and blanched
Whole cornichons or dill pickle chunks
Whole-grain mustard, optional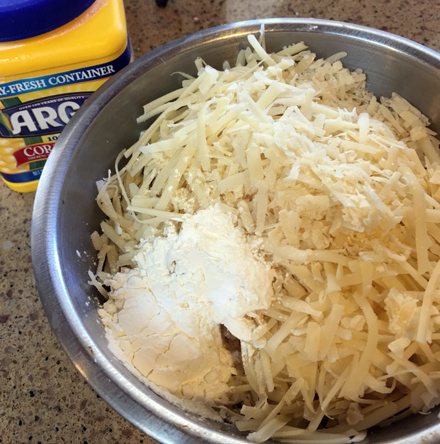 In a bowl, combine the Cheddar, Swiss, and Parmesan cheeses with the cornstarch and set aside.
Stir Guinness, Worcestershire sauce, garlic powder, mustard, and Tabasco together in a pot and bring to a low simmer. Reduce heat and add 1/2 cup of the cheese-cornstarch mixture into the beer mixture, stirring, until all the cheese is completely melted. Add the remaining cheese mixture and stir until the fondue is thick and smooth. Do not let it boil.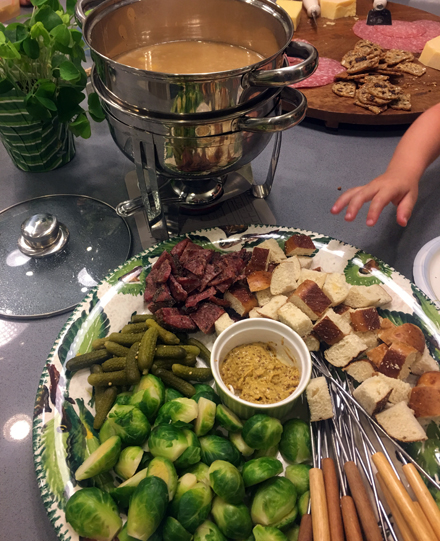 Season to taste with freshly ground black pepper and then transfer to a fondue pot with low heat underneath.
Place the pretzel, apple, and salami cubes along with the Brussels sprouts and cornichons on a large platter. Put some whole-grain mustard in a small bowl or ramekin and place it in the center of the platter, if desired.
Set out fondue forks and serve.
Serves a crowd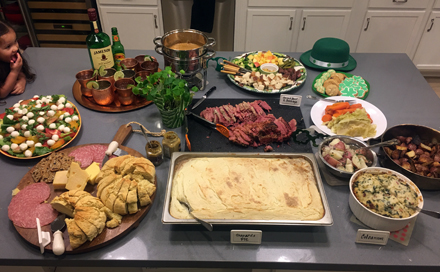 Save
Save