Greyson's pancake dippers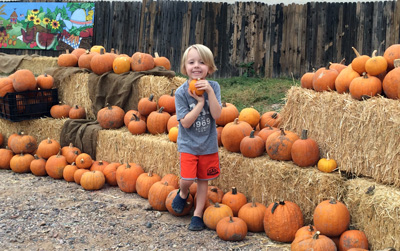 Our grandnephew, Greyson, spent the long weekend with us. He is only 4 1/2 … so his parents, Tony and Amy, were along for the ride too. They are from Wisconsin. Tony is the son of Dave's oldest brother, Roger. Amy is a dental hygienist and she had some continuing education classes to attend, so they made it into a mini-vacation.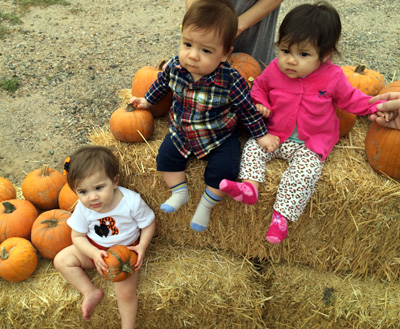 On Friday, we met up with Tram, Steve, Zak, and Zoey along with Raechel and Brooklyn at The Simple Farm for their Pumpkin Patch and Tour.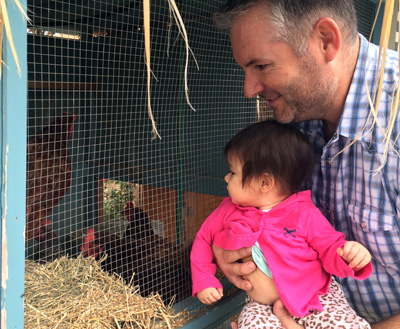 Greyson especially liked the goats, I have no photos to share of Grey enjoying the goats because I was holding Zak at the time. Holding babies always trumps photo taking!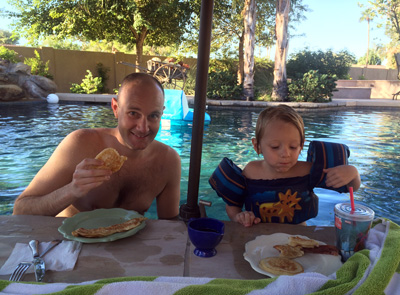 On Saturday morning, I made pancake dippers for breakfast. Grey and Tony enjoyed them poolside. Well, not exactly pool "side" more like swim-up bar "side."
I have posted about pancake dippers before, but the last time, I did not include a recipe. This time, I shall!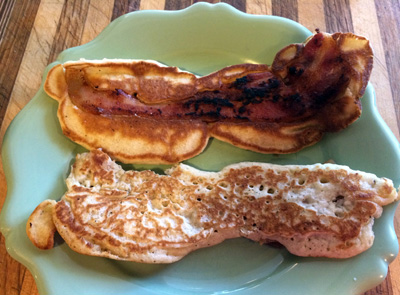 Pancake Dippers
8 slices of thick-cut bacon
Pancake Batter
1 cup flour

2 tablespoons sugar

2 teaspoons baking powder

1/2 teaspoon salt

1 cup milk

4 tablespoons unsalted butter, melted and divided


1 large egg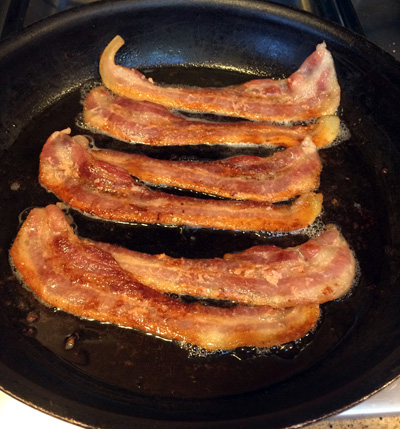 Fry the bacon in a large skillet over medium-low heat. Lower heat helps keep the bacon flat and prevents it from curling up. We want it flat!
Make the pancake batter (below) while the bacon is cooking. Remove bacon to paper towels when crisp and pour off the bacon drippings. Wipe out the skillet.
Pancake Batter: In a small bowl, whisk together flour, sugar, baking powder, and salt.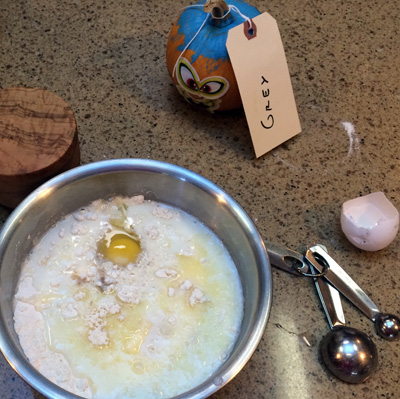 Add the milk, 2 tablespoons of the melted butter, and the egg and whisk until just moistened (do not overmix; a few small lumps are fine). Transfer batter to a measuring cup with a pour spout.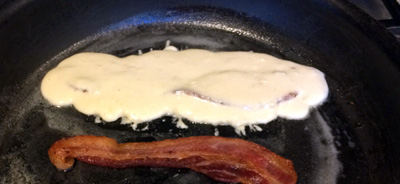 Heat the same large skillet over medium.  Add 1/2 tablespoon of the remaining melted butter to the skillet and place 2 strips of cooked bacon in the pan.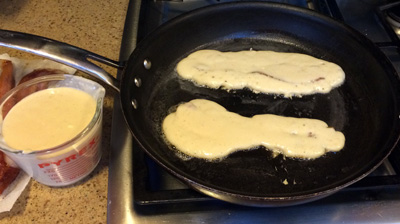 Slower and gently pour the pancake batter over the strips of bacon.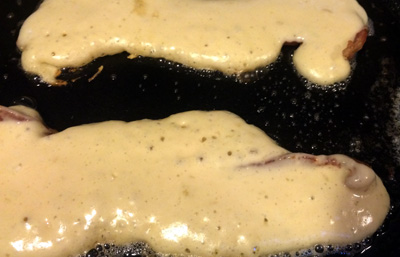 Cook until the surface of the pancake strips have some bubbles and a few have burst, 1 to 2 minutes. Flip carefully with a thin spatula, and cook until browned on the underside, 1 to 2 minutes more. Repeat with the remaining butter, bacon, and batter.
Serve with a small pitcher or bowl of warm maple syrup for dipping.
Makes 8 dippers