giardiniera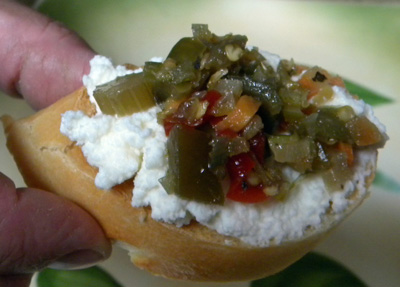 Our fabulous friends, Jeff and Jen Markett who live in Illinois, first introduced us to the Italian condiment giardiniera (pronounced: jar-din-air-a) a few years ago. In the Chicago area, giardiniera is commonly used as a topping on Italian beef sandwiches. Giardiniera is made with serrano and bell peppers, celery, onions, capers, green olives, and pimento in olive oil and vinegar.
The word giardiniera in Italian translates to "female gardener."  It can be found at an Italian deli and some grocery stores. For locals, I found it in the Italian specialty area of the pasta aisle at Safeway. It is sold mild or hot and as a finely minced relish and as a chunky mixture. I purchased both the mild chunky and the hot relish and mixed them together, but you can use either one. I did not make my own giardiniera this time, but I'm including a recipe, if you have the time (3-day marinating time!) or in case can't find it in your area.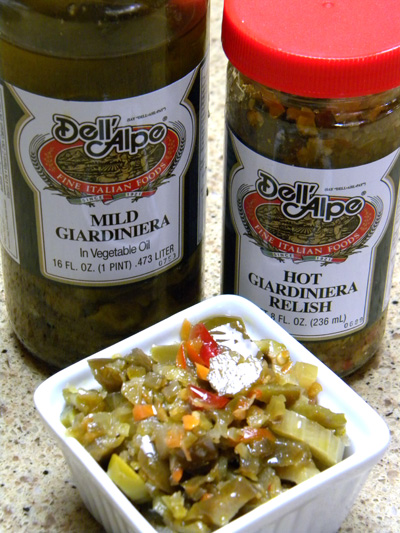 Ricotta and Giardiniera Crostini
1 baguette, sliced thinly on a diagonal
1 clove of garlic, peeled and halved
1 1/2 cup ricotta, at room temperature
1/4 teaspoon kosher salt
1 1/2 cup giardiniera
Preheat the broiler to high. Arrange the baguette slices on a baking sheet and toast for 2 or 3 minutes, until golden brown. Rub the toasted side of each slice with the cut side of the garlic.
Stir the salt into the ricotta and taste, adding another pinch of salt, if needed. Divide the ricotta evenly among the toasted baguette slices, then top with spoonfuls of giardiniera.
Serve immediately.
Makes about 24
Homemade Giardiniera
2 green bell peppers, seeded and diced
2 red bell peppers, seeded and diced
4 to 8 fresh serrano peppers, sliced (depending on how spicy you want it)
1 celery stalk, diced
1 medium carrot, peeled and diced
1 small onion, peeled and chopped
1/2 cup salt
Water to cover
2 cloves garlic, peeled and finely chopped
1 tablespoon dried oregano
1 teaspoon red pepper flakes
1/2 teaspoon black pepper
5-ounce jar pimento-stuffed green olives, chopped
1 tablespoon capers, drained and rinsed
1 cup white vinegar
1 cup olive oil
Place green and red peppers, serrano, celery, carrots, and onion in a large bowl.  Toss in salt, then pour in enough cold water to cover, and stir well to dissolve the salt.  Cover with plastic wrap and refrigerate overnight.
The next day, drain off the water, rinse vegetables very well and drain again. In a bowl, mix together garlic, oregano, red pepper flakes, black pepper, olives, and capers. Pour in vinegar and olive oil, and mix well. Combine with the drained vegetable mixture, cover, and refrigerate for 2 days before using.
Must be used within 1 week, stored covered in the refrigerator. Great on just about anything; eggs, pizza, meatball sandwiches, straight on hot rolls, or Chicago-style on Italian beef sandwiches. It is addicting, so it probably won't last a week anyhow!
Makes about 7 to 8 cups