Gâteau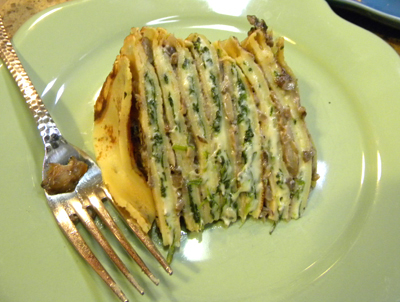 A gâteau (pronounced ga-toe) is a French cake, often specifically a sponge cake.  1. a rich or fancy cake. 2. food baked or served in the form of a cake.

After my Wednesday appearance on Valley Dish, I had a stack of about 30 herb crêpes left over. Crêpes freeze very well, so a dozen were wrapped, labeled, and frozen for future use. Fortunately, I had seen this, just the Sunday before, on my favorite daily shopping website; One Kings Lane:
This savory cake is a work of genius. It is 6 inches in diameter and features a seemingly endless stack of delicate crepes, each layered with classic flavors – aged Gruyere cheese, tender onion, and spinach. This is rich, soul-satisfying fare, with an absolutely stunning presentation. $65 Retail; One Kings Lane price $45

That inspired me to make my own version with the addition of luscious duxelles. (Duxelles is a finely chopped mixture of mushrooms, shallots, and garlic sautéed in butter and reduced to a thick mixture with cream. Often used as a stuffing; notably, beef Wellington, or as a garnish.)

An alternative smoked salmon gâteau (much quicker and easier) is at the bottom of the post. Either version makes a perfect light dinner, lunch, or brunch dish.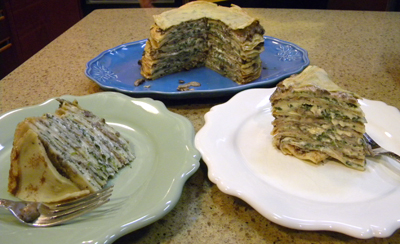 Spinach, Gruyere, and Duxelles Crêpe Gâteau

Herb Crêpes
2 cups milk
3 large eggs
2 tablespoons unsalted butter, melted, cooled
1 teaspoon salt
1 3/4 cups flour
2 tablespoons mixed fresh herbs: tarragon, thyme, chervil, and/or chives
Additional melted butter for the pan

Duxelles
3 tablespoons unsalted butter
1 pound cremini and/or white mushrooms, cleaned, stemmed, and chopped
Salt and freshly ground black pepper
1/4 cup peeled and minced shallots
2 garlic cloves, peeled and minced
1/4  cup port wine
3/4 cup heavy whipping cream
Spinach-Gruyere
1 tablespoon unsalted butter
2 garlic cloves, peeled and minced
6 ounce bag baby spinach
3 ounces cream cheese, room temperature
1 1/2 cups grated Gruyere cheese
1/4 teaspoon red pepper flakes
Salt and freshly ground black pepper
Crêpes: Blend milk, eggs, 2 tablespoons melted butter, and salt in blender 5 seconds.  Add flour, 1/2 cup at a time, blending batter until smooth after each addition. Stir in herbs.  Let batter rest 1 hour at room temperature. Whisk batter just before using.
Heat a small nonstick skillet with a 7- to 8-inch-diameter bottom over medium-high heat; brush with melted butter. Pour a scant 1/4 cup batter into the skillet; swirl the skillet to coat the bottom evenly.  Cook until the bottom of the crêpe is golden, about 30 seconds. Loosen edges gently with a spatula and turn the crêpe over. Cook until the bottom is brown in spots, about 30 seconds. Turn crêpe out onto a plate. Repeat, making about 16 crêpes and stacking them on the plate.  (May be made 2 days ahead. Wrap and chill.)
Duxelles: In a large sauté pan, heat butter. When melted, add the mushrooms, season with salt and pepper, and sauté for 6 minutes. Add the shallots and garlic and continue to sauté for 4 minutes. Add the port wine and cook until almost all the liquid has cooked off.  Add the cream and cook for 3 to 5 minutes to reduce the cream and thicken the mixture.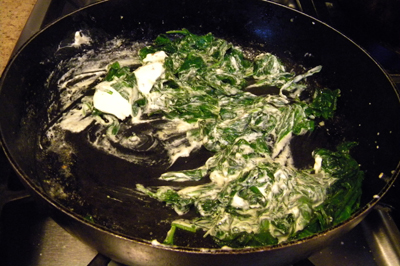 Spinach-Gruyere: Heat butter in a large sauté pan over medium heat. Add garlic, and cook until just fragrant, about 1 minute. Add spinach, and cook, stirring occasionally, until wilted, about 2 minutes. Add cream cheese, Gruyere, and red pepper flakes, and season with salt and pepper. Continue to stir until cheeses are melted.
Preheat the oven to 250 degrees.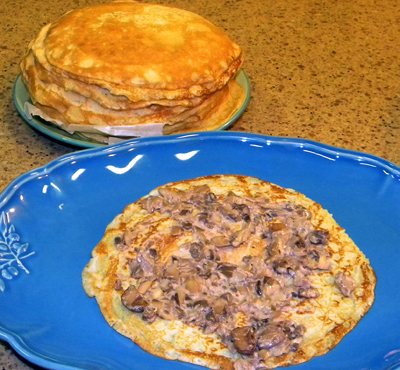 Set aside the best-looking crêpe for the top of the gateau. Lay 1 crêpe on an oven-proof serving plate. Using an off-set spatula, completely cover with a thin layer of duxelles.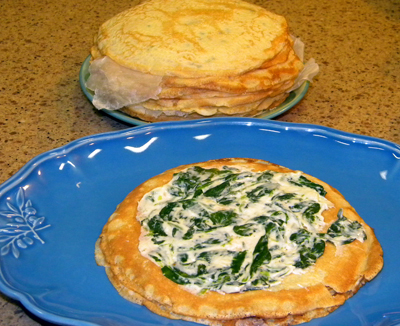 Cover with another crêpe and cover with a thin layer of spinach-gruyere.  Repeat to make a stack of 18 to 20 crêpes, until you have used all the duxelles and all the spinach mixture. Finish with the reserved best-looking crêpe on top. Place in preheated oven for 20 minutes to heat through. Slice like a cake.
Serves 8
Alternate Gâteau Recipe
Smoked Salmon Crêpe Gâteau
18 to 20 herb crêpes (above)

Filling
Two 8-ounce packages cream cheese
2 tablespoons creamed horseradish
2 tablespoons honey
3 garlic cloves, peeled and minced
2 tablespoons fresh lemon juice
1 tablespoon capers, minced
3 tablespoons minced parsley
Salt and freshly ground black pepper
1 pound smoked salmon, thinly sliced
Filling: In a large bowl, blend together all ingredients, except salmon.  Spread a thin layer of cream cheese mixture on each crêpe, and top each with a thin layer of the sliced salmon.